---

NBAA 2017: 'A strong, meaningful show'

The National Business Aviation Association brought its 2017 Business Aviation Convention & Exhibition to a close on Thursday with organizers reporting an all-around success, highlighting the strength of the industry, the host community of Las Vegas and the association, on its 70th anniversary.

"This year's show was special in many ways," said NBAA President and CEO Ed Bolen. "We celebrated NBAA's 70th anniversary, and how our industry is stronger when we work together. We gathered in the company of aviation leaders and legends, like Capt. 'Sully' Sullenberger and Capt. Jim Lovell. We saw the launch of exciting new products, and we brought a citywide convention to Las Vegas, which the city welcomed with open arms."

Bolen said that with this year's convention, NBAA hoped to "make Las Vegas proud, just as Las Vegas has made America proud."

Before the launch of the show, NBAA Charities made a $10,000 contribution to the Las Vegas Victims Fund, and throughout the event, the association encouraged show participants to contribute to the fund as well. During the show's opening session, local leaders welcomed attendees, saying "with all of you, our city will continue to be Las Vegas strong."

---

---

Judge terminates TRO at Santa Monica; NBAA continues pursuing legal options

Aircraft operators utilizing California's Santa Monica Municipal Airport (SMO) will soon need to prepare for runway closures and construction, as a District Court judge denied a preliminary injunction and dissolved a temporary restraining order (TRO) to halt the city's planned runway-reduction project.

The City of Santa Monica has been authorized to reduce the length of SMO's sole runway under the terms of a unique, highly unusual settlement agreement with the Federal Aviation Administration (FAA) announced in January of this year.

Construction is expected to kick off on Oct. 23. In Phase 1, the airport will be closed to all aircraft, including helicopters, nightly from 9 p.m. to 7 a.m. local time, Monday through Friday, while the project is undertaken.

During Phase 2 of the city's plan, dates for which are still being finalized, SMO will be closed entirely for approximately 10 consecutive days. The airport will operate with a 4,973 ft. length runway through Phase 1 and will re-open at the end of Phase 2 with the shortened, 3,500 ft., runway. NBAA members and other operators will need to check NOTAMs regularly and plan accordingly.

---

---

Bombardier inaugurates newly expanded interior facility in Tucson

Bombardier has announced the opening of its new purposefully designed interior facility at its Tucson Service Centre.

The facility features a fully climate-controlled work environment and expanded capacity, regrouping its interior design expertise and talent in one atelier. In addition, the meticulous state-of-the-art cabinet workshop has tripled its footprint from 1,092 square feet to 4,800 square feet, and will complement existing seat and divan upholstery fabrication areas.

"We are thrilled to expand our interior facility and capacity in Tucson, offering Bombardier business aircraft operators greater selection and convenience, all backed by our unparalleled OEM know-how," said Jean-Christophe Gallagher, Vice President and General Manager, Customer Experience, Bombardier Business Aircraft. "The extensive capabilities of the Tucson Service Centre and its prime location offer flexibility and expertise for Bombardier business aircraft operators, all to keep their aircraft flying with minimal downtime and interruptions while maximizing their bottom line."

---

---

---

Connecting at NBAA17

Ashley Bowen Cook, vice president at Greteman Group, a marketing communications agency based in Wichita, the Air Capital.

ur base in the Air Capital led us to aviation. But it's the people who tie us to this
unique industry.

Jet-setting entrepreneurs turning ideas into deals. Pilots whose hands twitch when too long from the yoke. Technicians who thrive on the precision required by every aircraft interaction. Sales directors who spout the math that makes an aircraft work on a balance sheet, but then tell you the real reason you gotta have that jet, that prop, that helicopter. Analysts who digest data like dinner.

Nothing reminds us of this more than our annual pilgrimage to the Business Aviation Convention & Exhibition (NBAA-BACE). For us, it's a family reunion made richer by introductions to new members.

We hitched our 15th ride with longtime private aviation user and advocate Jack DeBoer. As we landed at McCarran International, we taxied past Mandalay Bay. There, only nine days earlier, a killer claimed the lives of 58 people and injured almost 500 others. Throughout the show, we were touched by visual and verbal expressions of sympathy and support.

Again, this is a convention that promotes hardware and services, but at its heart, it's about people. How they live. How they interact. How they succeed.

---

---

VistaJet's US customer base trebles - reinforcing its commanding position in the market

VistaJet, the first and only global aviation company, has announced a set of results that highlights the significant progress made in the US throughout the third quarter ending September 30, 2017.

Driving the growth is the company's flagship Program Membership, registering three times more clients year over year, resulting in a 146% increase in Program hours. Moreover, flight hours sold to Program members grew significantly over the period with an increase of 210% compared to Q3 '16. In addition to VistaJet's marked rise in new US passengers, 45% of those who joined as Program customers have gone on to increase the total number of hours flown.

VistaJet's Q3 announcement reinforces the global trend of individuals and corporations moving away from aircraft ownership as they look to shed costs and asset risks, but not the comfort, convenience and benefits of private aviation. Following the $150m investment from Rhône Capital - which now values VistaJet in excess of $2.5bn - the company is well positioned to conquer even more fractional and full aircraft owners in the US market, by offering global coverage, consistent unparalleled quality and maximum efficiency.

---

---

MSB manufactures first up-lit crystal stowage system in aircraft galleys

North America-based precision engineering company MSB Design is introducing a first of a kind, up-lit crystal glass rack holder to light up aircraft galleys.

The new product has been developed by the MSB Design engineers for the Gulfstream G500 galley to provide a robust stowage system for valuable crystal and glassware, whilst at the same time providing an elegant, subtle new source of lighting. The holder will be on display at this year's NBAA on the Gulfstream G500 at Henderson Executive Airport.

The intelligently designed transparent galley racks are made of aerospace grade polycarbonate material, and plated components, which ensure valuable crystal and glassware is securely stowed. With the addition of the low voltage LED up-lighting, an elegant glow is emitted through the translucent units.

---

---

Mary Baffour

Mainstream Aviation, Ghana, has appointed Mary Baffour as Business Development Manager.

Mary was previously Country Manager for Ghana with an oversight role for Abuja, Nigeria.

Mainstream CEO, Captain Ladi Odulaja, said, "We have several major development projects underway at our Accra station and I feel that Mary is the right person to drive them to a successful conclusion.

"Mary will be in contact will operators, aviation managers, chief pilots, and trip support service providers over the next few months to brief them on our progress and will be present at the African Air Show, Exhibition & Conference 2017 in October in Accra, and EBACE in Geneva next May.

---
---
---
---
In the first of a new series of articles that will discuss connectivity from nose to tail, Satcom Direct's Chief Commercial Officer, Chris Moore, sets the scene . . . .

The evolving needs of connecting business aviation
| | |
| --- | --- |
| | t is twenty years since Satcom Direct launched from a beach house in Florida, appropriately located at Satellite Beach. |
At that point in time, air to ground communications systems were rudimentary. Budgeting and management of connections were complicated. A caller would have to establish where an aircraft was in the world, and then look up several corresponding numbers, before eventually dialling a 15- to 20-digit number to reach the aircraft.
Jim Jensen, the founder of Satcom Direct recognised the value it would bring to flight departments and operators, if each aircraft had its own unique number which could be called directly, no matter where it was in the world. Enter Global One Number, business aviation's first service that made direct dialling to an aircraft-in-flight, a reality.
---
---
---
Jetex and CFLY Aviation to develop first private terminal at Guarulhos International Airport
Jetex Flight Support and Brazilian operator CFLY Aviation have won a tender to develop and manage a new private terminal and FBO at São Paulo Guarulhos International Airport (GRU/SBGR), Brazil, over the next 15 years.
The new partnership venture reflects the growing importance of business aviation in the region, and further extends Jetex's footprint in Latin America which currently encompasses Toluca, Mexico and Santiago, Chile.
---
---
---
Let Us Encourage The Changes

In a welcome return to BlueSky, Terry Drinkard issues a Call to Action for a more environmentally sustainable aviation industry.
hile the conservatives of the United States are still in denial about anthropomorphic climate change, the rest of us are painfully aware of the serious and significant changes in,
say, the violence and frequency of hurricanes, to pick an issue at random.
The trend is clear and it's not pretty. The sooner we humans get our house in order, the sooner we can return to the climates of our forefathers and foremothers. Is "foremothers" even a word? It should be.
I believe we in aviation need to start an annual award to recognize those who have made contributions to making aviation more environmentally sustainable with lower embedded energy materials, smaller carbon footprints, Green facilities, and the like.
---
---
---
Embraer launches the new Phenom 300E business jet
Revolutionary interior design and industry-leading IFE and cabin management system.
Embraer unveiled the Phenom 300E light jet, its newest business aircraft, during a press conference at the 2017 National Business Aviation Association's Business Aviation Conference and Exhibition (NBAA-BACE), in Las Vegas, Nevada.
The new aircraft is designated "E" for "Enhanced" in reference to its entirely redesigned cabin and the addition of nice HD CMS/IFE (Cabin Management System/InFlight Entertainment) by Lufthansa Technik.
---
---
---
Comlux Completion has been awarded the cabin outfitting contract of the first BBJ MAX 8 aircraft, for an undisclosed customer. The aircraft will input into Comlux Indianapolis facilities in 4th quarter 2018, for redelivery by fall 2019.
"Since 2008, Comlux has continuously performed the most customized, engineered and luxurious cabin completions. Almost 10 years later, we are honored to be selected by the first customer of the BBJ MAX 8 program to complete their future aircraft" said Scott Meyer, CEO Comlux Completion. "The first MAX 8 signature together with the neo cabin contract signed in August are paving the way for establishing Comlux as a leader in the VIP completion market and for building a bright future for our company and its employees."
---
---
---
---

---
Centre for the future of aerospace opens at Cranfield
The £35m Aerospace Integration Research Centre (AIRC), which is set to change the way the world thinks about flight, has been officially opened at Cranfield University.
Funded by Airbus, Rolls-Royce and Cranfield University, following an award from the Higher Education Funding Council for England (HEFCE), the Centre will be a flagship facility for boosting aerospace research capabilities in the UK, cementing the University's reputation as the leading aerospace research institution in Europe.
Researchers from both the University and business partners, including Airbus and Rolls-Royce, will work under one roof. The Centre will be researching ways of integrating advanced technologies to reduce the time from academic innovation to industrial application.
To enable this, the AIRC is equipped with the latest cutting-edge aerospace research technology including air traffic management (ATM) and unmanned aerial vehicle (UAV) laboratories; flight simulators; a virtual wind tunnel; a FANUC robot in the intelligent automation centre; and a 1500 sq m open space work area, currently housing a full-size wing from an Airbus plane.
---
---
PayNode partners with WorldFirst to improve bank payments for brokers and operators
PayNode, the world's first online payment platform created for business aviation, is forging a partnership with international payments specialist WorldFirst to improve bank wire transfer payments for charter brokers and operators.
PayNode's new bank payment solution, being developed with WorldFirst and Multi Service Technology Solutions, will begin beta testing in the fourth quarter of 2017. It will become the third payment option offered by PayNode, whose processing solutions for American Express and AvCard payment cards have been adopted by more than 100 US and European brokers and operators since PayNode's launch at NBAA 2016.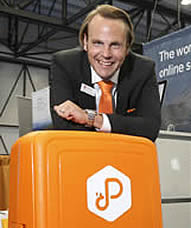 Paynode MD, Magnus Henriksson
PayNode's latest solution will significantly improve the cross-border, cross-currency wire transfer payments that are common in business aviation.
---
---
Daher rolls-out the 200th TBM 900-series very fast turboprop
Daher has announced the roll-out of its 200th TBM 900-series very fast turboprop aircraft since the introduction of this upgraded family in March 2014.
The milestone airplane, serial number 1200, is a TBM 910 version to be received this week by Cutter Aviation in San Antonio - a Daher-authorized TBM distributor for the U.S. states of Texas, Louisiana, Oklahoma, Arkansas, Kansas and Missouri.
Daher's TBM 900 family - its sixth evolution from the original TBM 700 configuration - is the latest evolution of the company's very fast turboprop concept, offered today in two production versions: the TBM 930, with Garmin's G3000 integrated flight deck and touch screen controls; and the TBM 910, with Garmin next-generation G1000 NXi avionics technology replacing the original G1000 avionics suite.
---
---

Paula Kraft, founder and President of Atlanta, GA-based Tastefully Yours Catering and founding partner of the DaVinci Inflight Training Institute located in Fort Lauderdale, Florida.
Casseroles: The Perfect Food for Aviation
| | |
| --- | --- |
| | an you feel it in the air? Fall, one of my favorite times of the year. |
With fall's unpredictable weather - sunny and warm one minute, blustery and cold the next - a casserole will prove to be the perfect autumn and winter meal, or even a savory side dish for your next trip.
Fit for either passenger or crew, this one dish meal makes sense for aviation. Your food source can package it into individual casserole dishes that can go from the oven to the plate, or sent bulk so you can serve multiple passengers from one container.
A casserole is both a cooking vessel and a food, a double meaning and somewhat confusing.
The cooking vessel version is used to cook raw food, but, the food meaning has come to be known as a self -serve one dish meal.
As it turns out, casseroles are one of the best meal or side dishes to serve on board an aircraft.
---
---
Stobart Jet Centre to launch at London Southend Airport
Stobart Aviation, part of the Stobart Group, has announced that it will be launching a major new executive jet FBO - 'The Stobart Jet Centre' - at London Southend Airport, UK.
The new centre will replace the existing much smaller facility and is due to reopen in November 2017. The Stobart Jet Centre will deliver a major boost to the capacity available for private flights into London, Europe's busiest city for private aviation. The centre is expected to cater for 5,000 flights per year by 2022.
Speaking at the NBAA Business Aviation Convention & Exhibition in Las Vegas, Stephen Grimes, Managing Director, Stobart Jet Centre Limited, said, "Convenience, speed and comfort are absolutely vital to the business and private aviation market. This has been at the heart of our thinking in developing our new terminal. The Stobart Jet Centre will offer guests and pilots a smooth, premium experience because we can offer 24-hour availability and departure routes outside London's crowded airspace. We are confident that London Southend Airport will become a refreshing, hassle-free alternative to London's current, crowded private aviation terminals."
---
---
Future of UK Airfields
The Royal Aeronautical Society announces a one-day conference on Tuesday 24th October 2017 at 4 Hamilton Place, London W1, addressing the Future of UK Airfields.
The day will be opened by Rt Hon Grant Shapps, MP, with a ministerial address from Lord Callanan, Aviation Minister, Department for Transport.
The RAeS wants to help bring the sector together to help provide some answers to these questions posed by Ministers in the draft Aviation Strategy, as well inputting into the work of the new All Party Parliamentary Group (APPG) on GA, recently set up to promote the GA sector in Parliament.
Full details are available here
---
---
ExecuJet St Maarten returns to operations post-Irma
ExecuJet, part of the Luxaviation Group, has announced that its FBO in St Maarten, which along with the rest of the island was extensively affected by Hurricane Irma, is back to operational capability following the handling of a transient business jet.
The Falcon 8X aircraft took off from ExecuJet's St Maarten facility in the Caribbean on 10 October 2017, signalling the start of a return to normal operations ahead of the holiday season in December.
Fuel is available without restriction at the FBO, and the current limitation to daylight-only flights is expected to be lifted following the restoration of navigation aids and runway lights, which is scheduled for completion by the end of October 2017.
---
SETOps conference shows the future of air transport services. By Kathryn B. Creedy. read
---
The future of SETops - a perception issue?
read
---
US small transportation activity is higher than the post- eregulation period.
Kathryn B. Creedy.
read
---
Marketing SETP requires Logic and Emotion.
Ashley Bowen Cook, vice president at Greteman Group. read
---
The 'disintermediation' of business aviation
Wheels Up, Surf Air and newcomers Waves are all making use of proprietary apps, a significant shift for business aviation, which until recently has thrived on personal relationships with customers.
read
---
More stories in our
Industry Supplements
see tabs at top of page.
---