---

Embraer lands in the Silicon Valley with sights on disruptive innovation

Embraer is forming innovation teams in Silicon Valley and in Boston with the objective of exploring business opportunities in the future of air transportation.

The team will seek partnerships that enable new business models and technologies, with particular focus on collaboration with startups, investors, academia, and corporations. Operations will begin this month.

The company has decided to broadly propel innovation through a Global Business Center, which is being established in Melbourne, Florida. The American city is already home to an industrial, engineering and service unit, connecting directly to the United States' advanced innovation outposts. Additionally, it will be connected to and directly participate with the company's engineering departments, in São José dos Campos, Brazil.

---

---

AirMed International acquires Air Medical of San Antonio

As part of its continuing growth strategy, AirMed International has acquired San Antonio-based Air Medical, the largest fixed wing air medical transport company in Texas.

Air Medical's fleet of three jets and two King Air turboprops, equipped for critical care transports, is located at San Antonio International Airport. Those aircraft will join AirMed's fleet, including Beechjet, Cessna Citation, Hawker and Learjet aircraft along with more than 20 King Airs, located at nearly 30 bases.

AirMed International President Denise Treadwell and Air Medical Chairman Joe McCart

"Strategically, this acquisition will allow AirMed International to serve growing requirements for critical care transport as we meet the needs of healthcare in the Texas region and enhance support for area military medical transports," said AirMed President Denise Treadwell. "The compassionate, dedicated and experienced Air Medical team that Chairman Joe McCart has built is quite compatible with our professional medical and flight teams."

---

---

Spirit Aeronautics and Global Aerospace Design team for B737 ADS-B solution

Spirit Aeronautics and Global Aerospace Design Corporation are teaming to provide both commercial and business Boeing 737 operators with ADS-B capabilities.

"Our goal is to provide Boeing 737 customers with a low cost but compliant ADS-B solution that is reliable and effective", said Tony Bailey, President & COO. "Teaming with Global is a no-brainer relationship that can accomplish that and more. Global's expertise and abilities complement our own making us an incredible team with the ability to put together a Boeing 737 ADS-B solution that is second to none."

"Global is excited about where this partnership with Spirit will take our company," said Todd Hamblin, Vice President of Business Development at Global. "Both organizations employ complementary resources within the commercial and business aviation industries and by combining our resources we are able to maximize the reach of our solutions."

---

---

Hollingshead Aviation: the new name for Smyrna Air Center (KMQY)

As Jeff Hollingshead settles in to his new role as president of the FBO previously known as Smyrna Air Center, the FBO ramps up changes to settle for nothing less than excellence, starting with its new name: Hollingshead Aviation.

"When I took over the FBO, I immediately recognized its value as an alternative to congested city traffic and its potential to provide premier services to GA traffic in the greater Nashville area," said Hollingshead. "As Hollingshead Aviation, we're raising the bar of our services, from ground handling to customer needs and everywhere in between."

Located at Smyrna Airport, Hollingshead Aviation lands guests approximately 30 minutes from Nashville's downtown with quick access to a major highway. This serves guests with a convenient location to fly in for exceptional services without the hassle of big-city congested airspace.

---

---

Avfuel network welcomes Temple Airport (KTPL) serving central Texas

Avfuel Corporation welcomes Temple Airport (Draughon-Miller Central Texas Regional Airport) to its network of 650+ branded fueling locations. With the partnership, Temple Airport now offers the Network's popular loyalty program: AVTRIP.

"The addition of Temple Airport to our branded fueling locations adds great value to the Avfuel Network," said Mark Haynes, Avfuel's vice president of sales west. "It's an upstanding location that's dedicated to serving the vast array of aviation segments our industry has to offer with friendly service, and just the kind of location our loyal flight departments are looking for in the heart of Texas."

Known for its staff's can-do attitude, clear blue skies and soft landings, the airport is conveniently situated in central Texas near Austin, Waco, Dallas and Fort Hood. Its location draws in regular traffic for big business, medivac and military aircraft.

As a general aviation facility, the airport is precious to the community, supporting the stability of central Texas' economy and future.

---

---

Satcom Direct and Astronics AeroSat ink distribution deal on connectivity system

FliteStream tail mount connectivity system first to provide both live TV and high-speed internet on bizjets from a single antenna.

Satcom Direct has announced its agreement with Astronics AeroSat to sell the FliteStream T-Series tail mount connectivity system through SD's global dealer network.

The first of its kind in the business aviation market, the FlightStream T-Series solution employs the Panasonic Avionics global communications network to enable business jet passengers to watch live television and use the internet simultaneously through a single antenna.

"At SD, we have a holistic approach to the connected aircraft through innovation and targeted investment," said Jim Jensen, Satcom Direct chairman. "Our industry-leading products and services address the increasingly complex needs of flight departments, aircraft owners and operators to keep the aircraft and passengers synched with ground operations and business commitments over secure networks. This agreement with Astronics AeroSat will help us advance our vision of delivering the most innovative and effective solutions to the business aviation marketplace."

---

---

Embraer delivered 43 executive jets (25 light/18 large) and 32 commercial jets in the 4th Quarter of 2016.

The Company ended 2016 with a total of 117 executive (73 light / 44 large) jet deliveries and 108 commercial, both meeting their respective Guidance for 2016.

Revenues in 4Q16 reached US$ 2,027.8m and in 2016 were US$ 6,217.5m, slightly above the Company's 2016 Revenue Guidance range of US$ 5.8 to US$ 6.2bn.

---

---

---

Annika Abraham

Annika Abraham is being promoted to Managing Director, EMEAA (Europe, Middle East, Africa & Asia) of Avinode, the leading technology and data partner for the business air charter industry.

Abraham, who has worked at Avinode for six years as Chief Financial Officer, will now oversee the commercial, sales, product and data teams across the EMEAA region. Driving strategy, revenue and technology development across all departments, she will be responsible for the Avinode Marketplace and associated market intelligence products in the EMEAA region. Abraham will also drive regional product strategy and delivery of Avinode's sales management system TripManager.

Prior to Avinode, Abraham previously worked in financial roles at Pricewaterhouse Coopers, Nordea and Volvo Business Services.

---
Daher salutes Europe's approval of expanded commercial air transport operations for single-engine turboprop aircraft
The European Union's approval of Commercial Air Transport operations for single-engine turboprop aircraft in instrument meteorological conditions (IMC) and at night has been welcomed by Daher, whose TBM very fast turboprop family is increasingly utilized worldwide on such flights.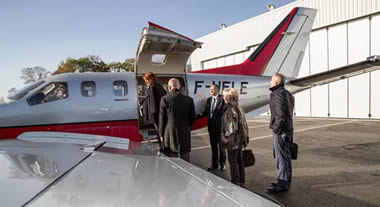 Daher's TBM very fast turboprop family is increasingly utilized worldwide on CAT operations.
When the new regulations become effective on March 22, operators will have expanded opportunities to deploy single-engine turboprop aircraft on charters, corporate services and in other missions - benefitting from their efficiency and speed. read more
---
---
---
PayNode launches full integration with Avinode TripManager and SchedAero to help drive growth for brokers and operators
PayNode, the world's first payment platform created specifically for business aviation, is now being fully integrated across all Avinode Group systems, making it even easier for charter brokers and operators to work efficiently, take on more business and be paid promptly.
Users of the Avinode TripManager broker sales management system and SchedAero flight operations system will now be able to create PayNode payment requests automatically in just a few clicks within their current workflow, ready for emailing to the customer. read more
---
---
---
Flight test complete for new Transition to Hover feature in AS332 helicopter
More opportunity for hands-free operations.
Successful integration and testing of the new Transition to Hover feature has now been completed in the AS332L/L1 Super Puma helicopter.
As part of a new software change for the Universal Avionics Flight Management System (FMS), Transition to Hover is a must-have feature for any AS332L/L1 crew engaged in overwater SAR operations, where the helicopter must be brought to a position to allow for winch operations. read more
---
---
---
This week's highlights include:
The first flight of the final Pilatus PC-24 prototype; New helicopters unveiled at Heli Expo by Bell and MD; The Cessna Citation Sovereign + and the Citation Latitude are granted steep approach certification and TAG Aviation's Debbie Elliott talks about about a free training initiative.
---
---
---
Jet Aviation performs its first BBJ Split Scimitar Winglets retrofit in Basel
Jet Aviation's maintenance facility in Basel has successfully concluded its first retrofit installation of Split Scimitar Winglets (SSWs) on a BBJ1.
Split Scimitar Winglets technology is unique in that it builds on the existing Blended Winglet design to provide a range increase of more than two percent, further providing a striking new appearance without increasing the wing span. The retrofit relies on a patented design from Aviation Partners, Inc. (API) that involves adding a new Scimitar-tipped large Ventral Strake, reinforcing the internal wing and winglet structure, and replacing the winglet tips with new aerodynamically shaped Scimitar tips. read more
---
---
Vision Systems to unveil second generation Electronically Dimmable Window and latest smart interactive window at AIX 17
Following the establishment last September of Smart Lite - a new division devoted to the design, production and commercialization of electronically dimmable solutions - Vision Systems will be presenting its latest innovations at Aircraft Interiors Expo (AIX) in Hamburg, Germany, April 4-6th.
The products are: Nuance V2, the new generation of Electronically Dimmable Window (EDW), and Acti-Vision Window, the smart interactive window shortlisted at the Crystal Cabin Award under the name of Smart-Info Window. read more
---
---
---
Southeast Aerospace, located at the Orlando Melbourne International Airport, has received the FAA's Gold Award of Excellence.
The Aviation Maintenance Technicians (AMT) awards programme was developed by the FAA to encourage technicians and employers to receive or promote initial and recurring maintenance training. The honour demonstrates Southeast Aerospace's commitment to the advancement of aviation safety through promotion of maintenance training for its employees. www.seaerospace.com
---
---
---
ExecuJet Maintenance Australia extends Embraer services to Phenom 300
ExecuJet Maintenance Australia is now approved to carry out maintenance services on the Embraer Phenom 300.
Authorised maintenance of the Phenom 300 marks an extension to ExecuJet's maintenance capabilities already in place for the Embraer ERJ 135 and 145, the Legacy 600 and 650 and the Phenom 100. read more
---

---
Pilots needed near you! (and other things you'd like to know about your Captain)
While his earnings may be in line with a London tube driver, the typical pilot's job security is sky-high, according to new research by PrivateFly.
With demand for air travel increasing, and the pipeline of commercial pilots dwindling, today's cockpit captains are sitting comfortably when it comes to their job security, according to new research by PrivateFly.
The private aviation booking platform surveyed over 1,000 pilots across the aviation spectrum, including airlines, private aviation, cargo and military.
The survey asked how they were feeling about their jobs, how much they earn, what inspires them and about their travel habits.
---
---
Bombardier establishes five line maintenance stations in Europe
Bombardier Business Aircraft has announced the establishment of five new line maintenance stations across Europe.
The facilities provide line maintenance support to Bombardier Business Aircraft customers in Europe, complementing the tip-to-tail heavy maintenance services provided by Bombardier's Service and Support Network in the region and worldwide.
"This expansion is an integral part of our overall strategy to enhance OEM support for our European operators, including the opening of our brand new heavy maintenance facility at London Biggin Hill Airport," said Jean-Christophe Gallagher, Vice-President and General Manager, Customer Experience, Bombardier Business Aircraft.
---
---
RUAG receives EASA STC for the Garmin GTN 750 cockpit solution on the Piaggio P180 Avanti
The European Aviation Safety Agency (EASA) has issued RUAG Aviation with a Supplemental Type Certificate (STC) for the installation of the Garmin GTN 750 advanced touchscreen solution in Piaggio P180 Avanti cockpits.
This upgrade solution allows RUAG Aviation customers to significantly improve safety while modernising aircraft avionics.
"This new STC enables Piaggio P180 Avanti operators to benefit from improved safety through heightened situational awareness, as well as improved reliability and added aircraft value," says Stephan Woodtli, General Manager Site Agno, RUAG Aviation.
"Optimised performance is achieved by the installation of a dual Garmin GTN 750 interface, a dual Garmin GTX 33D transponder, and state-of-the-art Garmin GWX 70 weather radar."
---
---

Paula Kraft, founder and President of Atlanta, GA-based Tastefully Yours Catering.
Is Organic Healthier and Does it Really Matter?
Is it safer? More nutritious? Better for the global community?
or years - when we got requests for organic catering - we'd find ourselves heading off
to the farmers market to purchase a single organic chicken breast, or 6 organic eggs, or just enough organic fruit for a fresh fruit tray.
Today however, as I perused the stack of orders to be invoiced, I happened to notice that each client was requesting some form of organic food to be included in their catering order. I was amazed. I was the person slow to convert our kitchen to organic produce, fighting the trend all the way; but I converted and now feel that it's given me a bit more control over my life and my health.
I had to stop and wonder why there were so many 'organic orders' today. It turns out there is a conference here of agricultural educators who are responsible for teaching the next generation - and organic is the practice of choice. I felt it was time educate the kitchen staff into "the why we serve and prepare organic at Tastefully Yours". As I discovered, many of the staff had no idea of the complexities of being organic either as a business or as an individual.
I want to share what I shared with the crew here about organic, beginning with its definition, the labeling requirements, its handling and storage and why we shop with so many purveyors rather than one big wholesale broker for our goods.
---
---
FL Technics enjoys growth and increased diversification in 2016
FL Technics, a global provider of one-stop-shop MRO services, has announced its yearly business review, displaying a stable growth in revenues of over 20% as well as continuing service and geographical diversification.
Bouncing back from the bankruptcy of a major client, coupled with the financial backdrop in 2015, FL Technics managed to maintain the rise in revenue during 2016, as well as trigger a jump in net profit (from a loss of 11m EUR in 2015 to a profit of almost 3m EUR in 2016). The numbers were mainly affected by the company's growing operations in Asia Pacific, new clientele as well as LEAN business process optimization.
In 2016, FL Technics opened a representative office in Bangkok, Thailand and a new hangar in Jakarta, Indonesia. Increasing presence resulted in an upward trend of revenue from the region, which grew on average 4 times year-on-year.
The company also continued the diversification of its client and service portfolio.
---
---
BBGA honours Andrew Walters with industry award for outstanding services
The British Business and General Aviation Association (BBGA) has honoured Andrew Walters, owner and chairman of London Biggin Hill Airport as this year's recipient of its prestigious annual Michael Wheatley Award for Outstanding Services to the general aviation industry.
The award was presented at the Association's 43rd annual conference and AGM at Luton Hoo by Sir Gerald Howarth MP for Aldershot, applauded by some 120 industry peers.
BBGA Chairman Marwan Khalek praised the work Andrew does for the industry and for his effective political lobbying of the sector. "At a time when airport access is one of our biggest issues, it is good to have a friend who owns and looks after such valuable infrastructure and who has such an active interest in our association."
---
---
Air Charter Service arranges almost 12,500 contracts in a year
Leading aircraft charter specialist, Air Charter Service, arranged almost 12,500 contracts in 2016, making it the company's record year.
Speaking on the achievement Group CEO, Justin Bowman, said: "In total we completed 12,462 contracts in 2016, an average of more than 34 every single day of the year, and an 11% increase on 2015. Often one charter contract entails many different flight sectors."
---
Flat market but underlying business jet AOC market is up. The WINGX Report. read
---
Asia Pacific Civil Helicopter Fleet Report
Hong Kong business aviation consulting firm Asian Sky Group (ASG) has released its highly-anticipated Year End 2016 Asia Pacific Civil Helicopter Fleet Report.
Download
---
Three years on from MH370 disappearance, pilots renew call for improved tracking on all aircraft
read
---
Forty Days of Lent has begun.
Paula Kraft, founder and President of Atlanta, GA-based Tastefully Yours Catering. read
---
Simplify Your Website in 8 Easy Steps.
Heather New, digital developer at Greteman Group, a marketing communications agency based in Wichita, KS, the Air Capital. read, plus test your website!
---
More stories in our
Industry Supplements
see tabs at top of page.
---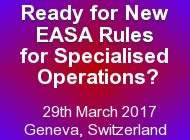 ---