EBACE 2019:
Record number of airplanes fly to EBACE on alternative fuels

Twenty three aircraft participated in the first-ever EBACE SAJF Fly-In, arriving at Geneva Airport (GVA), Switzerland, using alternative fuels.
The significance of the event was recognized by EBACE organizers, the National Business Aviation Association (NBAA) and the European Business Aviation Association (EBAA).
"Today, it is more evident than ever how unified our industry is in working toward the goal of continually reducing emissions through innovation," said NBAA President and CEO Ed Bolen. "Business aviation has always led the way in promoting technologies that advance the sustainability of flight, and it is appropriate that we highlight our focus in this area through this record-setting fly-in."
"This week's record-setting EBACE SAJF Fly-In is a milestone in business aviation's commitment to sustainability and reducing carbon emissions," said EBAA Chairman of the Board of Governors Juergen Wiese. "We are proud that Europe's leading business aviation event, which has always showcased innovation, is proving the viability and value of alternative fuels."
---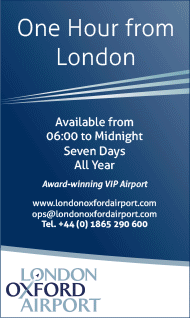 ---
United States:
SD confirms significant rise in frequency of cybersecurity threats to business aviation
Satcom Direct (SD), the business aviation solutions provider, notes a year-on-year increase of attempted cybersecurity attacks on business aviation aircraft subscribed to the multi-layered SD Threat Monitoring service.
Eighty-one percent of the nearly 600 subscribed aircraft have experienced a cyber event that has been thwarted by the SD service.
In addition, the seriousness of the attempted hacks has amplified, with a 54% increase in critical and high-level threats from the same period last year.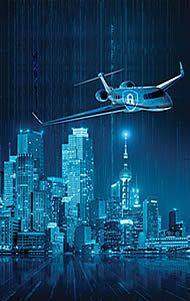 A critical threat represents activity that can affect default installations of widely deployed software resulting in the compromise of servers and devices, as well as leaving the "door open" for other hackers.
Trojans, viruses and operating system vulnerabilities all fall into the critical category. A high level represents a threat from web browser exploitation or malware, which can be elevated to a critical status. This type of threat can potentially cause serious long-term damages to corporate networks.
---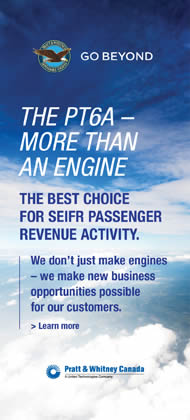 ---
United States:
Reasearch reveals 1,071 private jets could be delivered across Europe by 2025
Valued at $38.5bn.
New analysis from global corporate aviation finance specialist Shearwater Aero Capital reveals that as many as 1,071 new private jets could be delivered across Europe between now and 2025. The cost of these aircraft could be in the region of $38.5bn.
Shearwater has provided asset-based loans on aircraft worth over $100 million located around the world since its launch in 2014.

The company's analysis reveals that the region currently has a fleet of around 2282 business jets, and 1119 of these are classified as 'heavy' or large. Some 294 of the jets are medium sized, and 869 are classified as 'light' - these represent some of the smallest aircraft models.
Chris Miller, Managing Partner, Shearwater Aero Capital, said: "Europe is a very attractive region for business aviation finance companies like ours. It has larger, more expensive aircraft than other markets, and the market here is increasingly focusing on benefits of using financing to purchase business aircraft as opposed to just paying cash."
---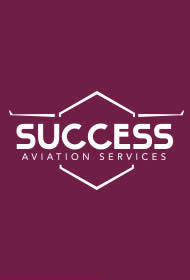 ---

Deanna Harms, executive vice president, at Greteman Group, a marketing communications agency in Wichita, the Air Capital.
Words that Weaken Your Writing
I'm against banishing books, but all for exiling certain words and phrases. Whether drafting a press release, a speech for your CEO, or a new-product blog, your outcome will benefit from a few suggestions.
Omit Lazy Words. Flabby writing lacks discipline. Filler, fluff words add little. These include:
Do the work. Replace vague words with concrete examples. Don't just say your new AOG service gets aircraft back in the air fast. Say, on average, it restores aircraft to service within 24 hours. Or don't say you're about to launch a revolutionary product. Say that, "Achieving 130 patents to date underscores our technological innovation."
Whip your prose into shape by editing and reading copy aloud. Have others provide constructive criticism. They see things the author may be blind to.
---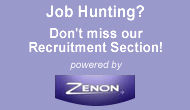 ---
EBACE2019:
Jet Aviation strengthens services with global FBO expansion
The recent groundbreaking at Jet Aviation's FBO in West Palm Beach, Florida, for new hangar and office space is just the latest step in the company's efforts to expand and improve its global FBO network, now at 35 locations.
The company is investing heavily to ensure its facilities are designed and equipped to meet all the business-aviation needs of its global customer base.
Jet Aviation's FBO business in EMEA and APAC saw significant growth in 2018. First the company acquired the Hawker Pacific chain of FBOs throughout Australia and Asia in May. Then in September it established ground-handling services at Prince Abdul Mohsin Bin Abdulaziz Regional Airport in Yanbu, the Kingdom of Saudi Arabia, followed by the acquisition of the KLM Jet Center businesses in Amsterdam and Rotterdam in October.
This year, Jet Aviation continues to expand its locations and services. The company plans to provide FBO services from a newly refurbished 600 square-meter state-of-the art, double-story facility at Riyadh's King Khalid International Airport (KKIA) by the end of 2019, its 40th Anniversary year in Saudi Arabia.
In the US and Caribbean, construction or renovation is under way - or soon will be - at seven of Jet Aviation's 12 regional locations.
---
---
United Kingdom:
Global Trek makes multi-million dollar investment in Cardiff and Belfast FBOs

Award winning FBO specialists Global Trek Aviation are growing their successful brand by opening their second Executive Jet Centre at Cardiff International Airport - the Capital airport for Wales - and in parallel, expanding their footprint at their already established Belfast International FBO facility with a 100% extension.
David McColm, Chief Executive Officer of Global Trek Aviation, commented: "We are delighted to be opening the all-new facility at Cardiff International Airport as it offers tremendous potential with its ideal strategic location. We have invested in building a bespoke, state-of-the-art facility on the south side of the airport with dedicated VIP lounge, private offices, crew briefing centre, flight ops facilities and a fully integrated security screening area. The build is now complete and we already have flights booked in."
---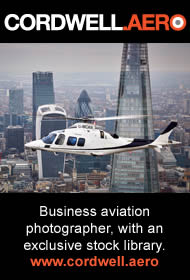 ---
France:
WFS wins fuel provision contract at Aéroport de Strasbourg
World Fuel Services has won a significant tender with leading French airport, Aéroport de Strasbourg, to design, build and commission a JET A1 fuel farm dedicated to corporate traffic.
Strategically located, serving diplomats and business customers at the heart of the EU, the airport is developing a clear and marketable distinction between their commercial airline and corporate aviation offerings.
Aéroport de Strasbourg released a wide-ranging tender in Q4 2018 to develop a dedicated business aviation infrastructure which will operate alongside their existing commercial airline service. In addition to engineering excellence, they were looking for a supplier with extensive access to the corporate business aviation market.
The resulting contract will see World Fuel serve the airport's growing business aviation customer base.
---

---
United States:
All change at Manassas Regional Airport
It has been a time of change for Virginia's Manassas Regional Airport as it prepares to say goodbye to one of its Fixed Base Operators, and also celebrates the beginning of works on a new FBO facility.
Full service FBO, Dulles Aviation, which started at the airport in 1970 with one hangar, announced it will be closing its operations at the Manassas Regional Airport on 31 May.
"We are thankful for the partnership and quality of service that Dulles Aviation has contributed to the Manassas Regional Airport," said Juan Rivera, airport director. "Dulles Aviation has been a catalysis in the growth and development of the airport. We wish Tom and Joe Gardner and all their instrumental employees, the best."
Earlier in the month, charter and aviation services provider, Chantilly Air, celebrated the groundbreaking of their new fixed base operation at the airport.
Expected to open in the first quarter of 2020, Chantilly Air's new full-service FBO will feature over 90,000 square feet of hangar and office space. The company will also pair its FAA Diamond awarded Part 145 Repair Station, to create what it says will be the airport's only FBO offering turnkey aviation solutions including charter, maintenance, management, ground support and hangar facilities.