---
It's no secret that the aviation sector is one of the fastest growing sources of greenhouse gas emissions - it currently accounts for around 2% of global manmade carbon emissions. However, industry bodies have taken a proactive approach to reversing this trend in recent years by voluntarily agreeing carbon emission reduction goals for aircraft and operators.
The airport community is also doing its bit, with Airports Council International (ACI) Europe launching a voluntary and independent programme to help reduce the airport industry's carbon footprint.
One of the biggest issues faced by the aviation industry in achieving a lower carbon future is that airlines fly over three billion passengers each year and the International Air Transport Association (IATA) has forecast this number is expected to double over the next 20 years. What's more, both the European Business Aviation Association (EBAA) and National Business Aviation Association (NBAA) have forecast steady and continued growth in the business aviation market over the next decade. So the industry needs to find ways to meet the growing demand for aviation fuel for the millions of passengers travelling every day but with fewer emissions - an example of society's wider duel challenge.
At Air BP, we are committed to working with our colleagues from across the aviation industry to meet these ambitious carbon reduction goals. We believe that a lower carbon future could be driven through more efficient operations, better infrastructure, new technologies and lower carbon fuels, and supported by carbon offsetting where necessary.
The aviation industry's carbon reduction aspirations could require up to 30% penetration of sustainable alternative jet fuel by 2050. To scale production up to this level requires interim regulatory support and long-term policy certainty, to enable investment into commercial production alongside continued research to improve the technologies. Many of these technologies are immature, but we believe the best way to make them commercially viable in the long term is a stable framework that gives confidence for investors to back these projects.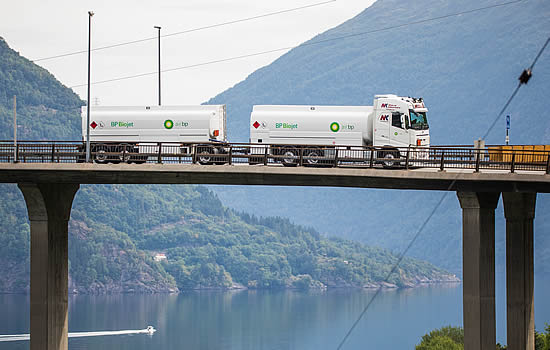 Air BP Biofuel, Bergen, Norway.
We are committed to producing, blending and supplying sustainable alternative jet fuels and have invested US$30 million in Fulcrum BioEnergy which includes a 10 year offtake agreement for 50 million gallons of its sustainable alternative jet fuel each year from plants under development across North America.
Robust carbon management
The International Civil Aviation Organisation (ICAO) unveiled its Carbon Offsetting and Reduction Scheme for International Aviation (CORSIA) in 2016, to address greenhouse gas emissions from global aviation. Its aim is to enable airlines, and larger business aviation operators, to contribute towards carbon neutral growth from 2020 onwards through a "basket of measures" including financing carbon emission reductions outside of the aviation sector. Additionally, the General Aviation Manufacturers Association (GAMA) and International Business Aviation Council (IBAC) have pledged to improve fuel efficiency by 2% per year until 2020 on a fleet-wide basis throughout the business aviation community.
Our business and general aviation customers often ask how voluntary carbon offsetting can help their organisation to achieve better carbon outcomes. While there is nothing currently in terms of legislation that dictates smaller operators must adhere to carbon reduction goals, it is about doing the right thing.
It's important to underline that carbon management isn't just about jumping to offsetting carbon emissions. Companies need to first consider how to reduce the carbon emissions in their own operations.
Minimising processes such as tankering is one area where fuel companies, like Air BP, are working with operators to achieve better carbon outcomes. We are also collaborating directly with our customers to help them achieve their lower carbon goals.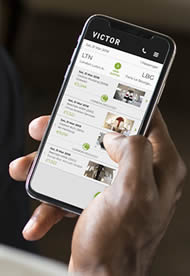 Victor, the private jet charter business which aims to use carbon neutral fuel for 100% of its flights by 2020, and Signature Flight Support, a global fixed-base operator (FBO), are just two of the companies we have collaborated with this year.
Using BP Target Neutral, BP's voluntary carbon offsetting programme, we have offset carbon emissions related to fuel purchased by operators from Air BP and invested in independently-regulated carbon reduction projects around the world.
Signature Flight Support has described its carbon offsetting collaboration with Air BP as "a key component of its corporate social responsibility mission."
Reducing emissions on the ground
While a robust carbon management programme, including more efficient aircraft, could help fuel a reduction in emissions for aircraft operators, we consider airports also have a responsibility towards achieving a lower carbon future.
It's been just over a decade since Europe's airports committed to reducing their carbon emissions with the ultimate goal of becoming carbon neutral. In 2009 ACI Europe unveiled its Airport Carbon Accreditation programme with Frankfurt the first airport to become accredited. The programme, which has four levels of accreditation, is now global. It is well regarded across the industry with over 230 accredited airports, 44 of which are carbon neutral - Stockholm Arlanda was the first to achieve carbon neutral status in 2009. And it's not just the big hitters that are driving carbon management with measurable results. An increasing number of smaller business and general aviation hubs are also accredited on ACI Europe's scheme. Cannes Mandelieu Airport in France is one of the latest to have been certified at Level 3+ Neutrality.
Dominique Thillaud, président du directoire d'Aéroports de la Côte d'Azur, comments: "The level 3+ certification that Cannes Mandelieu and the Gulf of Saint Tropez airports have recently been awarded makes Côte d'Azur Airports the first airport group in France to be declared carbon neutral. We are immensely proud of this achievement. Working with partners such as Air BP, which has demonstrated its own commitment to a lower carbon future, has been key. It also underlines the need for stakeholders and partners to work collectively and with the same sense of determination."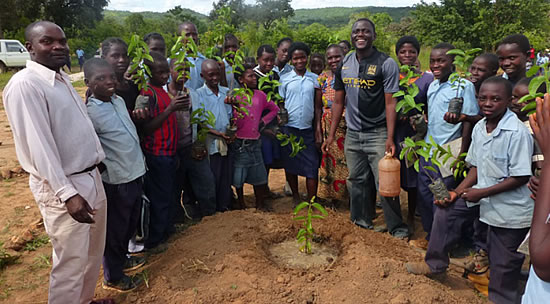 Families gather round a newly planted treed in Lower Zambezi - one of Air BP's carbon offsetting projects.
We operate at a number of the airports on ACI Europe's carbon accreditation programme and are proud of our own work when it comes to paving the way to a lower carbon future. We were the first aviation fuel supplier to achieve carbon neutrality for our into-plane fuelling services across our international network of over 250 operated facilities in 2016. Our initiatives include driving efficiency in technologies such as start/stop machinery on vehicles, improving operational efficiency of waste management and maximising options for supplying sustainable alternative jet fuel.
It's not just operators and airports that benefit from carbon reduction and offsetting programmes either. There are advantages for business aviation passengers too. By choosing an operator that is offsetting carbon emissions, business aviation passengers can demonstrate how they too are helping to reduce emissions.
As an aviation industry we are in the early stages of our transition to a lower carbon future and at Air BP we are committed to actively working with players from across the sector as we move towards a lower carbon future. There are some real opportunities for us all to get after together to make our operations more efficient, improve our infrastructure and bring new technologies and lower carbon fuels to market. With CORSIA's goal of achieving carbon neutral growth from 2020 onwards looming, the time to act is now.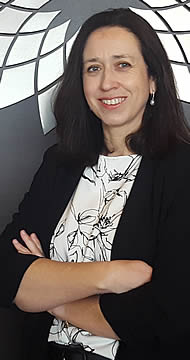 About the Author
Irene Lores is Air BP's global marketing director for general aviation based in Madrid, Spain. She has over 17 years of experience in the fuel industry, working at BP since 2000 and Air BP since 2012. Her previous positions include general manager, Air BP West Mediterranean and supply manager, BP Gas España. Prior to joining BP, Irene worked for several years in the financial markets with international positions in Societé General Group and Natwest Bank.
Since taking up her role as global marketing director for general aviation last year, she has among other things coordinated the launch of the successful RocketRoute MarketPlace app, Air BP's collaboration with Red Bull Air Race and announced a strategic partnership with Victor, one of the world's leading on demand jet charter marketplaces.
Irene is a Spanish national. she holds a degree in Economics and Business Management from Madrid Autonoma University. She is passionate about aviation as well as her family and is a leading member of the BP Women International Network in Spain.