Born to Fly
---
True leaders lead. Jack Pelton demonstrated that last Saturday night. He used some of his podium time as the Wichita Aero Club honoree to give a shoutout to our recently launched I Fly Wichita campaign.
He called on the hundreds of gala attendees to band together to effect change. Why should a man who lives in a fly-in community and flies himself whenever possible care so much about rallying support for Eisenhower National Airport?
As a pilot and businessman, perhaps he understands better than most just how vital airports are to a region's economic health. Later, in a one-on-one conversation, we spoke about how he once used his friendship with then-CEO Herb Kelleher to initiate discussions with Southwest Airlines about coming to Wichita. Southwest started service here in 2013. Never underestimate the value of relationships.
A man who makes things fly
His community boosterism tells you a lot about Pelton. He is a difference maker. It also helps explain why Pelton is one of aviation's most respected and beloved members. In my role as vice chair of the Wichita Aero Club and chair of the trophy selection committee, I know how many worthy nominees there are and how difficult the decision always is. Except this year.
As CEO and chairman of the board of the Oshkosh, Wisconsin-based Experimental Aircraft Association (EAA), Pelton still makes Wichita home. Not only has Pelton made a substantial impact on both our community and aviation, he was behind the rebirth of the Wichita Aero Club. It's especially fitting that he receive the trophy as the club celebrates 10 years. The club - originally founded in 1915 - sponsored a balloon race, then went dormant. No one knows why. In 2008, after speaking at the Atlanta Aero Club, Pelton (then CEO of Cessna Aircraft Company) came back home and saw to it that Wichita established a club of its own. That tells you a great deal about Pelton. He sets forth a vision, then he delivers on it.
Challenging us to raise the innovation bar
Pelton spoke about the amazing things happening in aviation today - from personal flying cars to the double-fuselage Stratolaunch. He urged the Air Capital's manufacturers and suppliers to seize possibilities and make them happen. Preferably right here at home.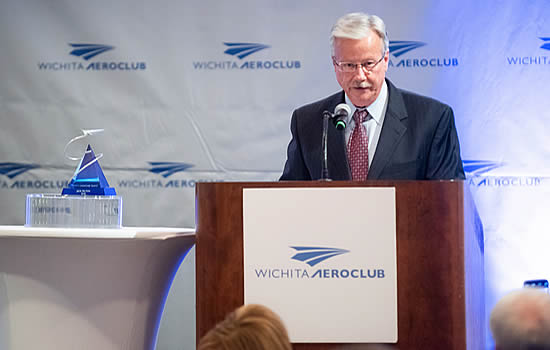 Man of the hour, Jack Pelton, Experimental Aircraft Association CEO and chairman, and this year's Wichita Aero Club trophy winner. | Photo: Visual Media Group.
"Our obligation is to advance aviation," he said. "Whether it's in commercial or in urban travel, our real opportunity is to take our capabilities to the future."
Pelton grew up in aviation, with both parents pilots. He and his dad built a plane together in the 1970s as members of EAA Chapter 1 (Riverside, California). Pelton holds airline transport and commercial pilot certificates, and has earned instrument, multiengine and seaplane ratings, plus type ratings for Cessna Citation and Mustang jets.
An ardent aircraft owner and operator, Pelton began his career with Douglas Aircraft (McDonnell Douglas) in Long Beach, California, then served Dornier Aircraft in Germany as vice president of engineering. He led Texton's Cessna division for 11 years. Even then he found time to restore and fly vintage aircraft. In 2012, he took his considerable passion and leadership skills to EAA. That's no small thing. Pelton served first as a volunteer CEO and then became the first chairman elected from outside EAA's founding Poberezny family.
A passion for people
"Jack has a love for aviation, but a passion for people," said Mark Paolucci, retired Cessna Senior Vice President of Sales and Marketing, in opening remarks. "He has complete confidence in others, even when others lack that in themselves." He went on to say, "From Jack you never heard, 'Why did we fail?' Instead you heard, 'What did we learn?'"
Pelton views leadership as an opportunity to serve. He shared advice received years ago from Cessna Aircraft Company Chairman Emeritus Russ Meyer: "If you've been successful in life, you have an obligation to pay it forward." Then he spoke about his involvement in EAA's Young Eagles and scholarships for aspiring young pilots.
Doing what needs done
Pelton walks his talk. He is a past chairman of the General Aviation Manufacturers Association board and has served on almost every aviation board you can think of, including the Smithsonian National Air and Space Museum, National Business Aviation Association, and Corporate Angel Network. His many recognitions include induction into the Kansas Aviation Hall of Fame, the FAA's Friend of Safety Award, the National Aeronautic Association's Distinguished Statesman of Aviation Award, EAA's Freedom of Flight Award, the Aviation Week Laurel, and the Lindbergh Award.
Here in Wichita, we're happy that Pelton still somehow managed to be an integral player in the effort to restore and build a home for Doc. As one of the 1,644 Boeing B-29 Superfortress aircraft built here during WWII and now one of only two currently flying, this aircraft holds a special place in our hearts. Doc recently moved into its own purpose-built hangar and education center at Eisenhower National Airport. It opened to the public January 26, the same day as the gala. It was a big day in the Air Capital.
Bringing people together
One of the best parts of the evening was watching our industry - including competitors - extend warm handshakes, friendly smiles and even hugs. The trophy citation stated: "Jack Pelton's contributions and impact on both the Wichita community and the aviation industry are legendary. His lifelong dedication, leadership and influence on legislation, regulation and taxation continue to shape our industry and will do so for future generations." Amen. Now, let's follow Pelton's lead. Let's do all we can to make aviation strong for the next generation.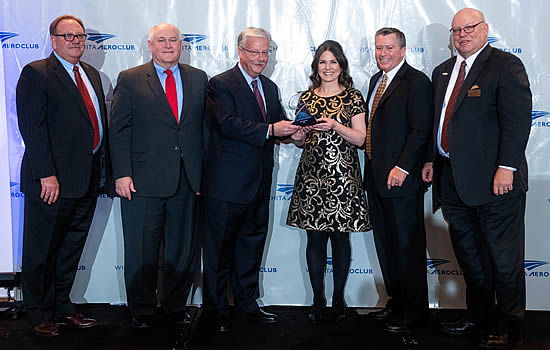 Pictured left to right: Mark Paolucci, retired Cessna senior vice president of sales and marketing; Ron Estes, U.S. Congressman; Jack Pelton: Experimental Aircraft Association (EAA) CEO and chairman; Ashley Bowen Cook, Greteman Group vice president and WAC vice chair; John O'Leary, Airbus Americas Engineering vice president of engineering and WAC Chairman; Dave Franson, Wichita Aero Club president. | Photo: Visual Media Group.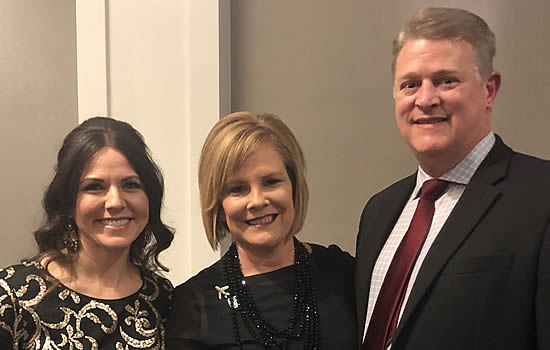 Highlights of the annual Wichita Aero Club gala include time spent with friends. Pictured here are Wichita Councilwoman Becky Tuttle and Delta Dental of Kansas COO and former WAC Chair Patrick Tuttle.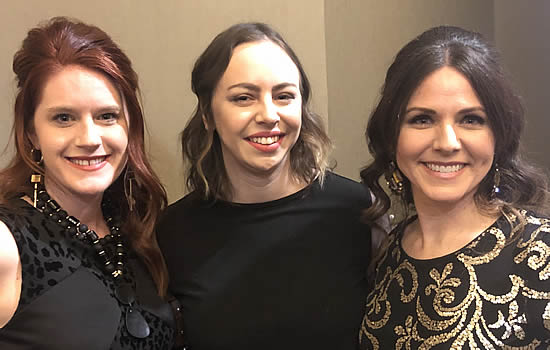 Greteman Group colleagues Jordan Walker and Meghan Wolfe attended the gala with me. They found it equally inspiring.

BlueSky Business Aviation News | 31st January 2019 | Issue #496