Can aviation ever be truly green?
---
There's no denying that air travel has changed the way the world works, but our ability to fly pretty much wherever and whenever we like comes at an environmental cost. The good news is that with industry stakeholders, including Air BP, committed to a sustainable future, it's not unthinkable that one day we'll be taking to the skies guilt-free.
From a green perspective, the element that everyone is grappling with right now is how to mitigate CO2 emissions from air transport.
Cleaner, greener fuels
Sustainable Aviation Fuel (SAF) produced from vegetable oils or biomass is currently the most viable route to reducing CO2 emissions in air transport. It has been designed as a 'drop-in' fuel and can be blended with up to 50% traditional jet fuel so that it is safe to use in existing aircraft and airport infrastructure.
Air BP has already taken significant steps to make flying greener and in recent years we've supplied SAF to 15 locations in five countries. What's more, last October we agreed a collaboration with leading fuel producer Neste to develop and supply SAF from non-palm renewable and sustainable raw materials including used cooking oil. These fuels can reduce the carbon footprint of aviation fuel by up to 80% over their full life cycle.
So, why isn't SAF more widely available? Currently SAF costs significantly more than traditional aviation fuel, so the big challenge with bringing it to market is really down to managing cost. However, we expect that cost to come down as feedstock becomes more available and more efficient production technologies are developed.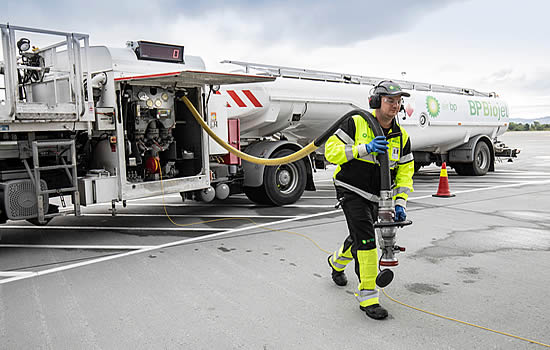 Air BP, Bergen
Efficient aircraft
Engine design has also changed massively over the past decade or so. Manufacturers are constantly innovating with more efficient and environmentally friendly aircraft. As a result, we are already seeing engines that are lighter and more powerful which mean they burn less fuel.
The electrification of aircraft is another exciting space that Air BP is engaging with. We're still in the early stages of development for battery-powered planes and a few decades off seeing large-scale commercial electric passenger jets taking to the sky. But the electric revolution was certainly making its mark at this year's Paris Air Show, where we saw the unveiling of several prototypes for electric aircraft models capable of seating up to 10 passengers. These are ideal for the general aviation market.
Carbon offsetting
It's been a decade since the aviation industry set ambitious CO2 targets, including carbon-neutral growth from 2020. And as an industry we're on target to meet that initially at least through carbon offsetting.
Across our international network of more than 250 Air BP operated facilities, the primary aim is to drive efficiency in technologies such as start/ stop solutions on vehicles, improve operational efficiency of waste and stock management, maximise options for supplying SAF and introduce initiatives on which to develop a lower carbon future. Then any residual emissions, following these reductions, are offset through BP Target Neutral – a scheme that enables us to offset emissions by purchasing carbon credits from carefully-selected environmental projects around the world. We are extremely proud to be the first aviation fuel supplier to achieve carbon neutrality for into-plane fuelling services across our international operations.
We are also committed to supporting our customers in managing their carbon reduction goals. So, we were delighted when Victor, the leading private jet charter services provider, who we have been collaborating with for more than a year with a pioneering carbon offsetting programme, revealed in July that it has marked another green milestone by offsetting double its carbon footprint.
Thinking outside the box
We're also looking beyond the aviation sector to focus our green initiatives. In 2017 BP joined forces with a trailblazing British company called Lightsource - Europe's largest solar developer. The goal was to take the UK-based business global. Two years on and Lightsource BP has more than doubled its footprint around the world. We're now talking to several airports in the US about installing solar farms on-site and making that power available to customers through direct purchase agreements.
As the world nears a future with fewer resources and greater demands from those travelling by air, creating a sustainable, greener industry is of paramount importance. It's clear within the aviation sector that there is a real focus and commitment to achieve as green an industry as quickly and as safely as possible.
About the Author
Irene Lores is Air BP's global sales and marketing director for general aviation based in Madrid, Spain. She has nearly 20 years of experience in the fuel industry, working at BP since 2000 and Air BP since 2012. Her previous positions include general manager, Air BP West Mediterranean and supply manager, BP Gas España. Prior to joining BP, Irene worked for several years in the financial markets with international positions in Societé General Group and Natwest Bank.
Since taking up her role as global sales and marketing director for general aviation, she has among other things coordinated the launch of the RocketRoute MarketPlace app, Air BP's collaboration with Red Bull Air Race and announced a strategic partnership with Victor, one of the world's leading on demand jet charter marketplaces.
Irene is a Spanish national. She holds a degree in Economics and Business Management from Madrid Autonoma University and is passionate about aviation as well as her family. Irene is a leading member of the BP Women International Network in Spain, one of Air BP's Women in Aviation corporate members and a member of Aviadoras, an initiative within the Spanish airline pilots' union to promote women in aviation.