| | |
| --- | --- |
| | here has been a 5.6% increase worldwide in pre-owned sales during the first six months of this year, compared to 2016, states market analysts JETNET LLC in their six-monthly review of the sector. |
Executive aircraft are taking less time to sell. It seems that the business aviation sector seems to be slowly waking up again, really for the first time since the 2008 recession. Worldwide trends also indicate an increase in aviation activity with even Europe's EBAA reporting nine months of continued growth to July 2017 across the continent.
This is the first time the region has experienced continued growth for seven years; North American business activity is also slowly rising. However new aircraft transactions are still unpredictable, exchange rates are erratic and can kill a deal overnight, and speaking with OEM sales teams, the fact is that a deal is never done, until the aircraft is delivered. Combined, these factors have resulted in a buzzing pre-owned market which buoys up the MRO sector.
Smart owners recognize that there is more than one option to secure an "as-new" aircraft. For those managing their budgets, and with an immediate need for an asset that will improve productivity output, the benefits of buying a pre-owned machine, then refurbishing and overhauling it, are many.
It can often be more cost-effective, and quicker, to work with an interiors and MRO company than wait for a new aircraft. The aircraft can also be customized and tailored to suit the specific mission of the owner making it an even better long-term investment.
The increased activity is being driven by an escalation in demand for cabin conversions and upgrades from all over the globe with requests and work coming from traditional sectors e.g. Switzerland, the USA and Canada as well as emerging markets including Nigeria, Malaysia and China. Customers are varied too with private wealthy individuals maximsing their budget to replicate their lifestyle on the ground in the air, alongside Fortune 500 companies seeking the most efficient cabin configuration to transport their teams.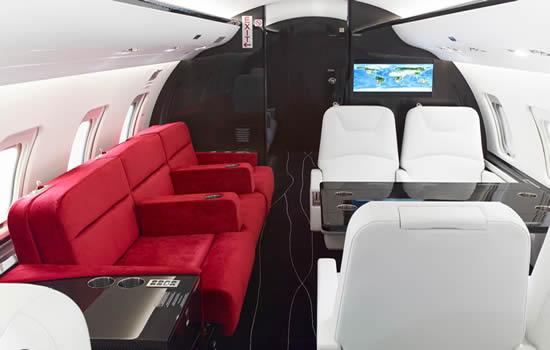 Flying Colours' ExecLiner format converts a Bombardier CRJ200 into an Executive VIP configuration.
It is not just business jets that are being overhauled, we've changed airliners to VIP configurations or corporate shuttle format, and we've modified helicopter interiors to reflect a customer's personality. Aircraft have come in as VIP cabins and left with special missions' interiors that support medevac, government and surveillance missions, both short and long haul. And in one of our latest projects we've reproduced an interior originally fitted in a mid-size cabin for a long-range jet. There are no cookie cutters at our facilities as we output a diverse range of projects.
Successful projects are underpinned by a complex web of technical knowledge which is carefully spun to catch all the owner's new requirements. The capacity to offer pre-buy inspections, light to heavy maintenance, design, avionics, interiors, cabinetry, soft furnishing, connectivity, design engineering, external paintwork, STC generation, special mission understanding, expert knowledge, and extensive experience all need to be considered when selecting the right MRO for any refurbishment project. At some point during the process each of these areas are likely to come into play, and at Flying Colours we place a lot of focus on managing the owners' expectations.
Efficient, professional services offered with integrity and flexibility form the cornerstone of what is needed to effectively complete a cabin modification. Retaining the services under one roof, with a single project manager, and a smart team can ensure delivery of an aircraft to an owner, on time and on budget.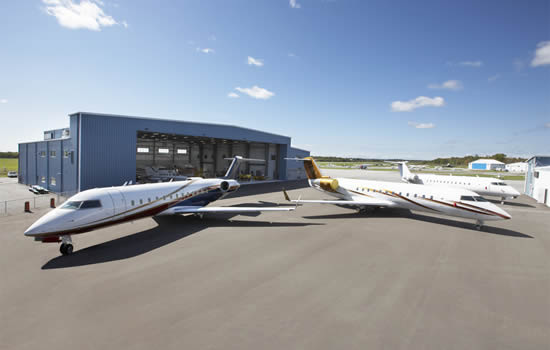 Flying Colours Corp. Peterborough, Ontario hangar.
Over the course of this Inside Out series of columns we hope to give readers pointers, guidelines, and anecdotal tales that will inspire, inform and hopefully provide insight into the complexities of the MRO world. It is an evolving sector with rapidly changing technology, making it one of the most exciting to work in and talk about.
We look forward to telling you more from the inside out.

www.flyingcolourscorp.com
Headquarters:
901-120 Airport Rd
Peterborough, Ontario
Canada, K9J 0E7
+1 (705) 742-4688