| | |
| --- | --- |
| | any factors will influence the decision to buy a new or pre-owned aircraft, and in today's market the latter is proving a popular option with savvy buyers. |
Refurbishment gives owners the opportunity to customize the aircraft to specific requirements. This can often be quicker, and more cost-effective, than waiting for a newly made machine.
However, there are several considerations to be made in terms of realizing the buyer's vision. What type of aircraft to choose, how to select the right MRO, what to think about in terms of interior design, futureproofing and maintaining asset value, available time and budget, and having the right paperwork in place, are all key.
Typically, the first steps involve establishing the aircraft mission with the owner. Aircraft selection will depend on several variables with usage being the lead factor, how often it will fly, where it will operate, how many people will fly, average leg time, and operating costs. In corollary when selecting an aircraft key points to consider are number of hours flown, engine time, hours in the air, a good pedigree in terms of maintenance, and a well-cared for airframe. Thorough due diligence is essential and will add value to any purchase.
An MRO which supports clients through this complex process is invaluable. At Flying Colours we are often involved with resolving these decisions and will conduct the all-important pre-buy inspections. It helps avoid unwanted surprises along the way but more importantly it develops the relationship between owner and MRO. This builds trust which is extremely important when handling such high value assets. The relationship underpins the success of the project, owners need to feel assured they are getting the right advice, technical know-how and skills for the project. It gives them the confidence to take guidance from the experts.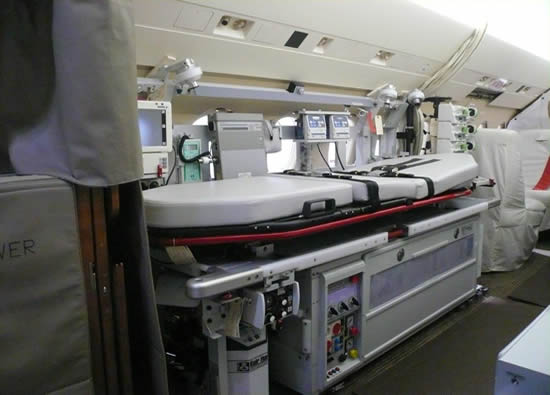 Medevac equipment can be extremely complex and requires specialist knowledge to install effectively.
Once the acquisition has been completed the next phase focuses on design considerations which once again will be informed by the mission. A corporate work horse supporting many legs per week will require a robust interior resilient to heavy foot fall, while a private owner may want a capacious cabin incorporating designer brands, fashion trends and one-of-a-kind pieces. Yet a hospitality company will likely want an interior that provides a spacious feel, a comfortable relaxed style and good storage as well as optimizing passenger numbers. Special missions' aircraft such as medevac or surveillance aircraft interiors take on a whole new level of complexity as these projects are often trying to replicate a land environment, in the air. The design engineering for these projects can be extensive and needs special expertise to fulfill.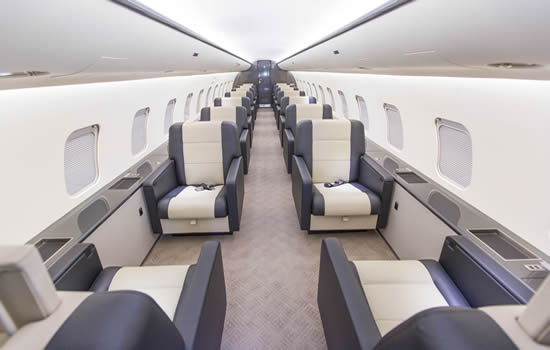 A leisure company will want a comfortable interior with large seats.
There are so many new materials, composites, galley styles, flooring, and carpet options that clients are often genuinely bewildered, so an MRO that gives clear guidance and explanation is vital. Technological innovations, cabin management, inflight entertainment and connectivity have advanced at such a pace that it can be baffling, so we really aim to get to the heart of the client needs. Whilst establishing what will work best, a good MRO will also look to futureproof the integrated systems.
Owners need to recognize upcoming mandates and ensure any newly installed avionics will meet global NextGen requirements; connectivity systems need to be compatible with the rapidly evolving data delivery systems; and the aircraft should be designed so that it will look as attractive to a potential buyer, as it does to the owner. Maintaining asset value is a significant part of the refurbishment process.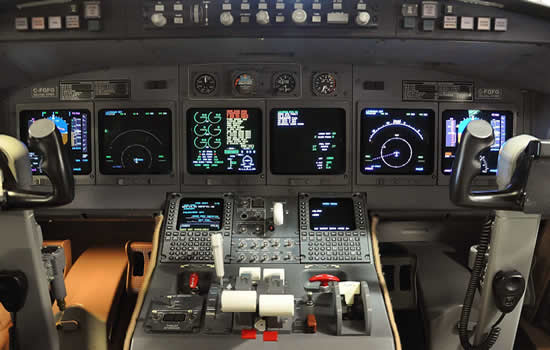 Futureproofing the technology is a major consideration in refurbishment.
An MRO that can manage the maintenance updates, avionics upgrades, interiors modifications and paintwork will be able to complete the web of modifications in parallel, which in turn saves a substantial amount of time and budget. As a revamp can take anywhere between four and ten months, depending on the complexity of the project, having a good idea of necessary down time will support a flight department or owner's scheduling and mitigate any excessive losses.
Correct paperwork approvals streamline the whole process. The provision of supporting paperwork, appropriate STC generation and re-registration for aircraft changing countries, are all part of the process, and ensures when an aircraft is sold the legal requirements are in place.
This end to end solution makes life much easier for our clients, but most of all efficiency is the cornerstone for aircraft refurbishment. At the end of the day an efficient MRO will make the difference between an on-time and on-budget delivery, or not.

www.flyingcolourscorp.com
Headquarters:
901-120 Airport Rd
Peterborough, Ontario
Canada, K9J 0E7
+1 (705) 742-4688