A Watermelon Smile
---
What do you think of when you think of summer? Palm tree lined sandy beaches, cool cocktails with a fruity garnish, family fun, cookouts and a barbeque? Yup, I think of all of the above - and watermelon!
Doesn't the sight of it even make you happy? Look at the slice . . . it's a smile, pure happiness.
| | |
| --- | --- |
| We can thank the Egyptians for the first watermelon. The first harvests were documented over 5000 years ago. And from there - over 2000 years ago - merchant ships carried the watermelon to China, and the rest is history. Summer is the season for fresh watermelon; it is grown in over 96 countries around the world and there are over 1,200 recorded varieties in assorted colors. In Italy, there are thousands of festivals devoted to watermelon so as you travel, watch for signs like 'Sagra' or 'Festa del Anguria' announcing their dates. | |
Every country has festivals to celebrate this vegetable . . . oops, I guess I forgot to mention that a watermelon is in the same family as the squash, the pumpkin, and the cucumber. No wonder it's so versatile.
With a little creativity, you too can add this mouth-watering, sweet nectar to your next flight. You may not want a big wedge to sit on the club table, but there are numerous benefits of serving watermelon in hundreds of other ways.
Watermelon doesn't contain any fat or cholesterol, it is high in fiber and vitamins A & C and is a good source of potassium. It can lower inflammation and blood pressure as well. Did you know that every part of the watermelon is edible? Even the seeds and rinds. In some places, you can even find the seeds made into jewelry.
I thought I would see how many ways you can serve watermelon and did a Google search to add to my idea list. I was amazed - really amazed at how many creative things you can do with watermelon. Before Google, I started with my kitchen to see what we do. I must admit, it is a bit basic compared to some of the examples I found. At Tastefully Yours, we have a watermelon appetizer; rectangular cubes wrapped in a thin slice of prosciutto over a slice of stilton cheese. The sweet and salty . . . unimaginable! For several years we've also offered a watermelon, pistachio and balsamic cube when in season - super easy and can be done on board actually. In Israel and Egypt, the sweetness of watermelon is often paired with the salty sensation of feta cheese. I found numerous examples of this combination including a summer side salad we do. Always a popular seasonal hit at Tastefully Yours is Chef Dan's watermelon and feta salad with fresh mint (and thinly sliced red onions if you dare).
Something new we added this year to the summer menu is a tuna and watermelon sashimi.
The sashimi capitalizes on the potent flavor of the sashimi tuna that melts into the sweetness of the watermelon. The tuna is marinated in fresh ginger and soy, then alternately layered between matching size slices of watermelon. The sauce that completes this mouth-watering dish contains mint, sweet chili sauce, a light amount of soy, a hint of garlic and Georgia grown peanuts. The sauce is pureed and the flavors balance each other incredibly well (it can be made without the peanuts for those with food allergies). It is garnished with petite skewers of fresh local corn popped off the kernel resting in a ramekin of sweet chilies, chive infused olive oil and a reduction of balsamic for dipping.
Grilled watermelon is a new taste sensation quickly moving around the globe.
The charred flavor hits one taste profile and the sweetness another. With this thought in mind, we created a grilled watermelon salad. It's a play on the traditional Southern sweet and spice often found in Southern BBQ sauces.

The salad is a blend of arugula and spicy watercress with a small amount of Bibb lettuce to tone down the spice a bit. Feta is then sprinkled over the top for the saltiness and our Georgia-grown Vidalia sweet onions and watermelon radish . . . very pungent and crunchy for the aircraft.
Surrounding the salad is an array of grilled watermelon cubes and pickled watermelon rind (also grilled). The crouton topping the salad is pure deep Southern-fried pork belly bits which are the perfect ending with the balsamic, Dijon and olive oil dressing.
You must be curious about what I found when I was looking for other uses of watermelon. Feast your eyes on some of these ideas:
Smoothies, cocktails, watermelon juice (which can be frozen), watermelon ice cubes - so your watermelon beverage can be chilled and not be diluted by drinking - and jello vodka watermelon shooters made inside a hollowed out lime shell sprinkled with black sesame seeds. I'm surprised that since watermelon is 96% water, that we don't see more beverages using this refreshing healthy juice.
Appetizers: Watermelon cubes with feta and mint or grilled with balsamic, feta and mint and something with a twist . . . grilled watermelon slices with halloumi cheese (a salty Greek cheese firm enough to grill).
With balsamic and mint or a simple stacked cube with watermelon juice shots puzzle avocado watermelon salad or Bulgarian watermelon soup, mixed melon soup and watermelon gazpacho.
Watermelon also blends well with proteins as these illustrations with shrimp and endive, smoked trout with watermelon, apple and fennel and ham reflect.
I saw this photo in a magazine and decided to try recreating it.
| | |
| --- | --- |
| I stacked layers of circular cut watermelon (used a circle cookie cutter), rings of local organic made goat cheese sliced with dental floss to get a beautiful slice (smashed it slightly with the bottom of a cup and a piece of wax paper to make the sliced cheese log the same size as the watermelon), chive blossoms, and a sprinkling of radish sprouts. I then drizzled a tiny bit of sweet pomegranate balsamic vinegar reduction on the plate to add that finishing touch. | |
Yet another version of the watermelon, goat's cheese salad with a balsamic reduction drizzle but this one is heartier due to the addition of arugula (rocket greens).
Here are some creative ways to serve watermelon…for the Rubik's cube fanatic or gamer (you need very good knife skills to pull this one off) and watermelon cut into a serving vessel filled with crab salad.
And let's not forget desserts
If you happen to be able to connect with a talented catering source with sculptors on their staff, you can have a birthday cake carved from a ripe melon, or a solid disk of water melon can be cut into wedges and frosted with whipped cream and garnished with other fruits and berries. To serve, simply lift out a wedge. Why not a mint soda float made with watermelon?
The Japanese have found a way to grow assorted square watermelons . . . not to mention triangles and hearts as well. They are simply placed inside a shaped frame in the early growth stages and let nature take its course. Creative thinking. One thing's for sure, they won't roll around the aircraft! In China and Japan it is customary to take a watermelon as a gift for your host.
I know you must be asking how this blue watermelon was made
| | |
| --- | --- |
| Was coloring added, juices inserted into the melon, or is it some freak of nature? It is natural, nothing added, no colors or dies or trick photography involved. With the exception of the cross pollination about ten years ago creating the seedless watermelon, nothing new has been seen in the watermelon market until now. This blue watermelon was created recently by a group of botanists in California. (Here in the states, we tend to joke that everything crazy comes from California). | |
The botanists changed the structure of the pigments in the watermelon and were able to re-program the genetic code during the first few weeks of the growing period. If you are curious about the taste, I have read that it remains the same. For me, I think I would perceive it to taste differently because of the colors. Although this was a test on about 50 melons, the hope is to have a large number grown by next season.
And what else is in the future for watermelons? Only time will tell. Meanwhile Bon Appetite!

---
About Paula Kraft . . .
Paula Kraft is the founding partner of the DaVinci Inflight Training Institute located in Fort Lauderdale, Florida and the founder/president of Tastefully Yours Catering, an aviation specific caterer, located in Atlanta, Georgia for over 35 years.
Paula is active with many aviation and catering-related groups including the International Caterers Association, the International Inflight Food Service Association and is a board member of Women in Corporate Aviation. She is the past chair of the NBAA Flight Attendant Committee Caterer's Working Group for 15 years perfecting unique catering training sessions for NBAA conferences and events. Currently, she serves on the NBAA Flight Attendant Advisory Committee and is a member of the Training and Safety Subcommittee. Paula was a founding member of the Steering committee for the creation of a European Flight Attendant Committee and conference and serves as a subject matter expert to the board of International Standard for Business Aircraft Handlers (IS-BAH).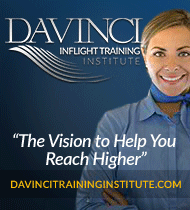 After founding Tastefully Yours Catering, she has been offering culinary and food safety related training to the general aviation community. With a strong dedication to improving catering safety, risk mitigation and safe food handling, she developed and introduced the concept of "catering safety management systems". As a certified food safety instructor, Paula offers catering SMS and culinary classes for all aviation professionals.
Paula's first-hand experience, business acumen, research, and relationships make her an industry expert - one which allows her to share information that will help raise the professional training level for flight attendants today that will reduce the risk of food-related concerns tomorrow.
From Paula . . .
I have coordinated training programs and clinics for NBAA and EBAA conference attendees for over 10 years, created mentoring programs for caterers and flight attendants to broaden their aviation culinary skills, and to assist them in adapting to the unique challenges and constraints found in catering for general aviation. I recognize the need for training and have worked closely with flight departments, flight crews, schedulers and customer service reps at the FBOs to ensure that catering specific training provides information and skills necessary to reduce risk while assisting them in their job duties that include safe food handling, catering security, accurate transmission of food orders, and safe food production, packaging and delivery.
I fell into aviation catering quite by accident. I was the in-house caterer and bakery supplier for Macy's department stores in Atlanta when catering was ordered for a Macy's customer which was soon to change my life. After the client enjoyed the catering provided, I was summoned to the client's corporate office to provide several of the items delivered through Macy's to the executive dining room. Within a week, I was providing food for the flight department and my first order was for the President of a foreign country (as I was too be told soon after).
So, here I am, some 35 years later, still loving every minute of every day in aviation catering.
Got a question?
Paula welcomes your comments, questions or feedback. Email: paula.kraft@blueskynews.aero
BlueSky Business Aviation News | 9th August 2018 | Issue #475