Asian "Pastas"


---
Or noodles. The terminology is like the great debate, "Is it a biscuit, a bread or a cracker?" When researching the idea of whether the Asian "pasta" should be referred to as a noodle and whether the typical noodle can also be called a pasta, I decided to leave the debate to others much wiser than me.
The discussion started after our Executive Chef attended a class on making Udon Noodles. When I make noodles - the egg, flour, pinch of salt and water type - I hand roll out to whatever thickness I want and allow to dry on a lightly floured board all day before cutting them into strips and adding them to my chicken noodle soup. I call THAT a noodle. Making pasta involves a similar process, but may be pressed through a pasta machine into different shapes, then dusted with semolina flour to air dry. These items are different in my mind . . . they are pasta.
The same thought process is the argument of noodles in Asian countries, versus noodles in Italy. I think so anyway.
Now back to the discussion on Udon noodles. Chef said humidity, barometric pressure and flour all had to be exact, and that although it's a simple process, it is a process that is science-based. Wow! all for the Udon noodle. Sounds more like baking to me.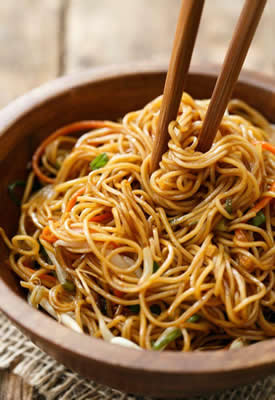 I love Asian noodles; those made with wheat, rice and vegetable roots or bean. Each category holds a mountain of styles and are varied by region or country throughout the Far East. Wheat pastas can be fresh or dry wheat noodles (including buckwheat noodles and egg noodles - or even a thick Japanese Udon). Rice noodles can be in the form of sheets as wrappers, or cut into stir-fries and soups. Vegetable starch noodles can be thin such as bean threads and used in stir-fried dishes, soups, braised dishes and stuffing . . . even for salads and cold dishes Thick vegetable starch noodles such as Japanese or Korean potato starch noodles are some of my favorites.
Italy may take most of the credit for bringing pasta to our plates, but noodles actually originated in China and are also a rich part of the culinary culture in Vietnam, Thailand, Japan, Korea and Indonesia. Asian pastas have a rich culinary tradition. Long before Marco Polo`s famous visit, they were the staff of life in northern China, dating to 100 A.D. Through the centuries, hundreds of delicious recipes evolved for this practical staple.
Wherever the Chinese immigrated they brought noodles with them, and each country's cooks added their own ingredients. In Japan, Chinese Lo Mein became stir-fried Yakisoba, while in Korea, translucent potato starch noodles were stirred up into Chap Chae.
Here are some of my favorites:
Udon Noodles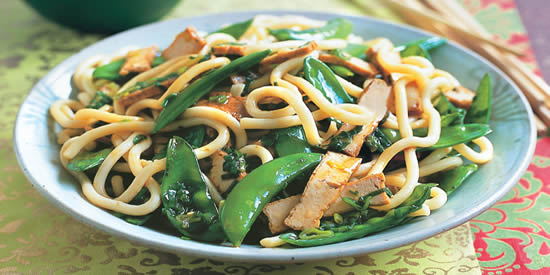 The Udon noodles are generally thick-cut and made from wheat flour. Udon is usually served hot as noodle soup in its simplest form as Kake Udon, in a mildly flavoured broth called Kakejiru which is made of Dashi Soy Sauce, (Shōyu), and Mirin. The flavor of broth and topping vary from region to region. The Udon noodle is a silky smooth, slightly chewy Japanese style wheat noodle. I personally find it a delicious substitute for Spaghetti or Fettuccini. A healthier version is the Brown Rice Udon which combines the goodness of brown rice and wheat. With your next catering order, try adding an udon noodle broth with meat, fish or vegetables to garnish.
Soba Noodles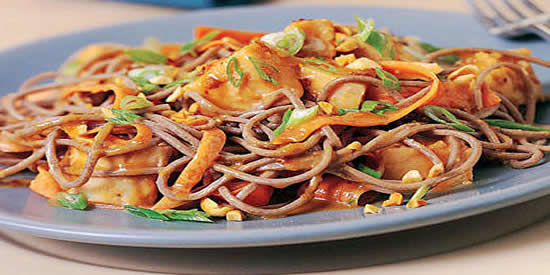 Soba noodles are characteristly made from buckwheat flour. They have a nutty-tasting flavor and can be eaten hot or cold. Japanese soba noodles are a good source of complex carbohydrates, protein and the antioxidant rutin, which may help lower cholesterol and protect against inflammation. Try them in Miso Soup or tossed with thinly sliced vegetables and spicy peanut sauce. We use the Soba noodle in an Asian inspired chicken salad with Asian vegetables and a fresh ginger soy dressing made with a light rice wine vinegar. Soba noodles are served either chilled possibly with a dipping sauce, or in hot broth as a noodle soup.
Here is a tidbit piece of trivia for you: It takes three months for buckwheat to be ready for harvest, so it can be harvested only four times a year, mainly in spring, summer, and autumn.
Shirataki Noodles: the perfect gluten free noodle . . .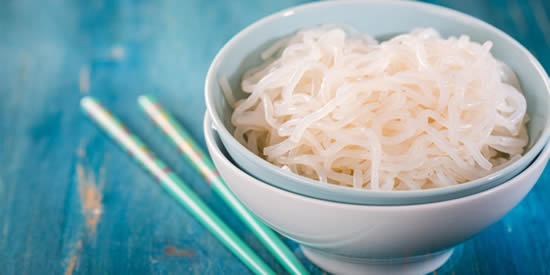 Thin, chewy Shirataki noodles can be bland on their own, but they readily pick up accompanying flavors. Made from yam starch, they're very low in calories and are a good source of fiber. Use them to add a fresh twist to your homemade chicken soup or as a base for your favorite stir-fry.
Bean Thread Noodles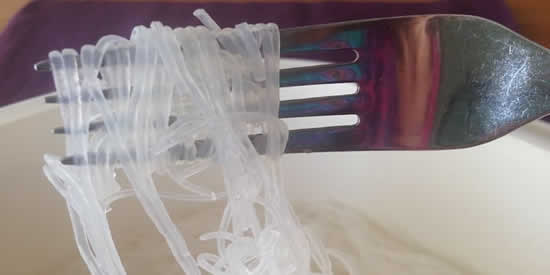 These delicate, translucent strands, sometimes called glass or cellophane noodles, are made from the starch of Mung beans. They're a good source of gluten-free complex carbs, iron and selenium. Try them in a cool salad with a healthy dose of herbs and a tangy Asian-inspired vinaigrette. They are frequently used as the starch within a rice paper spring roll. No cooking required, these would make a great staple pantry item for the aircraft. Pack along some shelf stable chicken stock, canned chicken meat, and you have an instant soup.
Other favorites from China are Biangbiang, Cellophane, Cumian, Henan braised, Jook-sing, Lamian,Lai fun, Mixian, Misua, Mung bean, Oil, Rice, Rice vermicelli, Saang mein, Shahe fen, Shrimp roe, Silver needle, Wonton, Yi mein.
Some noodles to watch for from Japan are Ramen, Shirataki, Soba, Sōmen, and Udon. Ranging in thickness and flavor, Japanese noodles form the base of thousands of different dishes. They are usually made from a wheat-based flour, although some styles are made from the roots of plants indigenous to Japan. In Japanese households and restaurants, it is common for a soup to be served hot during cold winter months, and cold during the summertime, when temperatures rise.
Ramen noodles are by far the most widely recognized Japanese noodle, although they originally came from China. They are most often served in a hot meat or fish-based broth with toppings such as mushroom, green onion, and egg. Ramen noodles owe their popularity to the invention in the late 1950s of instant ramen noodles, which have since become a worldwide phenomenon.
Asian Noodles - Types and Uses
Description of Asian Noodle Types
Types of Dishes Used In:

Cellophane Noodles

- Mung Bean Starch and Water (Also called bean thread, bean vermicelli, or slippery noodles)

Soups, Stir-fries, Deep-fry

Egg Noodles

-

Egg, Wheat Flour, and Water

Soups, Stir-fries

Rice Noodles

-

Rice Flour and Water

Soups, Stir-fries, Deep-fry

Rice Sticks

-

Thinner version of Rice Noodles

Soups, Stir-fries, Deep-fry

Rice Papers

-

Rice Flour and Water

Spring Rolls

Wheat Flour Noodles

-

Wheat Flour and Water

Soups, Stir-fries
The term Vegetable noodle is the generic catch all term for the lovely transparent noodles of China and Southeast Asia called bean threads, cellophane noodles, shining noodles, or silver noodles. Most are made from mung beans. The Japanese variation, shirataki, is made exclusively from a plant called "devil's tongue plant" that is similar to a yam. Shirataki soak up the juices of sukiyaki. All these noodles have a spongy quality that is easily permeated, making them excellent flavor messengers.
Mein is the Chinese term for both wheat noodles and egg noodles, the most widely used noodles in many parts of Asia. Golden egg noodles vary from thin threads to wider, flatter strands like linguine. Slim or fat, they are sold in tightly wrapped bundles and are available fresh, dried, or even frozen.
Try a new twist with your pasta or noodle dishes . . . tomato or tomato, pasta or noodle Enjoy!

---
About Paula Kraft . . .
Paula Kraft is the founding partner of the DaVinci Inflight Training Institute located in Fort Lauderdale, Florida and the founder/president of Tastefully Yours Catering, an aviation specific caterer, located in Atlanta, Georgia for over 35 years.
Paula is active with many aviation and catering-related groups including the International Caterers Association, the International Inflight Food Service Association and is a board member of Women in Corporate Aviation. She is the past chair of the NBAA Flight Attendant Committee Caterer's Working Group for 15 years perfecting unique catering training sessions for NBAA conferences and events. Currently, she serves on the NBAA Flight Attendant Advisory Committee and is a member of the Training and Safety Subcommittee. Paula was a founding member of the Steering committee for the creation of a European Flight Attendant Committee and conference and serves as a subject matter expert to the board of International Standard for Business Aircraft Handlers (IS-BAH).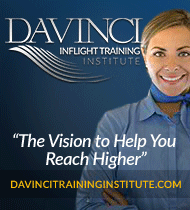 After founding Tastefully Yours Catering, she has been offering culinary and food safety related training to the general aviation community. With a strong dedication to improving catering safety, risk mitigation and safe food handling, she developed and introduced the concept of "catering safety management systems". As a certified food safety instructor, Paula offers catering SMS and culinary classes for all aviation professionals.
Paula's first-hand experience, business acumen, research, and relationships make her an industry expert - one which allows her to share information that will help raise the professional training level for flight attendants today that will reduce the risk of food-related concerns tomorrow.
From Paula . . .
I have coordinated training programs and clinics for NBAA and EBAA conference attendees for over 10 years, created mentoring programs for caterers and flight attendants to broaden their aviation culinary skills, and to assist them in adapting to the unique challenges and constraints found in catering for general aviation. I recognize the need for training and have worked closely with flight departments, flight crews, schedulers and customer service reps at the FBOs to ensure that catering specific training provides information and skills necessary to reduce risk while assisting them in their job duties that include safe food handling, catering security, accurate transmission of food orders, and safe food production, packaging and delivery.
I fell into aviation catering quite by accident. I was the in-house caterer and bakery supplier for Macy's department stores in Atlanta when catering was ordered for a Macy's customer which was soon to change my life. After the client enjoyed the catering provided, I was summoned to the client's corporate office to provide several of the items delivered through Macy's to the executive dining room. Within a week, I was providing food for the flight department and my first order was for the President of a foreign country (as I was too be told soon after).
So, here I am, some 35 years later, still loving every minute of every day in aviation catering.
BlueSky Business Aviation News | 10th January 2019 | Issue #493