Asparagus Season

---
Under perfect growing conditions, the asparagus plant breaks through the soil surface and can grow as much as one inch per hour, making it necessary to harvest it as often as twice a day. Don't you just love trivia!
That perfect growing condition occurs in springlike weather about 50°F - right now as a matter of fact for the Southern United States. Although asparagus is known as a spring vegetable, this succulent and tender textured vegetable is available to us year round thanks to a global distribution system.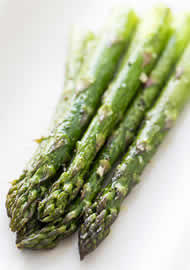 Asparagus has long been considered a delicacy, even a luxury vegetable, served to only the wealthiest because of the attention needed to maintain the crop and harvest each and every piece by hand.
As an aviation caterer, we find asparagus to be one of the most commonly ordered vegetables for the aircraft. As catering sources are trying to 'eat locally', or follow 'farm-to-fork' (serving food in season and grown in close proximity to their kitchens), I thought you might be curious about why a catering source may or may not be able provide asparagus and how you might be able to serve this delectable vegetable on board while at the peak of its season.
Personally I love asparagus and I think I could eat it every day if I had the option.
Since you all know my love of trivia, I thought I could share some more asparagus trivia with you:
Asparagus is a perennial plant that belongs to the Lily family (Liliaceae). Once planted, the asparagus re-appears each year for 10-15 years in early spring. There are approximately 300 varieties, BUT, only 20 are edible. For the most part we see only the three most common varieties: the classic green, the white and the purple. You can expect to pay almost double for the white variety, even when it's in season. The superb white asparagus, slightly nutty and bitter with a sweet aftertaste, has a more tender texture. The white asparagus is grown underground to inhibit its development of chlorophyll cells which cause it to have the green color, thus creating an almost albino iridescent pale ivory color with hints of pink and violet. I can't think of a prettier hue, to me they are like porcelain magic wands found under a rainbow, somewhere out there. The cost associated with this 'vegetable of noblemen' is largely due to the intensive labor required in cultivating and cutting.
I would say the third most popular edible variety of asparagus for aviation caterers to use is purple in color. It's much smaller than the green or white variety (usually just 2 to 3 inches tall compared to the 6-8" in height of the others) and features a fruitier flavor and slightly sweeter taste. However, the sweetness isn't noticed as much when eaten at altitude or in a pressurized cabin. A word of caution when cooking the purple variety; the purple color will generally turn green when cooked and disappears totally if cooked for too long.
Not only beautiful on the plate, but also healthy
A few years ago, I was introduced to wild asparagus. I fell in love with the long tender flowing stems and miniature feel to the buds. I find it a beautiful addition to a plate for the aesthetic appeal. When used, it creates a flowing movement to the plate, almost as if green wheat stalks spun around the plate.
Wild asparagus (Asparagus racemosus) has a long history of use in India and the Himalayas for almost 2000 years and other parts of Asia as a botanical medicine. Wild asparagus has many medicinal qualities associated with phytonutrients, and especially one type of phytonutrients called saponins. Saponins in food have been shown to have anti-inflammatory and anti-cancer properties, and their intake has also been associated with improved blood pressure, improved blood sugar regulation, and better control of blood fat levels. It is loaded with nutrients: Asparagus is a very good source of fiber, folate, vitamins A, C, E and K, as well as chromium, a trace mineral that enhances the ability of insulin to transport glucose from the bloodstream into cells. Asparagus is also packed with antioxidants; it ranks among the top fruits and vegetables for its ability to neutralize cell-damaging free radicals.
And this good news . . . according to preliminary research,it may even help slow the aging process. Not only beautiful on the plate, but also extra healthy.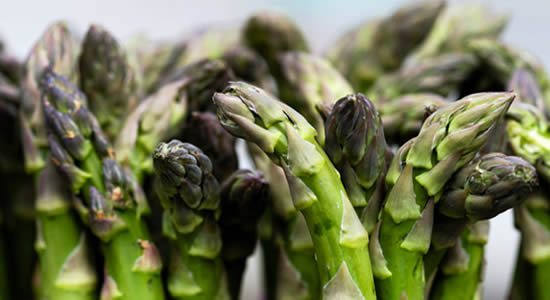 I was asked yesterday what the definition of 'spoiled food' was versus 'contaminated'. Spoiled fruits and vegetables are those items which have started a visible decomposition process, whereas contaminated foods can make you ill, but there's nothing you can see, smell or taste. Now that's not to say you can't get sick from severely spoiled food, but I mention this because asparagus is one of those foods that spoils rapidly . . . very rapidly in fact. Careful storage and quick consumption is essential to the end user and it's imperative to have the freshest asparagus possible.
So here's the science lesson
Like all vegetables, asparagus doesn't instantly "die" when it is picked, but instead continues to engage in metabolic activity. This metabolic activity includes the intake of oxygen, the breaking down of starches and sugars (have you ever had a beautiful piece of fresh corn on the cob that tasted like a flour and water paste? The same thing has happened to the corn as happens to old asparagus), and the releasing of carbon dioxide. The speed at which these processes occur is typically referred to as "respiration rate." Compared to most other vegetables, asparagus has a very high respiration rate. The rate for asparagus is five times greater than the rate for onions and potatoes; three times greater than the rate for lettuce and tomato; and twice as great as the rate for cauliflower and avocado. Asparagus' very high respiration rate makes it more perishable than its fellow vegetables, and also much more likely to lose water, wrinkle, and harden.
Your asparagus should have stalks that are rounded, and neither fat nor twisted. Look for firm, thin stems with deep green or purplish closed tips. The cut ends should not be too woody, although a little woodiness at the base prevents the stalk from drying out. Once trimmed and cooked, asparagus loses about half its total weight. Use asparagus within a day or two after purchasing for best flavor and texture.
In communicating with your catering source, always specify if the asparagus you request will be eaten cold or reheated to serve on board. You will want the asparagus you plan to cook again to either come to you uncooked or underdone so as not to have a pile of mush on the plate when heated. I find that when you bite into asparagus, it should offer a bit of resistance just as al dente pasta would.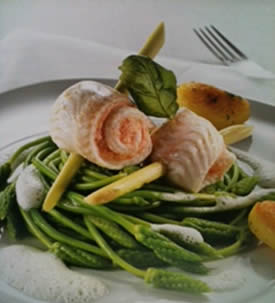 Now that you have heard all of my trivia about asparagus you might want to know how many pieces are usually in a serving. Well, that depends. We count the asparagus at Tastefully Yours for a serving. These tall, crisp-tender asparagus spears can be pencil-thin or as thick as a man's thumb. For the thicker stemmed asparagus, we will allow five pieces per person with the stems peeled to remove the woody tough outer skin; and for the thinner spring asparagus, we generally allow eight pieces per person of unpeeled stems since these do not have the woody base.
Asparagus can be steamed, grilled (my personal favorite), blanched, broiled, oven roasted, sautéed, stir fried, microwaved or even pickled with each preparation method providing a different slant on the taste and the visual appeal to the plate. (If microwaving, place the spears in your dish with the tips facing in. and the thicker stalks that need a bit more cooking facing outwards.
If you wish to include asparagus in your catering requests here are a few simple ways to do that.
Add cold asparagus to your favorite salad. I have a favorite method to add to your salad where we take a small bundle, about 3 pieces and wrap them with cellophane noodles to hold them in a bundle and place them on top of our Asian salad. You can cut the pieces on a bias and add them, prepared in any method to your salad.

Toss freshly cooked pasta with asparagus, olive oil and your favorite pasta spices. We especially enjoy thyme, tarragon and rosemary.

Chopped asparagus make a flavorful and colorful addition to omelets. One of our most requested is goat cheese, asparagus and tomato. Yum!

Sauté asparagus with garlic, shiitake mushrooms, tofu or chicken for a complete meal. If watching your fat intake, you can even sauté' in stock juices from any meat or vegetable.

Try adding grilled asparagus to your crudité tray, for that matter why not have a grilled vegetable tray with all vegetables lightly grilled. It is a nice change to the old style veggie and dip tray. We now offer a pickled crudité tray which is very popular to add a change of pace and variety . . . and pickled asparagus is divine!

Use the woody stems to make cream of asparagus soup.
And the list goes on and on . . .
Enjoy asparagus, an epicurean delight of nobles, kings and queens, while it is at its peak.