Jazz things up a bit - hydrate, hydrate, hydrate!

---
As we head into the summer months and the temperature outside begins to sap more water from our system than usual, the natural dehydration that occurs in a pressurized aircraft at altitude with low humidity can lead to several potentially severe problems for the flight crew and passengers.
Have you ever wondered how much of your body is water? I did, so I decided to look it up. The percentage of water varies according to your age and gender and fatty tissue vs. muscle (sorry about that), but, on average the human body contains from 50-75% with the average adult body having 50-65% water. And also, sorry to say, women have more water than men because we have more fatty tissue, even those of you who are trim and slim!
The percentage of water also depends on your hydration level. People feel thirsty when they have already lost around 2-3% of their body's water. Mental performance and physical coordination start to become impaired before you realize you are thirsty, typically around 1% dehydration. Dehydration symptoms such as headache, mild dizziness, nausea, insomnia, and irritability can indicate dehydration and should not be ignored.
You should hydrate well by drinking before you feel thirsty. When you feel thirst your body is sending you signals like "hello, I need water here." Avoid alcohol and caffeine because they are diuretics that can lead to further dehydration. (May have to limit the margarita and martinis!).
As a flight crew or passenger it is important to always be hydrating your body so you don't suffer from any of these symptoms.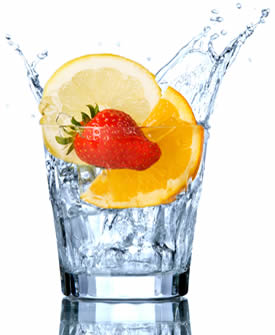 But, how can you jazz water up?
Ok, so I am going to push water, and lots of it. I admit I get tired of plain old water whether sparking with gas or without.
I am going to push water not only to those in the air, but, those on the ground as well. So, I say water, water, water and even more water.
But, how can you jazz it up a bit? Yes there is water in teas, and coffees and they are alright if they are not loaded with caffeine.
Now, that for me is a bit hard, as I love my shots of espresso, and my coffee and tea drinks for the boost I get from the caffeine, but, I still drink about 2-3 liters of an assortment of flavored waters; not the kind you buy in the store, but simple ones that have a little more spunk to them.
If you have a coffee or tea during the day this does not count towards your water intake (unless you are speaking of a herb tea with no caffeine or diuretic properties). I like variety, and I think if you offer the flight crews and passengers some new water with fruits, vegetables - yes vegetables, herbs and spices you will help boost their intake of antioxidants and vitamins while also encouraging them to happily meet their water quota of at least eight glasses per day.
A few suggestions
Here are a few suggestions your catering source can provide and the flight crew can add to unflavored water on board or can already be prepared for quick easy access. The list of flavor add-ins for water, either plain or sparkling with gas, is too extensive to list here, but now is your chance to be creative. Look at the passenger and crew profiles of favorite foods and chances are, you can create some flavor profiles of flavored water that will be a hit.
Here is a short list of some of my favorites that provide me a fresh pure, clean quenching drink of water that might even be infused with some immune boosting and anti-inflammatory properties. Using these items will eliminate the use of sugar, salt and other additives found in prepackaged water add-ins.
Try skinny rounds of small skin-on cucumber, the burpless ones. I first had this at an NBAA IOC conference in San Diego in the hotel lobby. YUM! Or, how about sliced citrus fruits floating in water? A little squeeze will act as a palate-cleanser. Another fun flavor combination is basil, mint and stalks of lemongrass swirled together if you think you might like a refreshing taste of herbs. When an upset stomach needs some relief, a chunk of peeled, fresh ginger, cut into thin discs added to water is amazingly wonderful!
Ask your catering source what is fresh and in season . . . remember the flavor is always better when locally sourced and really fresh. You can order any of the following items cut and ready to muddle in water, or can be ordered pureed or left to be prepared in flight.
Try watermelon, lemon, lime, oranges, grapefruit, mango, papaya, kiwi, grapes, melons, berries, cherries, pineapple, basil, mint, ginger, rosemary, and lavender to suggest a few.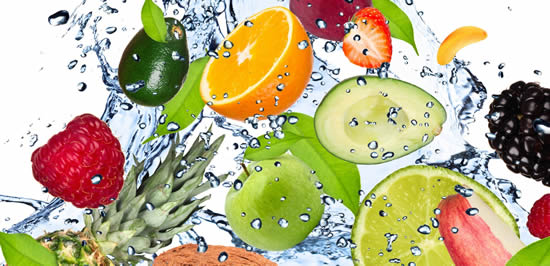 Go crazy and order combinations already prepped so you can have some variety. One of my favorites is anything mixed with mint especially when I want something really refreshing and cold without the ice.
Following are a couple of wonderful combinations I recommend you try on your next flight or at the office to encourage more and more water consumption. (Some of these are also good when a splash of vodka or rum is added, that is if it is not for the flight crew . . . and remember alcohol acts the opposite of hydrating so you can't count a cocktail as part of your water intake for the day - Cucumber and mint, Ginger and lemon, strawberry and mint, thyme and blackberries, Lemon and blueberry (I got this idea because we make great lemon blueberry muffins) or Lemon and basil, Cucumber, lemon, and mint, cranberry juice and lemon or even throw in a pinch of spice like Lemon and a pinch of cayenne.
Let me leave you with these thoughts about drinking loads and loads of water to keep yourself hydrated.
If you do not have enough water in your system you will feel sluggish and tired. Water has a rejuvenating quality. Try water during your circadian low.

For those of you wanting to lose weight, water can help eliminate unhealthy food cravings, seriously! If you are craving something, drink more water and the flavored water will feel like a treat.

Drink more water for your skin…really. Your skin is your largest organ so when you are dehydrated your skin is dehydrated. Prevent those fine lines from turning into deep wrinkles simply by drinking water. A low cost facial. Hit the bottle…(the water bottle that is).

All of our diets contain fiber . . . and with fiber you need water to flush your system . . . keep things flowing if you know what I mean.

Water is necessary to keep your metabolism running

Water is necessary in transporting nutrients and oxygen to every cell in your body to stay healthy.
For those of you who know me, you know I just like to shake things up a bit, add a little pizazz! I like to constantly make a change, to try new things (spring fever?). It is all about finding pleasure in the simple things in life . . . like water. For those of you who know me, I just like to shake it up! To make a change.
It's all about finding pleasure in the simple things.