Pass the Cheese, Please


---
Cheese is a precious living organism. It is deliciously edible, beautiful, and totally natural. Cheese has an incredible range of colors, textures, aromas, and tastes, and I believe the love that goes into making it shows through every single piece.
It is an art form. Imagine seeing that perfectly ripe piece of camembert oozing from the rind, just begging to be eaten? Since I am very fortunate not to be lactose intolerant, cheese plays a major role in my diet!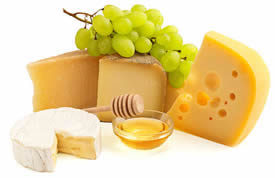 Cheese trays are one of the biggest sellers in aviation catering. Why it is such a huge seller is easy to understand.
Most everyone likes some kind of cheese. It is safe; it can be safely held out of refrigeration for short periods of time.
Various textures and densities of cheese are available to stimulate your high altitude taste sensations. it can be used for everything from a pre-board snack, to an appetizer, a snack plate, to a meal and even dessert.

It is the perfect food to order and have on board. But, and yes there is a 'but' about cheese trays served all over the world. Do those of us who are arranging the cheese platters and those of you ordering the cheese trays, really understand cheese? In my love for and interest in trivia,
I want to share a tidbit with you about good quality cheese:
It takes 1,000 pounds of milk to make a superior 100 pound alpine cheese such as the Beaufort Haut-Montagne of France's haute-Savoie region. Each cow produces between 40 and 120 pounds of milk per day (roughly 5-15 gallons), which means it takes a day's production from a herd of between 8 and 25 cows to make just one single large wheel of cheese.

Every 2-pound wheel of Roquefort requires about 12 pounds of milk only from the Lacaune breed of sheep, There are other bleus out there from other regions, but, we are just talking Roquefort.
What I am stressing here is that good cheese is a treasure. We should understand what goes into the planning and execution of preparing a cheese tray. We should not blindly order a cheese tray. There should be some thought into the planning so that your passengers and crew will get the highest level of enjoyment out of the platter, and you will appreciate the value of what is on the platter. I am often asked "how much cheese do I need, how many types of cheese, should they be cut, sliced, wedged, in a bowl, and what do we need to serve with them?" In addition, I want to share my theories of cheese service and cheese etiquette. Yes there is a cheese etiquette and you should make sure that you have the appropriate items to serve that cheese platter you just ordered!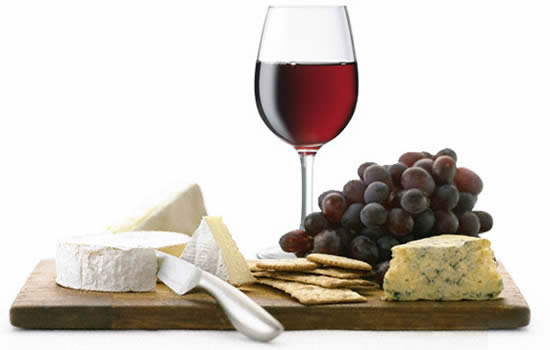 Every piece of fine cheese has a story to tell. It begins with outward appearance and aroma, continues to a taste and impressions, and finally ends with memory of the cheese. The nose does most of the work when it comes to taste. The taste buds can detect five basic flavors, but the nose can detect 10,000 or more. The combination of aroma and flavor is called "complexity". The moment they enter the mouth you have "the attack" and the lasting impression on the tongue is called the "finish". Because of pressure and altitude, these are going to be diminished somewhat.
So how much do you need and how many types of cheese?
If serving cheese as a pre-meal course, make the portions light, low-key and modest, especially the washed-rind types (we'll cover these in a minute). You should select 3-5 cheeses at 1-2 ounces per person. For breakfast select 1-3 cheeses; for a light supper or lunch select 3-5 cheeses if served with a soup, appetizer or salad. An after dinner cheese plate can have as many as 4-6 cheese types. Generally speaking, keep the selections of cheese at a maximum of 6 varieties. The more selections presented, the less distinct each will be . . . thus the less memorable.
Most small and medium sized cheeses can be cut into wedges which, according to custom and etiquette, should be placed with their noses pointing to the center of the plate and their rind side toward the rim. Oversized wheels of cheese should be cut into long rectangular slices rather than wedges. If possible one of the ends of this triangle slice would contain the rind. Logs of goat cheese should be cut into buttons or discs. Pyramids should be cross-sectioned vertically, sliced from top to bottom. If possible, stand these up. Spoonable cheese should be served in a ramekin.
Simply put, if you are using a round platter, you or your food source should place the cheese on the plate evenly spaced around the plate on the inside of the rim in the order in which you want to sample them. Serving cheese shouldn't be a free for all, but, a slow and gradual movement around the platter. You should indulge in the cheese tray as if traveling around a clock, beginning at 12 noon and working to 3:00 to 6:00 and so on. The cheese should be placed from the mildest at 12:00 to the strongest as you travel around the clock to 6:00. A little note of interest here: cheese should be at room temperature for serving to capture the full benefit of the incredible flavors. Each cheese should have its own knife, spreader or cheese plane so flavors aren't mixed. A luncheon size knife and fork or salad size fork should be provided for eating the cheese and accompaniments.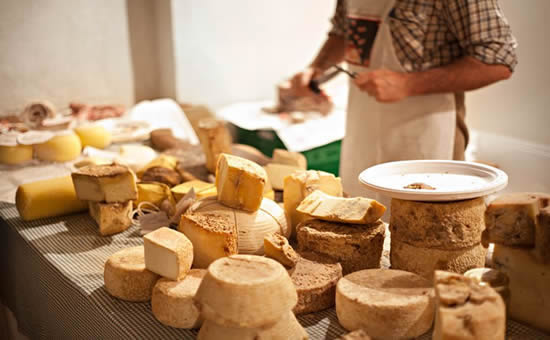 Cheese types
Simple so far, right? That is the easy straight forward information. The world has hundreds of cheeses and varieties, so how do you know what to select? Here are the different categories of cheeses to include in your selections:
Fresh Cheese, usually not aged or allowed to ripen. These cheeses usually spoil easily. Some of these are feta, mozzarella, mascarpone, cottage, ricotta, cream cheese, Neufchâtel, chèvre frais and baker's cheese.

Soft Cheeses often referred to as bloomy: these cheeses are rind ripened. It means that they are sprayed with a harmless mold to produce a thin skin. The thin layer of mold reacts with the cheese to create a thin exterior skin, almost a suede like coating, and a soft interior. This type includes Brie and camembert

Semi Soft Cheese

has textural qualities shared between the soft and firm cheeses. There are three types of rind; dry-rind, washed-rind and waxed rind.
The Dry Rind cheese is allowed to ripen by being exposed to the air. The rind is almost woody while the inside remains tender and smooth. Examples: Havarti, Bel Paese, Monterey Jack.

Washed Rind is also a semi soft cheese that has an exterior rind that is washed or rinsed in a liquid such as a brine (salt solution)olive or nut oil, wine ,or fruit juice. Washing the rind generates harmless bacteria that ripens the cheese through to the interior. Examples: Limburger, Muenster, Brick, and Port Salut.

Waxed Rind cheese; produced by dipping a wheel of freshly made cheese into liquid wax and allowing it to harden while the cheese remains soft as it ripens. Examples: Edam, Gouda, Fontina.
Firm Cheese is somewhat pliable and supple with a slightly dry texture and buttery flavor. These cheeses have a firmer overall texture than the softer varieties and which makes them grate and slice well. Cheddar, Swiss, provolone, Gruyère, Cheshire and Manchego.

Hard or Grating cheeses are much firmer and dry and crumbly. The crumbly texture makes them difficult to slice. These cheeses are usually made in large rounds such as Parmesan, Asiago, Romano.

Blue-Veined Cheese s are produced by inserting harmless live mold spores into the center of the ripening cheese with a needle. The blue vein indicates where the needle was inserted and spores deposited. Once the mold is inserted, the exterior is salted to keep the surface dry and prevent the mold from overtaking the outside. Some examples are: Bleu, Gorgonzola, Roquefort and Stilton.

Processed Cheese is a mixture of any variety of finely ground cheese scraps mixed with nondairy ingredients and melted together. The result is a cheese product that is uniform in flavor and texture and can be packaged in almost any shape and size. It may actually contain only about 51% cheese. While I do not recommend using any processed cheeses, passenger preference rules here. An example is American cheese, spray cheeses, and some shelf stable cheeses.
It is important to include a variety of cheeses varying in texture, degrees of ripeness, flavors, and a variety of milks. Select an assortment of cheese types - soft, semisoft, hard, and/or from various milks - cow's, goat's, sheep's, and buffalo or yak's milk. You can select cheeses for your platter all from one region, such as France or Italy, or have a theme such as Mediterranean or Latin American. It is important to that every cheese you put on the platter be different and distinguishable.
The accompaniments
Now that we have the selection and portions narrowed down, we need to look at what to serve with the cheeses - the accompaniments. This is as important as the selection of the cheeses itself. If using the cheese platter as an appetizer, items such as dried cured meats, mustards, olives, nuts, dried fruits such as figs, dates, raisins, apricots and fresh fruit are all great, traditional choices. If your cheese platter is to be used as a dessert, a selection of wonderful dark chocolate and candied fruits work equally as well. Honey, fruit chutneys or even brandied fruit compotes are excellent accompaniments for your cheese platter, whether dessert or otherwise. They can be drizzled on blue or other sharp cheeses such as goat cheese to enhance the flavor experience. To complete the cheese platter a selection of fruit and nut breads, water crackers, slices of crusty bread and bread sticks, or even pretzels, should be included.
Voila! You now have the basic knowledge to use when consulting with your passengers and food source to provide the ultimate cheese platter. Pairing cheese and wine is another subject that we can cover at a later date, so for now, enjoy the experience of tasting some of the world's greatest cheeses with a new appreciation for the treasure they really are.

---
About Paula Kraft . . .
Paula Kraft is the founding partner of the DaVinci Inflight Training Institute located in Fort Lauderdale, Florida and the founder/president of Tastefully Yours Catering, an aviation specific caterer, located in Atlanta, Georgia for over 35 years.
Paula is active with many aviation and catering-related groups including the International Caterers Association, the International Inflight Food Service Association and is a board member of Women in Corporate Aviation. She is the past chair of the NBAA Flight Attendant Committee Caterer's Working Group for 15 years perfecting unique catering training sessions for NBAA conferences and events. Currently, she serves on the NBAA Flight Attendant Advisory Committee and is a member of the Training and Safety Subcommittee. Paula was a founding member of the Steering committee for the creation of a European Flight Attendant Committee and conference and serves as a subject matter expert to the board of International Standard for Business Aircraft Handlers (IS-BAH).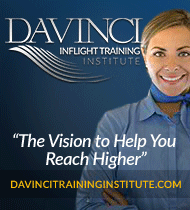 After founding Tastefully Yours Catering, she has been offering culinary and food safety related training to the general aviation community. With a strong dedication to improving catering safety, risk mitigation and safe food handling, she developed and introduced the concept of "catering safety management systems". As a certified food safety instructor, Paula offers catering SMS and culinary classes for all aviation professionals.
Paula's first-hand experience, business acumen, research, and relationships make her an industry expert - one which allows her to share information that will help raise the professional training level for flight attendants today that will reduce the risk of food-related concerns tomorrow.
From Paula . . .
I have coordinated training programs and clinics for NBAA and EBAA conference attendees for over 10 years, created mentoring programs for caterers and flight attendants to broaden their aviation culinary skills, and to assist them in adapting to the unique challenges and constraints found in catering for general aviation. I recognize the need for training and have worked closely with flight departments, flight crews, schedulers and customer service reps at the FBOs to ensure that catering specific training provides information and skills necessary to reduce risk while assisting them in their job duties that include safe food handling, catering security, accurate transmission of food orders, and safe food production, packaging and delivery.
I fell into aviation catering quite by accident. I was the in-house caterer and bakery supplier for Macy's department stores in Atlanta when catering was ordered for a Macy's customer which was soon to change my life. After the client enjoyed the catering provided, I was summoned to the client's corporate office to provide several of the items delivered through Macy's to the executive dining room. Within a week, I was providing food for the flight department and my first order was for the President of a foreign country (as I was too be told soon after).
So, here I am, some 35 years later, still loving every minute of every day in aviation catering.
BlueSky Business Aviation News | 31st January 2019 | Issue #496