Please don't eat the daisies . . . or CAN you?
---
Spring exposes us all to an array of colorful buds breaking through the surface of the ground. With all these colors of spring, we, as your catering source, are in search of fresh new ideas for your plate, tray and food presentation.
Now I know - or should I say I hope - I know that you are as tired of the purple orchid as I am. They have taken over our industry as an out dated all-purpose garnish. In today's foodie world it is supposed to be the beauty of the food that is the garnish, it's placement on the plate, its colors, textures and shape of the food and not covered up with contrived garnishes as we did in the 60's.
Did you know that flowers have been used in cooking for centuries; even as far back as the ancient Romans, Greeks and Chinese? So what we think is a new trend really isn't. It has been around long enough to move from a trend into the actual culture and preparation of the food from those areas.
Have you heard of squash blossoms in the Italian cuisine? Or rose petals in Indian Cuisine? Or of the ancient Chinese using mint leaves to calm a stomach?
These beautiful emerging colors and blooms can potentially provide inspiration to meet these standards. You will see many of your catering sources use flowers or floral buds to complete the presentation of various menu items. I recently saw a catering source add sliced rose petals to a champagne vinaigrette to create a rose blossom vinaigrette. The thinly sliced rose petals added just a hint of sparkling color to the salad. Miniature flowers sprinkled on a salad or soups, stews, casseroles, syrups, jellies, teas, or even candied flowers in desserts can add that touch of beauty we are all striving to find.
But - and here is the but - are they really edible and safe for the passengers or flight crew to consume?
Most vegetable and herb flowers are edible, and many ornamental plants in your garden may be edible too. Fresh edible flowers are one way to add color, flavor and a little eccentricity. Some are spicy, and some herbaceous, while others are floral and fragrant. The taste range of flowers is surprising.
There are just a couple of rules to consider when placing your catering order with your catering source if flowers are on the menu. Ask first, are they using flowers in any shape or any form in the presentation of your food, for any course? If the answer is yes, you will want to ask the following questions: Are these flowers safe for human consumption? Are they randomly selecting flowers for their color or shape and is the catering source unaware if they are edible? All edible flowers should be properly identified before consuming. Many edible plants have poisonous look-alikes and only those grown and labeled as a food should be used.
Where do they acquire them? Flowers must be pesticide free. Be sure that an organic pest-control method was used. Edible flowers should not be picked along the roadside or concrete because there is no way to know what chemical might have been applied to keep weeds down. Flowers picked from roadsides also may have a buildup of carbon monoxide from passing cars. Flowers that are used in or around food must have been grown and harvested as food. This eliminates the flowers purchased in the local floral department or street vendor. Flowers used in and around food must be purchased through produce food vendors or grown for this specific purpose. It must be grown in a controlled area and, as dreadful as it sounds, away from where animals might defecate! When in doubt do not use flowers in cooking or as garnishes on a plate or platter.
A bit of trivia here. Some people may experience allergies from edible plants and flowers. There are numerous cross-reactions of plant based allergens to food based allergens. New plants should be consumed slowly at first, to check for potential allergic reaction. In addition to allergic reactions, you might find that edible flowers can upset your digestive system so take it slow. Limit the amount of flowers consumed, use sparingly. Do your due diligence!
Flowers purchased by the bunch or stem at the local market are fine to place in a bud vase on board, or even placed next to the passengers plate as long as the flower does not come into contact with their food. A simple rule of thumb here is that the flowers purchased from these types of locations are to be seen and not to be tasted.
Because there are so many poisonous lookalike plants and flowers, this is not a food item you want to get from a questionable food source or even have prepared by a food source that is experimenting with you on your catering order. A professional provider or edible plant grower is acutely aware of the basic types of edible plants and flowers. They know for example that the Lily family includes wild onions, garlic, leeks and glacier lilies. The Purslane family consists of miner's lettuce and spring beauty. Cranberry, blueberry and huckleberry are members of the Heath family. The Rose family includes blackberry, raspberry, wild roses and wild strawberry. Shepherd's purse and watercress are included in the mustard family. Wild mint and self-heal belong to the mint family. The sunflower family includes dandelion, wild sunflower, chicory and burdock.
The good news is that there are numerous flowers that are edible and add a wondrous source of color, texture and flavor to the extraordinary burst of flavor when eaten. You will notice that I have mentioned many herbs, but, not all however.
I am regularly asked about edible flowers versus non-edible flowers. Please note that Dieffenbachia is used often as a tray cover and causes your vocal cords to become numb . . . thus preventing you from speaking. Imagine the disaster a flight might have if your flight crew lost their ability to talk - even if for a short period of time! Some of the flowers I regularly see on platters and trays that are NOT edible and should be refused if delivered on the tray.
The following list is the most common of the edible flowers but, before accepting flowers with your catering order, double check on the blossom.
| | | |
| --- | --- | --- |
| Azalea | Four O'Clocks | Morning Glory |
| Boxwood | Foxglove | Mountain Laurel |
| Burning Bush | Hyacinth | Periwinkle |
| Caladium | Hydrangea | Poinsettia |
| Clematis | Iris | Privet |
| Cosmos | English Ivy - all varieties | Rhododendron |
| Daffodil | Jack in the Pulpit | Sweet Pea |
| Delphinium | Lantana | Wisteria |
| Dieffenbachia | Lily of the valley | |
| Elephant Ears | Lobelia | |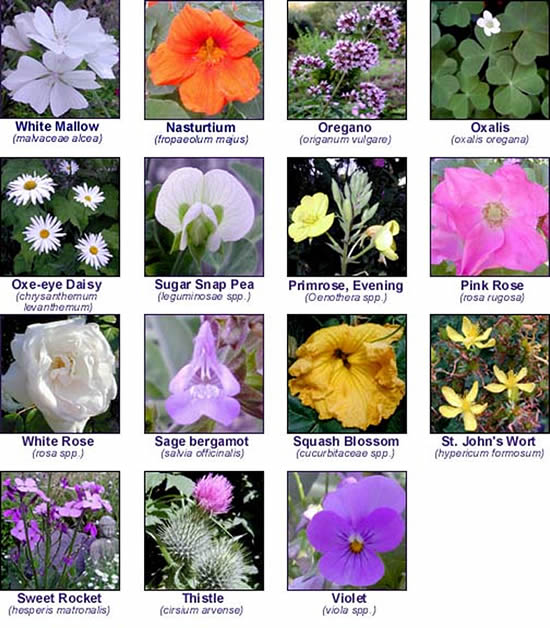 Certain types of flowers are not edible and can be very poisonous to humans
If your catering source is reliable and they can assure you their flowers are considered food and not ornamental, then notice how they are handled. Just like fresh baby lettuce and mixed greens should appear fresh and un-wilted, so should edible flowers. The blossoms should be picked when open unless buds are specifically required. Mature blossoms often taste best.
The edible flower should be washed to remove dirt and any tiny insects that may be hanging on for the ride. The pistils and stamen should be removed from the center. Generally speaking, the best part of a flower is the petal. Frequently the white heel where the petal meets the calyx is quite bitter and should be removed before adding the petals into your catering. If the flowers are being delivered to you separately to be added to your dish on board, they should be wrapped in a paper towel, tucked in a container or bag. Ideally they should be sent chilled and used the same day. If you are front loading the flowers, they will keep for a few days, but should not be used if wilted. If they do wilt during their hold, they can be refreshed in some cold water for a minute or two.
In the world of flowers not all blossoms are equal in color, form, or scent , and certainly not when it comes to being edible.
Non-edible poisonous flowers
This is a list of the most common poisonous plants and flowers but it is by no means complete. If the plant is not on this list, that doesn't necessarily make it edible or non-poisonous.

Be sure you know what you are putting in your mouth!