Savoring the Sauces
---
General aviation poses several inherent problems relative to the flavor of food and especially to its reheating. The humidity of the air on board the aircraft and the cabin air pressure at altitude definitely have a deleterious effect.
Physics tells us that the pressure of the cabin lowers the boiling point of liquids (which means the moisture in the food will dry out quicker since it takes longer to heat) and the low humidity on board will also draw the moisture out of foods. You must be aware when heating food that both of these factors affect the food that is being reheated and served. Also, consider the fact that food must be reheated hot enough to prevent the rapid growth of bacteria to reduce the risk of consuming an overload of bacteria and becoming ill . . . not necessarily the nausea, vomiting and abdominal cramping type of ill, but headaches, sluggishness, stomach aches or even dizziness. But this is a subject for another article.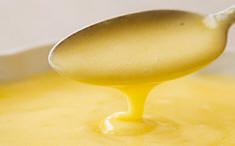 You must be wondering how anyone can manage to overcome these obstacles when flying.

Simple. Add moisture! Moisture can be added in the form of broths, stocks, a splash a wine, a coulis, aiolis, salsas, one of the five 'mother sauces', or a variation of any of the five - or just plain water. It's important you don't confuse the reheating liquid with the finishing sauce that's added to the plate for serving.
Hollandaise - one of the five 'Mother Sauces'
Two simple things to remember if reheating a dish on board the aircraft
If you want a crispy exterior, use the oven and add no reheating liquid. And if you want a soft exterior with a moist interior, add the reheating liquid to the food prior to popping it in the oven or microwave. Simple right? Now . . . if you happen to be the person placing the catering order, you must inform the food source that a dish is being reheated so that person can be sure to cook, season and make the preparation of the item in such a way that it will not dry out when you heat it. Ask for food to be slightly undercooked and rapidly chilled at the time of preparation so it will hold onto as much of the natural juices as possible.
I must digress a bit and tell you something that a chef once told me that has hung in my mind since I heard it. Cook chicken low and slow to keep its moisture and cook beef hot and fast - and allow it to rest before cutting to keep its juicy interior.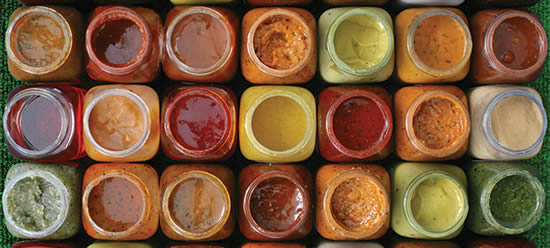 I love sauces, and they are absolutely perfect for the aircraft. I'm going to go over a few of the most common you might encounter when ordering, but I suggest that this is one area that you yield your selection to the advice of the chef as he is the one who will be able to tell you - based on cooking procedure and seasoning - the sauce that will provide the perfect marriage for all of the flavors of the meal.
If your passengers or flight crew are dieting, gluten free, or have any allergies, this is the time to mention them to the food source. Just as in casseroles, there are many unseen ingredients in the creative sauces of our chefs today.
Perhaps I should start with a description of what I consider a sauce to be
Sauces are an essential element of cuisine all over the world. Consider something simple as potato salad. My chefs prepared a 'de-constructed' potato salad for several guests we had in the kitchen for lunch. The sauce of our house potato salad contains pommery coarse mustard, added to homemade mayonnaise. The multicolor fingerling potatoes were oven roasted and then cut so the vibrant colors of purple, reds and gold showed through. Rather than coating the potatoes in the sauce, they were placed across the top of a 'smear' of the aioli then topped with pickled celery. The plate was completed with the other ingredients of the salad . . . pickle and paper- thin sliced red onion. Our guests were dieting so this offered them the opportunity to coat the potato bite in as much sauce as they wanted. My mouth is watering as my mind remembers the taste. Delicious!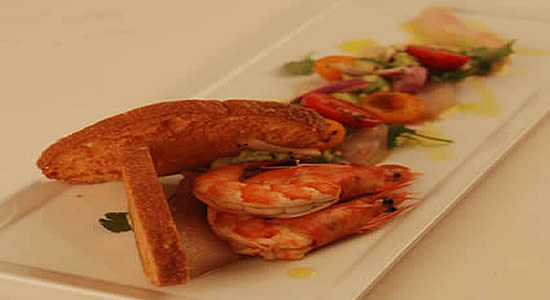 Corvina Crudo: 'Crudo' is Italian for 'raw', although the fish has been wet cured with salt, sugar, cilantro, and cucmber to infuse flavor. It is then topped with avocado mash and marinated tomato, cucumber and Bermuda onion. Finished with poached shrimp, fried Ciabata, and Extra virgin olive oil.
Now back to sauces. A sauce is a liquid, thickened to add a burst of flavor to a dish. Sauces may be thickened several ways; by adding a roux (traditionally flour and butter) to a liquid and slowly cooking until the sauce gets thick; it can be a liquid with solids in it such as a salsa; it can be a liquid made from pureed fruits or vegetables. All sauces add moisture to the plate.
Salsas, coulis and aiolis are most often not served hot, but cool, so therefore should not be left in the reheating container when you pop the food in the oven. Sauces should always be packed separate from the rest of the food so they can be served at the planned temperature. Many of your cream sauces, reduction sauces, and beurre blanc sauces will dry out and possibly even burn if heated with the food they are saucing (not to mention will look rather messy when done). Sauces can be a varied incarnation from creamy to sinuous, sweet to spicy or savory.
Any sauce can be liquor- infused which will add depth and layers of flavor. Spicy sauces will add impact to the dish, and wine- infused sauces can enhance delicate flavors such as seafood. Sauces can be a product of a liquor reduction such as a bing cherry and cognac combination. This type of sauce has an inherent richness from the alcohol which would pair well with something acidic such as an orange duck, pork dishes or even venison. Select a liquor with slightly less boldness and smooth it with cream or sweetened fruit, and the subtle flavors would be incredible with chicken. At Tastefully Yours, we prepare a bourbon peach sauce to accompany a pecan pesto stuffed chicken. The combination is a bit of heaven.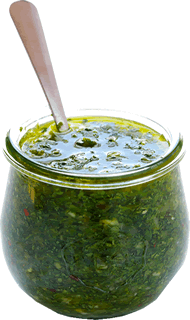 Latin spices are huge this year. The addition of that bit of heat is awesome for aviation . . . stimulating your taste buds enough to overcome those effects of altitude on your taste buds.
A light Chimichurri sauce can add an explosion of flavor to a piece of steak. Every chef adds his own twist to his or her Chimichurri sauce. Our house blend is a mixture of pureed herbs; basil, parsley, cilantro garlic, lime juice, oregano, jalapeno and olive oil to blend - YUM!
For a decadent butter sauce the drippings and/ or stock are reduced by cooking long and slow, then just before serving, softened butter is slowly stirred in to make a sauce with richness beyond belief. The sauce is light and alerts your taste buds. These types of sauces should be added to the plate at the time of serving and not during the reheating process or they will become crusty and dry out.
As you peruse menus and talk with catering food sources here are a few names and their definition to keep in mind:
Aioli is a sauce made of garlic, olive oil, lemon juice and frequently egg yolks. There are many variations, such as ours with the addition of mustard. It is usually served at room temperature. Think of Aioli as a flavorful mayonnaise.
Coulis ("koo-lee") is a simple sauce made of puréed vegetables or fruits, which can be served hot or cold.
Sauces made by deglazing a pan are called Pan Sauces. These sauces are made with the crumbs and juices that are left in the pan after cooking a food. Stock or wine is added, and the liquid is cooked until it is reduced enough to provide the dish a touch of heaven on your tongue.
Mother Sauces are the bases from which hundreds of sauces are made with just a tweak or addition of an ingredient. There are five:
Sauce Béchamel, milk-based sauce, thickened with a white roux.

Sauce Española, a fortified brown veal stock sauce, thickened with a brown roux.

Sauce Volute, light stock-based sauce, thickened with a roux or a liaison, a mixture of egg yolks and cream.

Sauce Hollandaise, an emulsion of egg yolk, butter and lemon or vinegar.

Sauce Tomato, tomato-based.
As you dine on board, please always consider the importance of a sauce. It doesn't have to swallow up the food; it can be a simple drizzle of flavor; it can be a drop of intense delight that will imprint a memory of the delicious meal you or your passengers have just consumed.

BlueSky Business Aviation News | 11th April 2019 | Issue #506