Eggs are not just for breakfast

---
Imagine a petite boiled quail egg, cracked and peeled, topped with a dollop of creamed saffron- colored yolk and crème fraiche, then finished with pearly caviar. A quail egg's size makes it the perfect pre-board or canapé for your next VIP flight.
As the consumer, you have become more and more food savvy, with greater expectations from your food sources. The 1960's all-purpose scrambled eggs will longer do. You are allowing us, your catering source, to step outside the box and be more creative; enabling you to step into the 21st century with foods filled with unique, creative, artistic and enticing combinations. Eggs are not just for breakfast anymore! You have the best chefs in the world preparing food for you . . . empowering you to present five star Michelin quality food to your passengers and flight crews.
I'll devote this week's article to additional ways to incorporate the egg into every course you can serve on board your next flight. BUT before I do, I want to caution you once again that eggs are one of the top allergens and in their raw or semi- cooked state, pose a higher risk for illness. Please take all precautions for proper refrigeration and handling of eggs while transporting them from the market, from the catering source, and while on board the aircraft.
Now, with that said, let's get started
For the sake of simplicity, these canapés (or miniatures) are all created with quail eggs since they are bite size. If you like the concept in miniature, then they can be transformed into a meal size portion by changing the quail egg to a hen egg. A trivia tidbit . . . it doesn't matter if the eggs are brown, white, speckled or blue . . . the exterior colors of the egg are simply an indication of the breed and have nothing to do with either taste or nutritive value. The color of the yolk depends upon the hen's diet; wheat-fed hens will have darker yolks than hens fed other grasses.
As you become more inventive with the use of eggs on board, there are certain foods and flavors which are naturally compatible to the taste of eggs. They are anchovies, asparagus, bacon, bread, butter, capers, caviar, cheese, chicken livers, chives, crab, lobster, cream, ham, hollandaise sauce, mushrooms, onions, Parmesan cheese, parsley, pepper, potatoes, scallions, shallots, shrimp, smoked salmon, spinach, tomato, and truffles. Enjoy experimenting.
Canapés
Canapés and pre-boards are bite size tidbits that are stimulating to your taste buds and packed with flavor. One bite should elicit a WOW as you bite into the canapé; it should be memorable. The canapé should be visually eye-catching and allow you to imagine the flavors as you savor each delectable bite. The quail egg is the picture-perfect exotic ingredient for that visual impact. At Tastefully Yours, our team has created an entire group of pre-boards and canapés for assorted times of day, weather and seasons.

Boiled Quail egg with crème fraiche whipped yolk with caviar; buckwheat blini with boiled quail egg half with caviar and thyme; truffle deviled quail egg topped with truffle slices to complete.

Mini crab cake with quail egg half, smoked salmon and caviar; toast point, smoked salmon with quail egg salad; steak tartar with balsamic crisp baby greens and quail egg.

Toad in the Hole toast with quail egg baked in and curled salmon; scrambled egg roll over salami on Naan bread; Scotch quail eggs with coarse ground mustard cream.

Fried quail egg and bacon sandwich on mini waffles bites; bacon cup with hash brown potatoes, poached quail egg and hollandaise and a chive sprinkle; crostini with asparagus and boiled quail eggs.
Entrée salads
Entrée salads are in demand year round, not just in the spring and summer as in years past. They make a nice light meal and can be served either hot or cold. The creamy grits (polenta for some of you) with asparagus, crimini shaved mushrooms and crispy leeks topped with a poached egg takes advantage of all the wonderful bounties of spring. The cold green lentil and apple salad makes use of chopped egg, and the Caesar uses the egg in the dressing. Why not turn the Nicoise salad around and use whitefish instead of tuna, and toss in quail eggs and asparagus instead of the standard green beans and hens eggs.
A few weeks ago, I wrote about edible flowers and this trendy version of a garden salad includes quail eggs, purple pansies, toasted pecans and sliced red onions. I love this salad for a flight with ladies on board . . . it feels feminine to me. How about you? The last is a perfect example of a composed salad, and contains a bit of molecular gastronomy.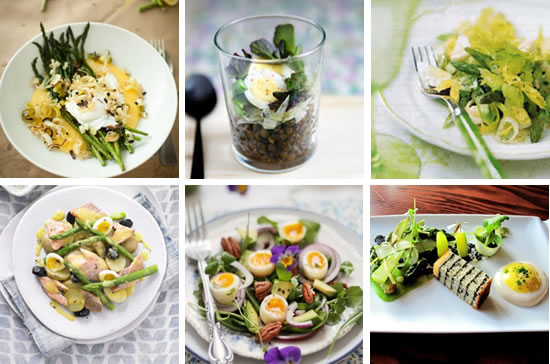 Eggs can be baked nestled in other foods such as rice, vegetables or sauces which can be quickly done on board. (The eggs broken onto the top of a casserole do not allow the egg to reheat well and really should be added in the moments before service.) If you do add eggs to a baked dish on board, fully reheat the casserole before adding the egg to the top. It will only take a few minutes for the egg to cook. If heating this in a microwave, be sure to prick the yolk so that it doesn't explode. Simply make indentations on the surface of the heated food with the back of a spoon, about 2-inch diameter then break one egg into each indentation, or into sauce. Bake until done.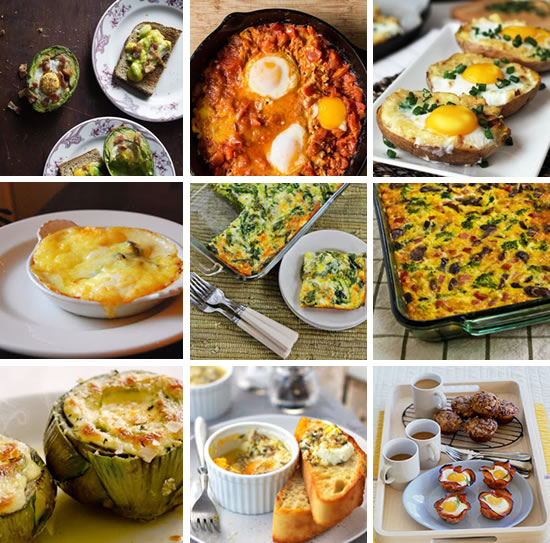 Baked eggs
Baked eggs are both comforting and sophisticated. Baked eggs come out looking beautiful in their individual ramekins or edible containers (such as avocados or potatoes) and are so easy to serve. For variety in your baked eggs have your catering source top the eggs with one or more of the following toppings before baking: light cream, salsa, shredded cheese (parmesan, cheddar, mozzarella, etc), chopped ham, cooked and diced bacon, chopped prosciutto, minced fresh chives, rosemary, or any minced fresh herbs, bread crumbs, chopped tomato, or cooked spinach to name a few. In France, this basic method of preparing baked eggs is called oeufs en cocotte.
For those of you who love avocados, you'll love this one: Remove the seed, add some diced procuitto in the seed hole, add a fresh egg, season and top with a bit more procuitto and you have a brilliant side for a salad or a snack to spread on toast. Another option . . . try taking a half of a hot baked potato, dropping on a whole egg, return to oven until egg sets and finish with some chopped chives and wow what a meal. I like this one for those middle of the night comfort foods. If you think about it, it's a full traditional breakfast in a boat - potato and eggs.
Quiches
My love for quiches and frittatas comes from my great French aunt. She taught me to make a fresh spinach and mushroom quiche with loads of bacon, turkey or pork, that bakes into a 4 inch thick incredible taste sensation. I enjoy quiche hot or cold, with a side salad for lunch or with a side of grilled tomatoes or sauteed trumpet mushrooms for breakfast. And by the way, quiche and fritattas reheat in the aircraft very well.
A secret we discovered years ago after a great deal of experimentation was to add mayonnaise to the egg mixture before baking; the mayonnaise keeps the egg moist for reheating. The possibilities are endless . . . egg white, egg beaters or plain old hen eggs with whatever fillings you can dream up. Most any meats, most any cheese and most any vegetables. Vegetables should be cooked and excess water removed before baking so the finished dish doesn't separate and become watery. One of my favorite new items are the mini hand held muffin size crustless quiches. Perfect for the cockpit, easy to eat, easy to serve. Any recipe can be prepared in miniature, based on the size of the muffin mold. The mini bites would be a great pre-board or canapé as well.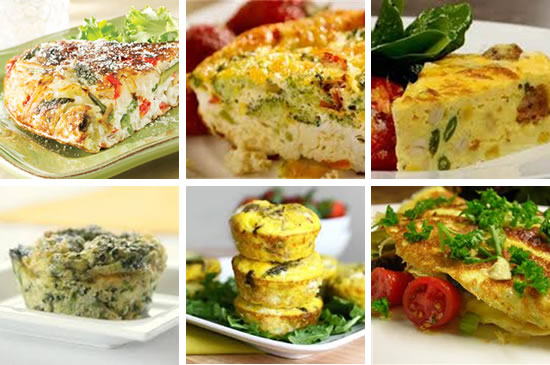 Eggs Benedict
I'd have to say that my favorite breakfast concoction is Eggs Benedict. Why? Eggs Benedict are a magically delicious meal that can be served at any time of day, even with a bubbly glass of champagne. Because this is one of my favorite egg dishes, whether made in a miniature version or full size, the varieties are endless. The two key components found in all Benedicts are egg and hollandaise sauce but the base can be anything you can imagine . . . biscuit, English muffin, fresh spinach leaves, crab cake, French bread, brioche roll, tomato, tortillas, waffles, polenta cakes, quinoa. Mix and match the meats to match the occasion; ham, Canadian bacon, salmon, lump crab, lobster meat, bacon or sausage. Mix and match with the combination list of perfect pairings such as caviar and asparagus; change the seasoning of the basic hollandaise; top with herbs that blend with the other components, and have FUN!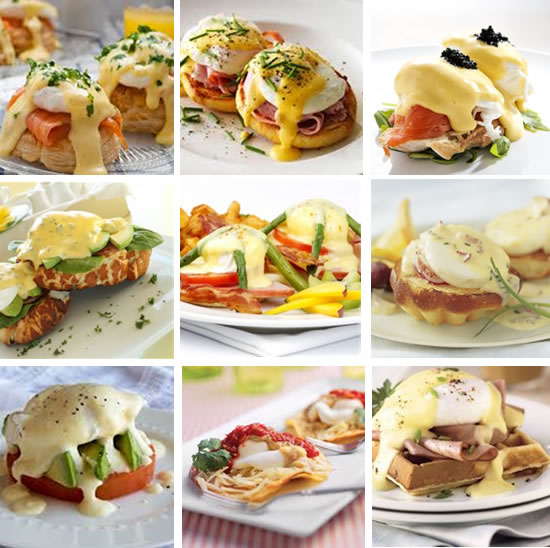 This is what I think is the perfect indulgent breakfast meal or Sunday brunch . . .
The English muffin is replaced by a biscuit bowl and is filled with Eggs Benedict and served with a bacon Bloody Mary on the side. It can be easily served on a single plate for a full cabin. Substitute the Bloody Mary for the bacon infused tomato juice and a squeeze of lime for the flight crew and non-drinkers.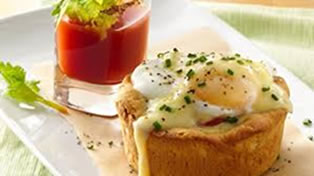 Sandwiches with egg are endless. Sliced hard cooked egg with arugula and grilled eggplant is awesome, you can even create an Eggs Benedict sandwich or simple egg salad. Egg salad can be changed into hundreds of varieties simply by changing the herbs and spices added to the egg mixture. Our secret for our famous egg salad is a touch of white vinegar in the egg mixture. It tingles on the ground, but, makes a dynamic statement in the air - and everyone always wants to know the secret as they order their next tub for sandwiches.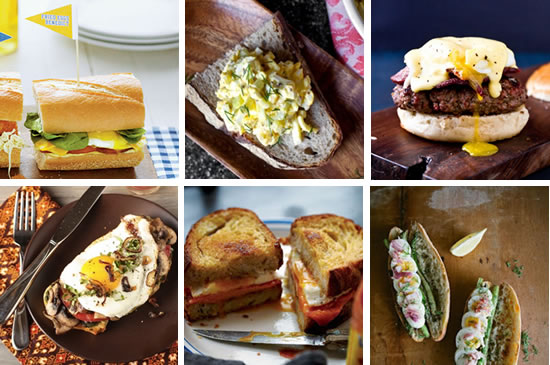 Entrees with egg as the main protein are not only versatile, but delicious. For those of you with a diehard breakfast lover, breakfast for dinner may initially be a hard one to sell. If the idea intrigues you, try these for the crew on one of their overnight flights when you need a light high protein meal. There are no hard fast rules using eggs...they can be chopped or sliced hard cooked, poached, baked or even coddled for dinner.
Consider a Pappardelle with chanterelle mushrooms and eggs over buttery noodles, or adding egg to the top of a pizza, either whole or diced cooked. Or possibly plan to serve Olive and herb Pesto over Polenta with egg. For those of you who love curry, try Egg Korma where you will be in heaven with hard cooked eggs in a nutty, fragrant and flavorful hot curry. Shakshuka is a North African dish where eggs are baked in a spicy tomato sauce that will excite your taste buds at altitude. If you are in the mood for something very light, ask your catering source for a spinach and egg drop soup. Pasta Carbonara is a classic and your catering source is familiar with creating this dish for you. Kefta and Egg Tagine with spicy lamb meatballs is sure to delight your passengers and flight crew.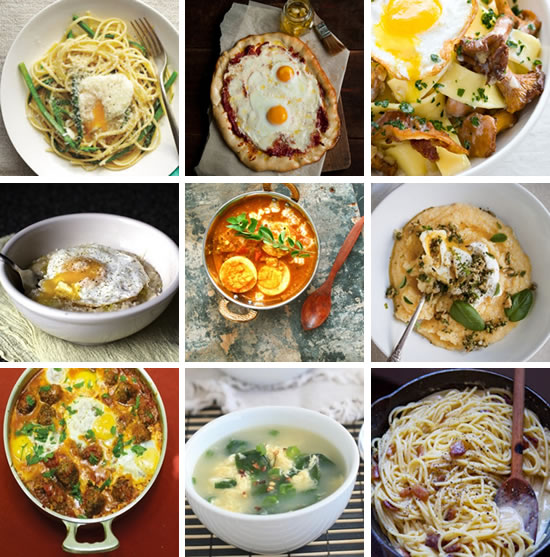 Desserts
Desserts with an egg base are some of my favorites. Custards, crème bruleé, custard cakes, and puddings. Again, I would like to caution you on making sure that these are well refrigerated during the entire flow of the food from the catering source to consumption on the aircraft. Custards rank high in food related illness due to improper handling. No custard, crème bruleé, pudding or egg based pie can sit unrefrigerated. If you do not have space in your chiller or ice drawer, request your catering source to have an ice pack attached with plastic wrap to the container holding these dishes. Using these egg desserts as a base; add fresh fruit, nuts, coconut, chocolate along with numerous other additions to indulgent creamy desserts.
There is an old legend that you hear about in culinary school that the folds in a chef's hat are used to represent the number of ways the chef knows how to cook an egg. The tall chefs hats we have for the chefs in our kitchen have 100-folds so as I find all of these photos, and know my kitchen staff are all able to whip them up for you, I guess I have the right hat!
The sky is the limit! Literally . . .

---
About Paula Kraft . . .
Paula Kraft is the founding partner of the DaVinci Inflight Training Institute located in Fort Lauderdale, Florida and the founder/president of Tastefully Yours Catering, an aviation specific caterer, located in Atlanta, Georgia for over 35 years.
Paula is active with many aviation and catering-related groups including the International Caterers Association, the International Inflight Food Service Association and is a board member of Women in Corporate Aviation. She is the past chair of the NBAA Flight Attendant Committee Caterer's Working Group for 15 years perfecting unique catering training sessions for NBAA conferences and events. Currently, she serves on the NBAA Flight Attendant Advisory Committee and is a member of the Training and Safety Subcommittee. Paula was a founding member of the Steering committee for the creation of a European Flight Attendant Committee and conference and serves as a subject matter expert to the board of International Standard for Business Aircraft Handlers (IS-BAH).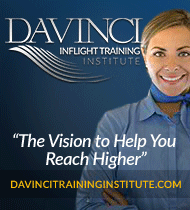 After founding Tastefully Yours Catering, she has been offering culinary and food safety related training to the general aviation community. With a strong dedication to improving catering safety, risk mitigation and safe food handling, she developed and introduced the concept of "catering safety management systems". As a certified food safety instructor, Paula offers catering SMS and culinary classes for all aviation professionals.
Paula's first-hand experience, business acumen, research, and relationships make her an industry expert - one which allows her to share information that will help raise the professional training level for flight attendants today that will reduce the risk of food-related concerns tomorrow.
From Paula . . .
I have coordinated training programs and clinics for NBAA and EBAA conference attendees for over 10 years, created mentoring programs for caterers and flight attendants to broaden their aviation culinary skills, and to assist them in adapting to the unique challenges and constraints found in catering for general aviation. I recognize the need for training and have worked closely with flight departments, flight crews, schedulers and customer service reps at the FBOs to ensure that catering specific training provides information and skills necessary to reduce risk while assisting them in their job duties that include safe food handling, catering security, accurate transmission of food orders, and safe food production, packaging and delivery.
I fell into aviation catering quite by accident. I was the in-house caterer and bakery supplier for Macy's department stores in Atlanta when catering was ordered for a Macy's customer which was soon to change my life. After the client enjoyed the catering provided, I was summoned to the client's corporate office to provide several of the items delivered through Macy's to the executive dining room. Within a week, I was providing food for the flight department and my first order was for the President of a foreign country (as I was too be told soon after).
So, here I am, some 35 years later, still loving every minute of every day in aviation catering.
Got a question?
Paula welcomes your comments, questions or feedback. Email: paula.kraft@blueskynews.aero
BlueSky Business Aviation News | 6th September 2018 | Issue #477