Gluten Free catering can be life and death

---
Is the increase in Gluten Free meal requests by choice or by necessity, or is Gluten just the enemy right now? If my kitchen is like that of others around the globe, we have seen a dramatic increase in the number of orders requesting gluten free.
The global gluten-free products market in the U.S. was valued at $14.94bn in 2016 and is expected to grow at an annual rate of 9.3% through to 2025. The growing prevalence of lifestyle-related conditions such as diabetes and obesity has encouraged consumers to adopt healthier diets in an attempt to regulate their fitness. This has spurred the demand for natural foods and gluten-free products that minimize the risk of excess weight and promote higher energy levels in consumers.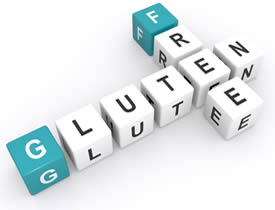 Something is occurring. Huge advances have been made in the flavor, texture and taste of gluten free products over the last few years. Do we see more of it in the stores and in advertising - which accounts for the increase - or is there really a need for so much growth? If you were asked what exactly is gluten, could you answer?
I remember an experiment I did during graduate school when we created gluten in the lab. We combined flour and water and stirred and stirred until we had a thick gooey paste. Then we washed the glob of goo over and over until we were left with thin strings and threads that looked like a ball of unrolled yarn. Those threads were gluten, so I had a visual.
But still, what was gluten . . . really?
Gluten is made up of two protein groups, gliadin and glutenin, brought together when flour and water are mixed to make that same dough I created in the culinary science lab for bread and other processed foods, giving structure and elasticity. It is found in wheat, but also in other grains such as barley and rye. It isn't simply enough to avoid bread, pasta and cakes - gluten can be found in sauces, stock cubes, sweets and a wide range of other products. It is vital for people with celiac disease to avoid it. If these individuals do not avoid gluten, even tiny amounts of it, they can become extremely ill; their autoimmune system reacts to the gluten they have consumed and damages the lining of their small intestine. This damage interferers with the absorption of nutrients, and can cause anemia, weight loss, fatigue, bloating, diarrhea and pain. The symptoms could be similar to or misdiagnosed as irritable bowel syndrome - along with fatigue, headache, and bone or joint pain.
The long-term consequences of going undiagnosed and continuing to eat gluten include osteoporosis, anemia, and even bowel cancer. Around 1% of the world's population is thought to suffer from celiac disease - and of those, nearly three-quarters remain undiagnosed because of its rarity. There is another group of our passengers and crew that may have non-celiac gluten sensitivity where they may have both intestinal and neurological symptoms along with the same pain felt by the celiac disease group. The sensitive group does not suffer permanent damage to the intestines like the group who have the actual disease.
The third group of people who eat gluten free do so at their own choice. It is referred to often times as a trending diet, a fad, a celebrity diet. If your passenger and /or crew do have a gluten allergy, then precautions should be taken by your catering source to protect them from the negative problems they will encounter if traces of gluten manage to find their way into their food. For those sensitive to gluten the same precautions should be taken. Careful scrutiny of the labels of each and every ingredient should be made so no products containing gluten make their way into the food. Separate work spaces should be designated within the kitchens; packaging should be segregated to prevent cross contamination; gluten free food should be individually labeled as such, and the list goes on.
As recently as three years ago, it was a challenge to prepare gluten free meals. I relate it to the first surge of vegan meal requests. I needed to study and experiment with foods that would work on the aircraft and taste great. Most gluten free requests then, just meant they would get a lettuce wrap instead of a bread sandwich, fruit for dessert and a raw vegetable snack with oil and lemon juice. But . . . there was still a worry that the foods they assumed were safe had not come into contact with foods containing gluten. Gluten free dieters ate foods from the clean eating program; only fresh, all natural, organic, unprocessed. There were healthy food choices. They were on the front side of a greater trend we now find ourselves eating- clean, unrefined sugars, avoiding white flours, etc.
Following is a list of healthy and delicious foods which your gluten free passengers and flight crew can safely enjoy:
Beans, seeds and nuts in their natural, unprocessed form with no additives and preservatives as they may contain gluten
Fresh eggs in their natural form
Fresh meats, fish and poultry (not breaded, batter-coated or marinated)
Fruits and vegetables
Most dairy products
Amaranth
Arrowroot
Buckwheat
Corn and cornmeal
Flax
Gluten-free flours (rice, soy, corn, potato, bean)
Hominy (corn)
Millet
Quinoa
Rice
Sorghum
Soy
Tapioca
Teff
However, with all these choices for gluten free foods, the list for those containing gluten stretches forever. Barley (malt, malt flavoring and malt vinegar and some pickles), rye, wheat and triticale (a cross grain between wheat and rye) all contain gluten and should be avoided. You would think avoiding wheat flour would be easy, but, does enriched flour, phosphated, self-rising, durum, farina, kamut, semolina, splet and graham flour contain gluten? Yes, gluten lurks at every corner.
Here is the challenge when it comes to requesting catering or ordering catering for a passenger or crew member with a gluten allergy; someone must carefully and with great detail read the label of every ingredient of every item produced. Just as vanilla contains alcohol so do some foods made with rice, corn, and soy flours contain gluten.
I thought it might be interesting to note some of the more common requests for catering that DO contain gluten and that should be avoided by your gluten intolerant passengers:
Breads
Beers
Cakes and pies
Candies
Canned meats, tuna, chicken, beef
Cereals
Chocolate sauce purchased may have malt flavoring and food starch thickeners
Cookies and crackers
Couscous, Orzo and tabbouleh which has barley
Croutons
Processed meats including meatloaf, meatballs, deli sandwich meat, sausages and hot dogs. There are more and more prepared without the starch fillers in today's market for those eating gluten free by choice or necessity. Read the label. If getting meats and some cheese sliced, make sure you or your catering source request that they be cut on a slicer which is reserved for gluten free to prevent cross contamination
Some dried fruits dusted with flour to prevent sticking
French fries, and other processed potatoes dusted to have that delicious crispy exterior
Gravies may have gluten as a thickener
Herbal teas
Some ground beef have added fillers which contain gluten
Sodas, especially those with caramel color which comes from wheat may have gluten
Imitation meat or seafood like crab legs used in California rolls
Pre-marinated meats and fish in the prepared foods section
Some instant coffee have starch fillers to add bulk
Matzo
Miso
Alternative milks such as rice, almond, and soy milk
Some mustards made with non-distilled vinegars, dry mustard powder - used to prevent caking
Pastas
Processed luncheon meats
Salad dressings
Sauces, Teriyaki, Hoisin and Duck Sauces including soy sauce - try Tamari premium soy, but check as all premium soy is not gluten free
Smoke flavorings - barley and malt are used to capture the smoke flavor and added to processed BBQ potato chips, snacks, smoked bacon, jerky, smoked tofu or sausage
Seasoned snack foods, such as potato and tortilla chips
Soups and soup bases
Spices in the jar may have starches added to prevent caking
White pepper may have gluten starch to prevent caking
Some yogurts
Wheat free products are not necessarily gluten free
Vegetables in sauces
As a good rule of thumb when placing or purchasing food for the person avoiding gluten look for these "code" words of possible contamination in the menu or on the package; "fried," "coated," "crispy," or "crusted". These words should raise a red flag, alerting you that the food may contain gluten. Fried should also alert you to ask the question about the oil. Will your gluten free food be fried in the same oil as all the gluten laden products? Think cross contamination.
In addition to food items, check your aircraft stock for lotions, make-up, chap sticks, some sun screens, medications where gluten was used in the product.
Although the market place is moving faster and faster with more gluten free products, there are still numerous ways for the products you request to be contaminated. Although it is easier to prepare and locate gluten free items today and will continue to become easier to purchase readymade items which are gluten free, so will the caterers ability to be able to make fresh items for the inflicted passengers and flight crew.
There is more and more light at the end of the tunnel for those requiring a special meal on board. It is important to take your passengers and flight crews allergies as serious as life and death.

---
About Paula Kraft . . .
Paula Kraft is the founding partner of the DaVinci Inflight Training Institute located in Fort Lauderdale, Florida and the founder/president of Tastefully Yours Catering, an aviation specific caterer, located in Atlanta, Georgia for over 35 years.
Paula is active with many aviation and catering-related groups including the International Caterers Association, the International Inflight Food Service Association and is a board member of Women in Corporate Aviation. She is the past chair of the NBAA Flight Attendant Committee Caterer's Working Group for 15 years perfecting unique catering training sessions for NBAA conferences and events. Currently, she serves on the NBAA Flight Attendant Advisory Committee and is a member of the Training and Safety Subcommittee. Paula was a founding member of the Steering committee for the creation of a European Flight Attendant Committee and conference and serves as a subject matter expert to the board of International Standard for Business Aircraft Handlers (IS-BAH).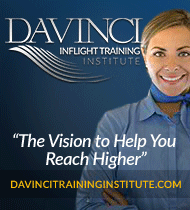 After founding Tastefully Yours Catering, she has been offering culinary and food safety related training to the general aviation community. With a strong dedication to improving catering safety, risk mitigation and safe food handling, she developed and introduced the concept of "catering safety management systems". As a certified food safety instructor, Paula offers catering SMS and culinary classes for all aviation professionals.
Paula's first-hand experience, business acumen, research, and relationships make her an industry expert - one which allows her to share information that will help raise the professional training level for flight attendants today that will reduce the risk of food-related concerns tomorrow.
From Paula . . .
I have coordinated training programs and clinics for NBAA and EBAA conference attendees for over 10 years, created mentoring programs for caterers and flight attendants to broaden their aviation culinary skills, and to assist them in adapting to the unique challenges and constraints found in catering for general aviation. I recognize the need for training and have worked closely with flight departments, flight crews, schedulers and customer service reps at the FBOs to ensure that catering specific training provides information and skills necessary to reduce risk while assisting them in their job duties that include safe food handling, catering security, accurate transmission of food orders, and safe food production, packaging and delivery.
I fell into aviation catering quite by accident. I was the in-house caterer and bakery supplier for Macy's department stores in Atlanta when catering was ordered for a Macy's customer which was soon to change my life. After the client enjoyed the catering provided, I was summoned to the client's corporate office to provide several of the items delivered through Macy's to the executive dining room. Within a week, I was providing food for the flight department and my first order was for the President of a foreign country (as I was too be told soon after).
So, here I am, some 35 years later, still loving every minute of every day in aviation catering.
Got a question?
Paula welcomes your comments, questions or feedback. Email: paula.kraft@blueskynews.aero
BlueSky Business Aviation News |11th October 2018 | Issue #482