The Art of the Sandwich


---
I have always been told that there is no secret to making a good sandwich . . . but I disagree. I have also been told to start with good ingredients and you will always end up with a good sandwich, but again, I partially disagree.
I agree with the good ingredients side of the equation, but not all things good taste wonderful when combined. For me, a good sandwich has a perfect balance between all of the primary elements used; the bread, the fillings, the spread or sauce, and the garnish. They must all work harmoniously together to create the most awesome picture-perfect sandwich. Too much of one ingredient, not enough texture variations, or too much intensity of any one flavor can throw that balance out of sync and you have an absolutely horrible sandwich - and I have tasted more than my fair share of horrible sandwiches over the years as I experimented with the creative art of sandwich making.
I like to think of creating the perfect sandwich a bit like food and wine paring. Everything must work together as you sink your teeth into the first bite. The sandwich must leave you with the desire to take yet another bite and end with a memory of "wow!"
Because of the numerous idiosyncrasies of aviation catering where food is served in unfavorable conditions, that perfect sandwich on the ground may turn into a perfect nightmare at 35,000 feet.

The thick and juicy, gooey, dripping creation that you fell in love with on the ground can ruin the suit, shirt or tie of the passenger headed to a meeting. That same sandwich in the cockpit can spell disaster for the instruments . . . and less we forget - stains to the aircraft carpet, upholstery and tables.
Not only do we need to consider the messiness of the food we place on an aircraft, but the ease of eating, hidden allergens, passenger likes and dislikes and the portability of the sandwich. One triple-decker super-sized club sandwich with skewers inserted to hold a 12 inch tall sandwich together could actually be larger than any space on board to hold it. There are no second chances to "fix" a sandwich mistake once it's transported and that aircraft leaves the ground, so planning, planning, planning and even more thought should go into the ideal sandwich.
I thought I could start by covering what I personally consider to be those basic elements of a sandwich and special aviation considerations we, as vendors, and you as consumers should consider.
The main ingredient - the filling
The first question to ask yourself is what kind of sandwich are you creating? After all, the main ingredient should always be the star. Essentially most anything that can be sliced can be included in a sandwich. Are you aching for your sandwich to be a hearty meat or tofu-filled creation, or a vegetable-filled lighter fare, or the combination of a fine pâté with a smear of mustard? What about a hot or cold concoction? Every other decision I will cover begins with the main ingredient . . . and all the other elements must fit.
The star of the sandwich should be packed with flavor. For the aircraft, a bland soft meat and bread sandwich will disappear and taste like soggy cardboard if we make an incorrect decision at this point. If you are in search of a moist multi-ingredient sandwich full of bits and pieces, then let's see the steps to make it right.

The extras - sauces, spreads and condiments
I want to refer to these as 'secondary ingredients' for this stellar sandwich. They hold as much influence in the final outcome of the sandwich as the main ingredient. This is one part of the sandwich which adds, color, texture and flavor to make it memorable.
Cheese is often a key ingredient in a sandwich and here you literally have thousands of choices. You have cheddars, Swiss cheeses, semisoft cheeses, blue cheeses, Mozzarella, provolone, spiced and flavored cheeses, Dutch, French, and American cheeses (to just name a few). Within each of these groups there are almost an endless number of varieties. Most young cheddars slice easily and are moist, while the older cheddars are more crumbly and drier. The choice made depends on the main ingredient. Some cheese is better suited for hot sandwiches as they melt better and have a smoother texture. Cream cheeses and semi soft cheese can be a vehicle for adding additional flavors, also as a binder, or a stretcher for other ingredients.
Lettuce and tomato can be boring; they have been around as a topping for decades (I must digress a bit with a tidbit of trivia for you: I learned years ago that to keep a tomato from sliding around on the sandwich when you bite into it, simply score the skin of the tomato slightly with 4-5 vertical cuts before slicing. The breaks in the skin of each slice enable you to take a bite of the tomato filled sandwich without it sliding down your chin, onto the table and then the carpet).
So let's turn it up a notch! There are lettuces that add a buttery flavor and those that add peppery flavors or bitter flavors. We are all thinking healthy, so try spinach, kale, arugula (also known as rocket), watercress, escarole, frisée, endive, broccoli or pea sprouts, shredded cabbage.

Shredded cabbage coleslaw topping with an Asian inspired flavor will add crunch to the softness of a piece of seared ahi tuna as the main ingredient . . . or a sweet, crunchy flavored coleslaw to top a southern deep fried chicken breast main ingredient. Our in-house "sandwich designer", Mitsuko has a natural sense of texture and flavor combinations for the ultimate sandwich. They can easily take a mismatched sandwich to an incredible sandwich. There are tons of other choices for the extras. That crunch can also be found in roasted vegetables, tangy pickled daikon radishes and carrot slaw. Don't forget other fresh raw vegetables like onion, peppers, cucumber, and celery, too! As long as there are no allergies to be concerned with, a sprinkling of crushed nuts can also add a new level of flavor and texture.
In addition to toppings, look at the flavor of spreads. Do you want mustard or mayo on that? Just think of the variety in mustards alone. We have the famous bright yellow salad mustard made so with turmeric, fine grained mustard and wine made by grinding the seeds to a powder (like Dijon); coarse grained mustards which have whole or cracked mustard seeds, not to mention a new infusion into the culinary world of flavored mustards like a raspberry mustard.
Spreads serve several purposes in the mighty sandwich - to compliment the main ingredient, to moisten the bread and sometimes the filling and to flatter the other fillings. It should be robust, and pack a bit of a punch when placed on the bread rather than on the side. Your first bite of the sandwich will make the passengers or crews determination of whether or not it is an incredible sandwich. Be open to high flavor spreads like vinaigrettes, herbs, spices, prestos and tapenades. Olive oil can also be added to the list. Chutneys and salsas can change that boring turkey sandwich into a totally new flavor profile from any country of the world with their local spice blends. For example, the typical turkey sandwich can be transformed by adding a green Mexican salsa, Indian curry or chutneys. If the main ingredient is dry, then try adding a pâté or hummus, or blending mayonnaise with mustard and horseradish to create a spread. I personally love roasted red pepper pesto, sun dried tomato pesto and artichoke pesto as a spread to add a new flavor profile on my sandwiches. Not only will the spread add a flavor punch, but, it will add moisture. Which brings us to the bread selection:

The right bread - the 'make or break' element
Seriously, no matter how delicious and perfectly balanced your ingredients, cheeses, toppings and spread are . . . without the bread, it just isn't a sandwich.
Story has it the sandwich was named after John Montagu, the 4th Earl of Sandwich in 1762 England. He didn't really 'invent' the sandwich but he asked for roast beef to be served between slices of bread, to keep his hands clean while he played a game of cards. It wasn't long before people started to request the same by telling the waiting staff, "I'll have the same as Sandwich", and the name stuck. A bit of trivia for you; Boston, Massachusetts passed a law stating that a sandwich must contain 2 slices of bread to be called a sandwich . . . crazy, right?
The bread is important and can make or break the whole sandwich. You know what I mean. I'm sure you have had the experience of picking up a sandwich and it just falls apart because the bread got soggy or couldn't hold the ingredients. If the main ingredient and fillings are moist, the bread should be dense. Otherwise, it will soak up all the moisture like a sponge. So, be sure to choose bread with a thick crust.
Tortillas are great for moist foods, and can better hold ingredients that would otherwise fall out from between sliced bread as a wrap. Artisan bread is rapidly growing in popularity - but a strong word of caution in the selection of some varieties for the aircraft.
Crusty, dense artisan bread with nice holes in the slices on the ground will dry out very fast in the aircraft cabin. A chewy crust, which I personally adore, might become very challenging to consume after having been refrigerated and not reheated to refresh the crust. It could become too tough to chew, and once the interior is exposed, it won't be long until that completely dries out, too. If you experiment with flavored corn breads, gluten free breads and rolls made with rice flour or coconut flour they may become very dense and seem drier when exposed to the aircraft's low humidity so select moist fillings and more spreads to make a memorable sandwich.
Pitta and Flat Bread work well in the cabin, and I also like a brioche bread because its starts out moister on the ground. The bakery that Tastefully Yours uses requires all sliced bread we purchase to be sliced at 5/8" thickness rather than the normal ½ " cut thinner slice.
We do this because the extra bit of thickness in the bread gives it a longer "fresh" life in the aircraft. Low humidly will suck the moisture out of bread very fast and the sandwich will appear stale. Pretzel bread has finally made its way to the states and the salty, chewy bread adds both texture and flavor.
Once only available in local markets, breads now are part of a global market. They include arepa, puri, bao, bialy, naan, pitta and all grain breads. For grain breads, the caution for aviation would be to make sure that the seeds are securely attached during the proofing and baking stages so that the cabin isn't filled with millions of bits and seeds sinking deep into the aircraft carpet during consumption!
Sandwiches are one of our favorite comfort foods. They are delicious, decadent, and portable. As our aviation client base changes in age and life experiences, so do their demands for more interesting choices. They are more adventurous. They are in search of good food and good health and want to customize their food. Even the sandwich.

---
About Paula Kraft . . .
Paula Kraft is the founding partner of the DaVinci Inflight Training Institute located in Fort Lauderdale, Florida and the founder/president of Tastefully Yours Catering, an aviation specific caterer, located in Atlanta, Georgia for over 35 years.
Paula is active with many aviation and catering-related groups including the International Caterers Association, the International Inflight Food Service Association and is a board member of Women in Corporate Aviation. She is the past chair of the NBAA Flight Attendant Committee Caterer's Working Group for 15 years perfecting unique catering training sessions for NBAA conferences and events. Currently, she serves on the NBAA Flight Attendant Advisory Committee and is a member of the Training and Safety Subcommittee. Paula was a founding member of the Steering committee for the creation of a European Flight Attendant Committee and conference and serves as a subject matter expert to the board of International Standard for Business Aircraft Handlers (IS-BAH).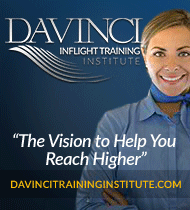 After founding Tastefully Yours Catering, she has been offering culinary and food safety related training to the general aviation community. With a strong dedication to improving catering safety, risk mitigation and safe food handling, she developed and introduced the concept of "catering safety management systems". As a certified food safety instructor, Paula offers catering SMS and culinary classes for all aviation professionals.
Paula's first-hand experience, business acumen, research, and relationships make her an industry expert - one which allows her to share information that will help raise the professional training level for flight attendants today that will reduce the risk of food-related concerns tomorrow.
From Paula . . .
I have coordinated training programs and clinics for NBAA and EBAA conference attendees for over 10 years, created mentoring programs for caterers and flight attendants to broaden their aviation culinary skills, and to assist them in adapting to the unique challenges and constraints found in catering for general aviation. I recognize the need for training and have worked closely with flight departments, flight crews, schedulers and customer service reps at the FBOs to ensure that catering specific training provides information and skills necessary to reduce risk while assisting them in their job duties that include safe food handling, catering security, accurate transmission of food orders, and safe food production, packaging and delivery.
I fell into aviation catering quite by accident. I was the in-house caterer and bakery supplier for Macy's department stores in Atlanta when catering was ordered for a Macy's customer which was soon to change my life. After the client enjoyed the catering provided, I was summoned to the client's corporate office to provide several of the items delivered through Macy's to the executive dining room. Within a week, I was providing food for the flight department and my first order was for the President of a foreign country (as I was too be told soon after).
So, here I am, some 35 years later, still loving every minute of every day in aviation catering.
Got a question?
Paula welcomes your comments, questions or feedback. Email: paula.kraft@blueskynews.aero
BlueSky Business Aviation News | 8th November 2018 | Issue #486