Paula Kraft, founder and President of Atlanta, GA-based Tastefully Yours Catering.

Bowl Mania
---
| | |
| --- | --- |
| | owl Mania. That's right, the future of culinary trends are leaning toward a bowl. |
This is not soup, although some but may have a broth base; this is actually a beautiful presentation of healthy, clean foods, full of freshness and color that is eaten from a single bowl, rather than on a plate.
They are a huge hit for all meals. Breakfast bowls - not only featuring eggs for protein - but many other protein sources; and there are even smoothie bowls. A smoothie bowl has a wonderful chilled fresh smoothie under a topping of all kinds of goodness.

I recently gave a presentation on food trends to the NBAA Flight Attendants' Conference, and one of those trends was the new phenomenon of Bowls. What is a bowl, and how do you create a bowl? It's simple, and anyone can follow these basics to prepare one. Creating a bowl, is like creating an adventure, you can put anything in it and eat it with a spoon or fork. Generally no knife is required since all the pieces are bite size tidbits.
Create your own adventure in a Bowl Meal
Follow these simple steps to make your bowl. Any meal. Any combination. Any flavor.
First, pick a grain, any grain. Quinoa, farro, bulghur, brown rice, rice noodles, pasta, whatever you like. You can keep a lot of random grains in your galley pantry or ask your catering source to provide them for you . . . they all work well. If preparing them on the aircraft; just boil them until tender in the microwave, aircraft hot pot or in the oven (use a foil pan, heat water until you see bubbles, add the grain, stir, and continue to cook until tender, which typically takes 20 minutes or less). This will become your bowl's foundation.

Next, pick a protein. Hardboiled eggs, beans, any protein substitute, canned or fresh tuna, chicken, beef, pork, fish, or shellfish. It doesn't have to be complicated, and leftovers are welcome here. Unused leftover roast chicken from a previous meal service? Throw it on! Need to use up some canned tuna? Drain the liquid and add it in.
Try some rice; or beans, lentils, legumes; and maybe even pasta.
Then pick some fruits and vegetables. Again, most anything works. Roast root vegetables in the oven or use leftover cooked vegetables such as broccoli or thinly sliced tender endives. I love to add some leafy greens and plenty of herbs so the bowl seems more like a salad.. Break or chop the garden ingredients into bite sized pieces for ease of eating.
To complete it, garnish it up. Ransack your pantry and snack drawer. Use those spare tablespoons of seeds and nuts. Toss on feta or ricotta cheese . . . they're always welcome, as are dried fruits, or cut up fresh fruit bowl ingredients.
cheeses

nuts and seeds
and maybe some dried fruits
Finally, don't forget to dress it up!. Oil, vinegar, salt, and pepper are all you need, and grain bowls can even handle being dressed in advance. I'm a big fan of honey and citrus juice if you want to mix it up. If you're going with an Asian theme, use some sesame oil, soy sauce, mirin, and hot sauce. Old-fashioned ranch and balsamic dressings work well also - or toss on the dripping from the pan for a burst of flavor.
Whatever you have on hand in your fridge or pantry, chances are you can make it into a simple and healthy meal, any time of year.
If you wish to have a hot bowl rather than cold, pick a broth that compliments the protein. You can adjust the broth by adding spices or combining additional items. Add toasted sesame oil to chicken stock, red wine to a beef stock. The choice is yours. Every region of the world has its own flavor profile of spices used in their cuisine so why not take a boring piece of chicken and top it with the flavors of Africa, or Asia, of the Middle East or even the Mediterrean with a simple spice and herb addition.
It couldn't be easier
Breakfast cold bowls don't have to start with a smoothie, and hot bowls of quinoa, farro, oatmeal, or other grains don't have to have the normal toppings. Be creative!

Smoothie Bowls are only limited by your imagination.
Sounds simple enough right? It is a great way to use the pieces that were not served or heated (as those reheated more than twice should be thrown out for food safety precautions). We added bowls to our menu at Tastefully Yours, and our impression is that this is what the Millennials want. For the aircraft, you can set the items out on the sideboard and let everyone create their own, or you can create a menu of 2-4 preplanned bowls and build them in a matter of seconds in the galley. Need some energy packed food for the middle of the night flight, as a light meal, or even as a starter for dinner. Bowls work.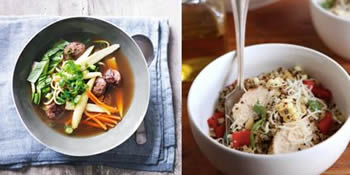 Add a broth to your bowl . . . . . . . . . and throw in your favorites.
Recipes for the dishes featured in this article are available. Please email:
---
Let me introduce myself . . .
My name is Paula Kraft and I am founder and President of Tastefully Yours Catering, an aviation specific caterer, located in Atlanta, Georgia for over 35 years.
| | |
| --- | --- |
| Aviation Catering is a science not taught in Culinary School; it's a function of experience, experimentation, basic trial and error, with constant feedback from flight crews and clients. It is a two-way communication. It is vital that this information and knowledge be shared throughout the industry. To this end, I have worked as the Chairman of the NBAA Caterer's Working Group, a subcommittee of the NBAA Flight Attendant Committee, the NBAA Caterer Representative to the NBAA Flight Attendant Committee, for 9 years. | |
Currently I am an active member of the NBAA Flight Attendant Committee Advisory Board and the NBAA International Flight Attendant Committee, Women in Corporate Aviation, Women in Aviation International, National Association of Catering Executives, International Flight Catering Association, the International Food Service Association and the International Caterer's Association.
I have coordinated training programs and clinics for NBAA and EBAA conference attendees for over 10 years, created mentoring programs for caterers and flight attendants to broaden their aviation culinary skills, and to assist them in adapting to the unique challenges and constraints found in catering for general aviation. I recognize the need for training and have worked closely with flight departments, flight crews, schedulers and customer service reps at the FBOs to ensure that catering specific training provides information and skills necessary to reduce risk while assisting them in their job duties that include safe food handling, catering security, accurate transmission of food orders, and safe food production, packaging and delivery.
I fell into aviation catering quite by accident. I was the in-house caterer and bakery supplier for Macy's department stores in Atlanta when catering was ordered for a Macy's customer which was soon to change my life. After the client enjoyed the catering provided, I was summoned to the client's corporate office to provide several of the items delivered through Macy's to the executive dining room. Within a week, I was providing food for the flight department and my first order was for the President of a foreign country (as I was too be told soon after). So, here I am, some 35 years later, still loving every minute of every day in aviation catering.
---