Paula Kraft, founder and President of Atlanta, GA-based Tastefully Yours Catering.

Libido Foods
---
| | |
| --- | --- |
| | t's time we spiced things up a bit! Oh no, not that kind of spicing things up; I'm talking about the romance department, and aphrodisiac foods that may come in handy before next Tuesday, St. Valentine's Day. |
First you may ask, are aphrodisiacs real? do they really have the power to induce an amorous mood? According to the U.S. Food and Drug Administration (FDA), there's no such thing as an aphrodisiac. But I'm here to tell you that history and cultures around the world tell a different story.
Through the ages, some of the world's most tempting foods were treasured as aphrodisiacs. Some of these foods have a suggestive shape. Many have arousing aromas or a sensual mouthfeel. Some foods of love raise body temperature. And some make the eater's lips plump-up with kissable softness.
Just in case you're a doubter, it won't hurt you to read on a bit and decide for yourself.
I am a believer because there really is science behind the notion. My aphrodisiacs list is quite long and contains foods that range from sweet to spicy and everything in between.

To tease you a bit with information, here is a trivia tidbit for you; Add vanilla to your next culinary concoction to evoke euphoria, or add a bit of Chile to really heat up the senses. I'm going to tell you a bit about erotic foods that will trigger some Valentine excitement for you.

Aphrodisiacs may well be the one thing that crosses all barriers; race, culture, ethnicity, and age.
Modern science has helped us to understand that, in addition to an ability to caress the tongue or lower inhibition, the majority of these foods have a proven nutritional effect on the body. Many provide energy for a night of passion (ooh la la). Some support the system that triggers feelings of love or arousal. Yet others help to increase blood flow. And others offer the nutrients to support hormone production. So, do aphrodisiacs really exist? Read for yourself and you make the call. You already know where I stand on the topic!
Over the centuries, the food most thought of as an aphrodisiac is perhaps the Oyster. Science has proven that they are high in zinc - a nutrient that was lacking in people's diets in days gone by - and thus eating them could improve a nutritional deficiency and improve a person's overall health . . . possibly increasing his or her sex drive?
Spicy foods have long been considered to be sensual stimulants. There is some scientific truth to this claim in that foods that are heavily spiced often contain Capsaicin, the active ingredient in cayenne pepper. Eating capsaicin can cause a physiological response, increased heart rate and metabolism, and sometimes even sweating. This invigorating spice has an exotic reputation and a bright red color, which could be why it's considered an aphrodisiac and a symbol of love. But there's scientific backing, too. Chili peppers stimulate endorphins (the brain's feel-good chemicals), speed up heart rate and make you sweat, which all mimic how you feel when you're aroused. Why not serve Red Chile-Chicken Enchiladas and see what happens.
Okra is another reputed vegetable of love. Rich in magnesium, it's a natural relaxant. It's also full of iron, folate, zinc, and vitamin B, all nutrients that keep those necessary body parts healthy and happy. A little gumbo, anyone?
As I highlight the top foods to consume on or before St. Valentine's Day, here are a few most of us have never heard of before - including me. Crazy list, won't you agree?
Rhinoceros Horn
Deer Antler
Sandalwood
Alder Bark
Damiana
Gypsyweed Rose Petals
Patchouli
Muira Puama
Catuaba
The food you consume does have a direct impact on your body, affecting your hormones, brain chemistry, energy and stress levels. Some foods have psychoactive properties, others arouse because they are psychologically suggestive, and some can actually increase blood flow. And if it doesn't have all that aphrodisiac effect, at least it's healthy and it will do you good!
So away we go with some suggestions for your Valentine's meal:
Menu Suggestion: Arugula Salad with Olive Oil for Bread Dipping
Arugula or Rocket greens are a peppery plant documented as an aphrodisiac since the first century A.D. The minerals and antioxidants found in dark leafy greens like arugula have also been proven to block environmental contaminates that could negatively harm libido. This ingredient was added to grated orchid bulbs and parsnips and also combined with pine nuts and pistachios. Arugula greens are very popular now and we see them in numerous salads and pasta.
Packed with antioxidants, olives and their oil have been used for centuries for health. The Greeks believed they made men more virile as well. Olive oil is a good source of monounsaturated and polyunsaturated fats, which are critical for a healthy heart, blood flow and hormone production.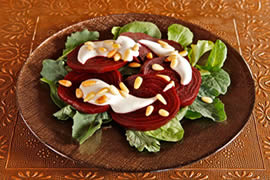 Menu Suggestion: Roasted Beets with Tahini and Pine Nuts
Beets have long been considered an aphrodisiac in many cultures. "Ancient Romans believed that beets and their juice promoted amorous feelings. Frescoes of beets decorate the walls of the Lupanare brothel in Pompeii. Beets are a natural source of tryptophan and betaine, both substances that promote a feeling of well-being. They also contain high amounts of boron, a trace mineral that increases hormones in the human body."
Menu Suggestion: Dark Chocolate Mint Leaves and Chocolate Dipped Strawberries
Feed strawberries to each other for a healthy, vitamin C-packed dessert that helps keep blood flowing to all regions of the body. If you come across a double strawberry, be sure to break it in half with someone special. An old legend promises that this will bring true love. Though they may not possess any magical secrets, the antioxidants and phytochemicals in strawberries help to reduce joint inflammation.
Figs are full of potassium and are an antioxidant powerhouse. Wow, what energy!
The bright gems called pomegranate seeds are enclosed in a thick rose husk are filled with antioxidants which support blood flow. One study found that pomegranate juice had a positive effect on certain dysfunctions.
Cherries are a superfruit packed with feel-good vitamins (A, C, and E), potassium, magnesium, folate, iron, and more. It also has melatonin, an antioxidant to help regulate your heart.
Bananas are loaded with potassium, magnesium and B vitamins. It also contains chelating minerals and the bromeliad enzyme, said to enhance the male libido. Bananas are feel-good food; they also contain bromelain, an enzyme which increases hormone production, and the fruit's potassium and vitamin B elevate energy levels.
Pure chocolate, The king of natural aphrodisiacs, contains compounds including anandamide, the psyochoactive feel-good chemical, and PEA (phenylethylamine), the 'love chemical', which releases dopamine in the pleasure centers of the brain. PEA is said to help induce feelings of excitement, attraction and euphoria. Cacao also contains tryptophan, a key component of the neurotransmitter serotonin known to promote a sense of well-being and relaxation. Chocolate is sensual, from its taste to its aroma, but dark chocolate has also been shown to cause a spike in dopamine, which induces feelings of pleasure.
| | |
| --- | --- |
| | |
| Artichokes as a Starter | Chai Tea instead of coffee |
The artichoke's aphrodisiac reputation comes mostly from legend and the intimacy of eating it with another, pulling off the leaves to reach the center. But it is packed with vitamins and antioxidants, which are critical to proper body function and blood flow.

After dinner, skip the coffee and reach for a cup of chai tea. The typical spices in this brew-ginger, cloves and cinnamon-will get the blood flowing but the caffeine effect is less so you'll still be able to drift off to sleep after your meal.
Fresh Asparagus Sautéed with Garlic and Chopped Pine Nuts
An English herbalist from the 17th century, Nicholas Culpepper, wrote that asparagus "stirs up lust in man and woman." Asparagus is a great source of potassium, fiber, vitamin B6, vitamins A and C, and thiamin and folic acid. Folic acid is said to boost histamine production necessary for the ability to reach orgasm in both sexes.
Garlic is stinky, but more importantly it's strong. Garlic is chockfull of allicin, an ingredient that will increase blood flow. So, whip up an extra-garlicky dish with the asparagus for your dinner and keep the mints handy.
Pine Nuts are high in energizing zinc and are also considered aphrodisiacs because of the effort required to procure these oily gems from pine cones. Make a pesto with pine nuts, basil and olive oil.
| | |
| --- | --- |
| | |
| Fig and Honey Cocktail | Challah Bruschetta with Lemon, Ricotta, and Honey |
Honey: "Sweet, sticky honey is a great source of boron, a trace mineral that helps the body use and metabolize estrogen. Studies have shown that this mineral may also enhance testosterone levels in the blood."
So there you have it. Now it's up to you. Plan a romantic meal and cover your bets with foods containing what I believe are true aphrodisiacs.
---
Let me introduce myself . . .
My name is Paula Kraft and I am founder and President of Tastefully Yours Catering, an aviation specific caterer, located in Atlanta, Georgia for over 35 years.
| | |
| --- | --- |
| Aviation Catering is a science not taught in Culinary School; it's a function of experience, experimentation, basic trial and error, with constant feedback from flight crews and clients. It is a two-way communication. It is vital that this information and knowledge be shared throughout the industry. To this end, I have worked as the Chairman of the NBAA Caterer's Working Group, a subcommittee of the NBAA Flight Attendant Committee, the NBAA Caterer Representative to the NBAA Flight Attendant Committee, for 9 years. | |
Currently I am an active member of the NBAA Flight Attendant Committee Advisory Board and the NBAA International Flight Attendant Committee, Women in Corporate Aviation, Women in Aviation International, National Association of Catering Executives, International Flight Catering Association, the International Food Service Association and the International Caterer's Association.
I have coordinated training programs and clinics for NBAA, EBAA and BA-Meetup conference attendees for over 10 years, created mentoring programs for caterers and flight attendants to broaden their aviation culinary skills, and to assist them in adapting to the unique challenges and constraints found in catering for general aviation. I recognize the need for training and have worked closely with flight departments, flight crews, schedulers and customer service reps at the FBOs to ensure that catering specific training provides information and skills necessary to reduce risk while assisting them in their job duties that include safe food handling, catering security, accurate transmission of food orders, and safe food production, packaging and delivery.
I fell into aviation catering quite by accident. I was the in-house caterer and bakery supplier for Macy's department stores in Atlanta when catering was ordered for a Macy's customer which was soon to change my life. After the client enjoyed the catering provided, I was summoned to the client's corporate office to provide several of the items delivered through Macy's to the executive dining room. Within a week, I was providing food for the flight department and my first order was for the President of a foreign country (as I was too be told soon after). So, here I am, some 35 years later, still loving every minute of every day in aviation catering.
---