The value of interior design
---
Statistics indicate that the numbers of clients maximising the benefits of private jets will continue to increase for the foreseeable future, and crucially the average user age will decrease.
Several factors are driving the change including the growing number of young million- and billionaires worldwide, competitive pre-owned jet pricing making aircraft affordable to a wider market, and flexible pricing structures providing easy access to charter through digital platforms and membership structures.
The differences between model types are becoming blurred with range, speed, capacity, and environmental needs being met by more than one model in each class. The design, form and function of an aircraft interior plays an increasingly important part in differentiating the offering. At the recent launch of Bombardier's Global 6500 the spotlight focused as much on its cabin interior and ergonomic Nuage seat, as it did the Rolls Royce Pearl engine. The interior is where the passenger enjoys the private flight experience, consequently the need to create a desirable cabin is integral in maintaining asset value.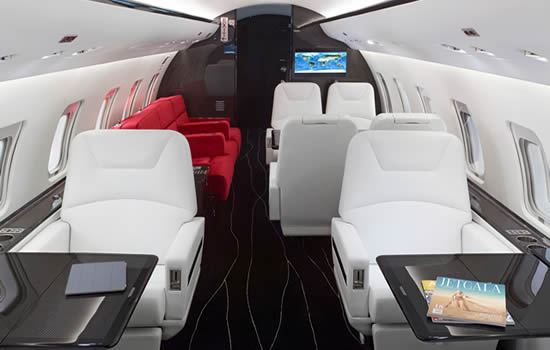 First carbon fibre interior from Flying Colours
So, if you're in the market for a new jet, or about to embark on a refurbishment project working with a cabin designer that understands current, and future trends is essential. At Flying Colours we complete green aircraft and refurbish or convert existing cabins. To better serve our customers we know that we must keep our finger on the pulse of, and influence, interior styling to live up to our innovative reputation and customer expectation. We were one of the first interior companies to use carbon fibre as the predominant monument finish in an aircraft, we laid one of the first stone veneer floors, and have just completed the industry's first Bombardier Challenger 650 medevac interior.
The role of the cabin designer is to bring a vision to life while meeting the necessary aviation safety requirements and functionality. Increasingly it is about creating a look that is stylish and durable yet supports the retention of asset value, and 2018 has seen some interesting new developments that will help meet this aim.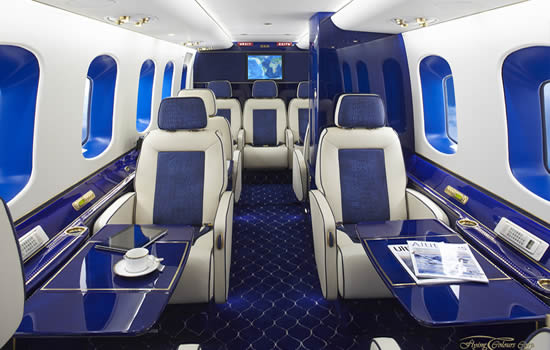 First S92 conversion by Flying Colours
An upsurge in the use of contemporary finishes and textures across the cabin is leading the vanguard. Wood is always a popular choice, but the use of exotic wood veneer finishes is an ongoing trend with a recent project featuring a smoked eucalyptus veneer stained with grey. Reflecting the popular hospitality trend of modern zen many cabins are being completed with white stained woods, set off by colours from the grey, black and white palettes. Gone too is the glossy shine of heavily varnished surfaces. Demure matt woods complement satin metals, with dark metals and polished chrome buckles, lights and trims trending.
Materials are being mixed up too with carbon fibre often replacing conventional wood accents. With the colour limitations of carbon fibre, we're exploring the use of Kevlar and fibreglass as a material. The constituent make-up of the materials allows us to create new colours using custom-dyes to match a specific cabin palette. Flooring is also undergoing a revolution with traditional carpets being switched out for stone, granite, leather and wood coverings.
Kate Ahrens
Traditional angular shapes are transforming into fluid organic lines. We recently worked on creating curved seat armrests which look softer and naturally fit the body. This epitomises a move towards organic forms that flow throughout the cabin, whether zoned or not. Seats are also de-bulking as contemporary schemes require thinner, sculpted contours reflecting the curve of the body. Influences come from many quarters with fashion houses, luxury automotive design and leading celebrities all playing their part.
Clearly interiors are evolving. Yes, there are always individuals who want their individually styled piano blue interior, as much as those that request the traditional grey or beige, which has dominated for years. However the need to be aware of trending designs and fashions is increasingly significant.
The new high net worth individuals, the increasing number of young successful executives with high disposable income and the growing cultural diversity of passengers and owners, requires cabin interiors to meet an emerging number of needs. Don't think greige any more, think market appeal to maintain asset value.

www.flyingcolourscorp.com
BlueSky Business Aviation News | 21st June 2018 | Issue #468