Sean Gillespie, Executive VP, Flying Colours Corp.

What's so special about special missions?

---
| | |
| --- | --- |
| | ast year the team at Conair, the Canadian aerial fire-fighting experts, asked us to work with them to develop four different interiors, for six brand new Bombardier Q400M aircraft. |
On completion each fuselage will have the capability to change from passenger to cargo to medevac to mixed-use to fire-fighting configuration within hours.
This has never been done before, this is a first for any completion center in the world. It requires extensive engineering planning, design power, and creativity. It will require exact precision of installation to ensure durability and reliability. It will require certification at every step of the way. And then it will require maintenance. The end user will be delivered six aircraft, whose chameleon natures will ensure maximized operational capacity. This is what we call special mission, or is it?
To be honest, each time we are asked to customize an aircraft interior it could be classified as special mission, especially by the customer. It is their bespoke project delivering an individual vision. In theory no two cabins are the same. Everything is customized, everything is special.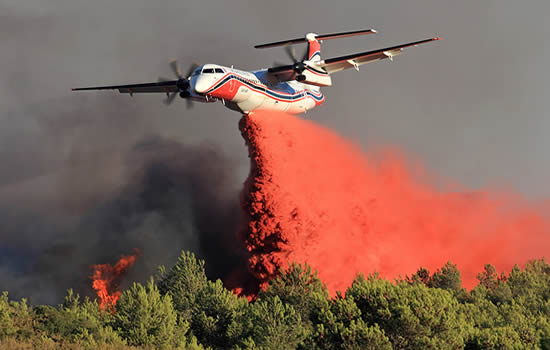 Flying Colours will give the Q400 a further four mission options in addition to fire fighting.
A helicopter with a shower, one of the first jets to incorporate a predominantly carbon fiber interior, and a bidet in a bathroom are just some of the executive demands we've met. However, there is a distinct difference between design engineering a special mission interior and an executive jet. Executive aircraft have been completed, and certified, to a standard range, speed, passenger number, flight deck, cabin environment, and physical layout. Certification for the monuments, technology, materials, leathers, cabin and cockpit avionics, metals, lighting, air systems, probably already exist, design elements are the principal differentiators.
When it comes to the special mission aircraft the original airframe will be leveraged to perform above and beyond the original spec. The platform will be altered and adapted for a one-of-a-kind role. The pre-existing STCs will be few and far between and the criteria will result in a highly specified aircraft which has undergone changes relating to space, range, onboard equipment, payload, reliability, and robustness. As with any special adaptation, just as in evolution, the aircraft will invariably end up performing tasks that were not in its original DNA, but which it is now perfectly designed to execute.
Surveillance, information gathering, medevac, border patrol, security monitoring, are just some of the purposes special mission aircraft serve. Over the last five years we've redelivered military monitoring interiors for an Asian client, security monitoring interiors for a Middle Eastern aircraft, and bespoke medevac aircraft across the world. Other international projects are so sensitive we cannot give details but needless to say they were intricate, complicated, and detail levels were off the scale.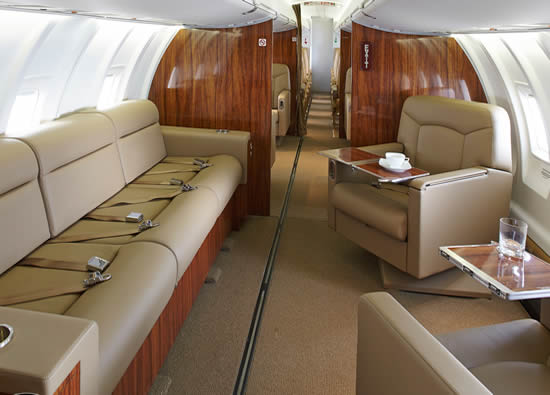 Flying Colours' CRJ200 Quick Change Settee.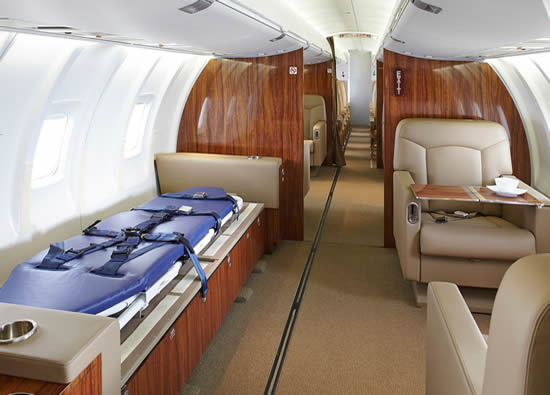 Creating a practical, functional area, for a very meaningful task, requires an intelligent approach, ingenuity and imagination. We have to consider the space, weight and needs of passengers. Access and egress are key considerations, particularly in medevac situations, we don't want clinicians to be maneuvering a critically ill patient round a maze of obstacles, nor do we want a surveillance coordinator to sit uncomfortably for hours on end. We need to install all the equipment safely and securely yet ensure it can be maximized to perform its specified task in the air. The final design and completion will depend on the aircraft's operating environment. Extreme temperatures, long range flying, low and high performance, the use of unpaved runways, will all make a difference to the final configuration.
The innate complexity of these projects means that invariably they necessitate collaboration with a variety of organisations. Sometimes we work through a third party who deals direct with the end customer, whilst other times we handle the client directly. At the same time, we have to coordinate with specialist equipment providers to ensure expected requirements are met. Equipment will often incorporate materials, electrical components and specific tools not meant for aviation use. Extensive testing is undertaken to ensure secure and safe installation in the cabin.
As each project goes through completion we coordinate with the regulatory authorities to generate the accompanying STCs, that authorize the varying and specialist components for use in aviation. This can be an extremely complex process which benefits from experience. The work can sometimes involve national CAAs who have to give their stamp of approval too.
Once delivered and airborne these aircraft will require maintenance just like any other and having created the interior, we have a very good understanding of what needs review. This invariably reduces downtime of these valuable machines. To complete these tasks takes high levels of technical expertise. Experience, talent, knowledge and ongoing training are pre-requisites to be successful. It is rewarding, it is demanding, it is most certainly special.

www.flyingcolourscorp.com
BlueSky Business Aviation News | 12th April 2018 | Issue #459