Where next for urban mobility?
---
For so long, pilotless passenger aircraft have only existed in the world of science fiction, but now these futuristic wonders are approaching reality at speed. Are they heading for a city near you?
When major players including Embraer, Uber, Bell and Airbus are developing aerial urban mobility solutions, we know we're not dealing with science fiction anymore. These industry giants wouldn't be investing their time and money in projects with no viable commercial future.
Flying cars? Drones? eVTOLs?
The media hasn't quite settled on a catchy collective name for all these disruptive new concepts yet. You might see references to 'flying cars' or to 'drone taxi services'. Only time will tell which phrase captures the public's imagination.
One term we're certainly hearing increasingly often is 'electric vertical takeoff and landing (eVTOL) aircraft'. That's how, for example, Embraer is describing one of the company's collaborations with Uber. Working through the EmbraerX division, dedicated to disruptive innovation, the company's plans are not yet finalised but a concept revealed this May showed eight rotors providing vertical lift, a short wing to maintain that lift for horizontal flight, and a pusher propeller delivering forward momentum.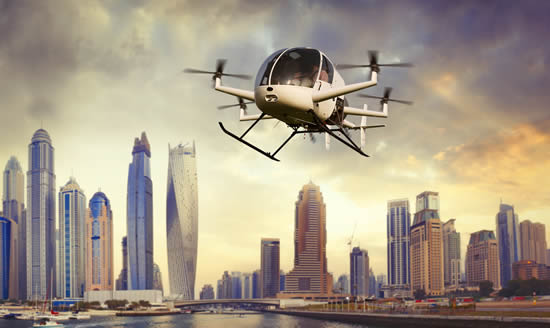 Breakthrough electric propulsion
As the 'e' in 'eVTOL' suggests, how aerial urban mobility solutions will be powered is fascinating. Low noise and emissions pollution means electric propulsion is both a desirable and, seemingly, practical power option. Naturally, operators will not want to see their electric aircraft sitting idly on the ground, earning no money, as everyone stands around waiting for batteries to be charged, but that's not what the manufacturers want either. One time-saving idea being discussed is to attach passenger 'pods' to separate pre-charged propulsion units.
When?
If we start discussing dates, we must be realistic. Talk of launching an autonomous one-passenger drone service in Dubai (United Arab Emirates) as early as July 2017 proved overly optimistic. Seeing the commercial launch of these projects in the early 2020s is a more realistic target. Uber, for example, plans demonstrator VTOL flights in Dallas (Texas) and Los Angeles (California) in 2020, with commercial operations scheduled to launch in 2023.
At this early stage, trying to forecast exact pricing for flying in eVTOLs is challenging but evidence suggests the aircraft could certainly be hired at significantly less cost than the current equivalent helicopter services. Flying range inevitably varies by concept but, to choose just one example, the Venturi HopFlyt eVTOL is targeting a range of 185km.
Building public confidence
The biggest barrier to the rapid implementation of new aerial urban mobility solutions is likely to be human, not technological. People will need time and evidence to become comfortable with the idea of pilotless aircraft. A survey of 8,000 people by Swiss bank UBS revealed 54% of participants would currently be unlikely to take a pilotless flight. But disruptive technology often needs time for public acceptance; that's only a short-term issue, not a long-term problem. And a staggered process will be necessary anyway, carefully and safely developing the required technologies and building public trust. There won't be an overnight leap to completely pilotless aircraft. Bell's FCX-001 Concept Helicopter, for example, is described by the company as a "stepping stone" to fully autonomous unpiloted VTOL vehicles. Initially, we might see VTOLs being flown by a single pilot in the aircraft supported by a remote pilot on the ground.
If pilotless urban mobility solutions prove successful, will we one day see commercial airlines flying pilotless aircraft across the world? The incentives are certainly there. UBS analysts claim "reducing the intervention of human pilots on aircraft" could bring material economic benefits of over $35bn per year for the aerospace and aviation industry, as well as improving safety. And we know the current flow of pilots into the commercial aviation industry is very unlikely to meet long-term demand. The latest 'Airline Pilot Demand Outlook' from aviation training company CAE, published in 2017, predicted the global airline industry would need an extra 255,000 pilots by 2027. Any possible route to alleviating the impending pilot shortage crisis must surely be worth exploring.
The business aviation industry should undoubtedly embrace, not fear, the development of aerial urban mobility solutions. If we work alongside these new operators, we'll be building an even more outstanding and comprehensive travel service for our customers.

www.luxaviation.com
Stapleford Airport
Stapleford Tawney
Essex, RM4 1SJ
United Kingdom
+44 (0)1708 688420
BlueSky Business Aviation News | 2nd August 2018 | Issue #474