Summer season starts with strong growth in business jet charters
There were 89,289 business aviation departures in Europe during June according to WINGX`s latest monthly Business Aviation Monitor. The figure represents a 4.4% increase Year-on-Year (YOY).
Halfway through 2018, Year-to-Date (YTD) growth stands at 2.7%, compared to 3.3% over the last 12 months. June 2018 was 0.4% less busy than June 2008.
There was growth in activity across all the big markets; fairly modest in France; up to 4% in Italy; 5% in UK; 7% in Germany and Spain, and 9% in Switzerland. After 6 months of the year, Spain and Germany have strongest growth trends, at +5% vs H1-2017.

Elsewhere, June saw 11% growth from Ireland, 12% from Russia and 33% from Portugal. YTD, flights from Greece are up by 14%. Athens had 22% growth in Large Jet flights in June and there was similarly strong growth in this segment from Vienna and Ibiza.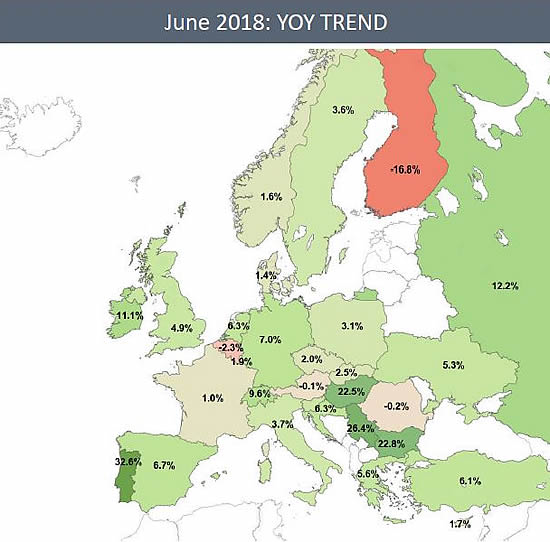 Large Jets were 3% less active in France this month, but from Paris airports, Large Jet departures increased 7% YOY. From Germany and Italy, Large Jet activity was up around 6%, from Austria, +20%, from Croatia, up 46% YOY.

Growth this month came mainly from flights within Europe - these up by 5% YOY. There were exceptions however with domestic France activity flat, and flights between Germany and France falling more than 10%. Flights to the Middle East fell 9%, and to the US, by -1%.

Charter and Fractional activity drove demand this month, with AOC jet sectors up by 7%, growing more than 10% from Switzerland and Russia. Ultra-long range and Light Jet AOC activity was up >10%, with SMJ flights gaining >20% YOY.
Modest growth in France, stronger in Italy, UK, with most growth this month in Germany, then Spain and Switzerland. At mid-point 2018, Germany has strongest growth, +4.7% vs 2017.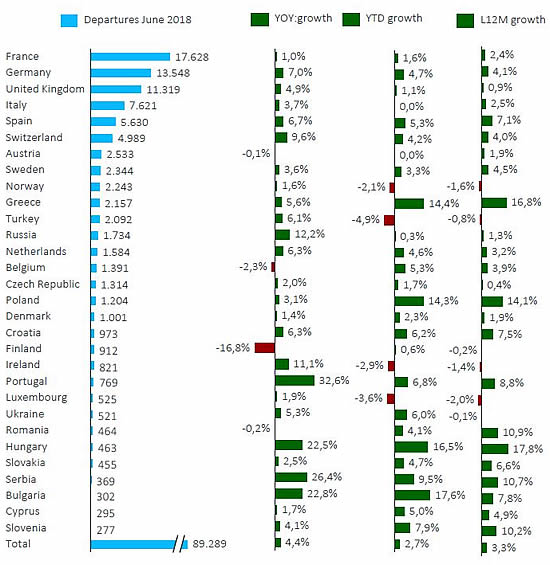 Aircraft

Bombardier and Embraer aircraft saw most growth in AOC activity, respectively increasing 11% and 21% YOY. Embraer aircraft also flew more Private flights, these up 16% YOY, compared to an overall trend in Private flights of just 2% YOY.

Gulfstream 650 jet sectors were up almost 50%, and PC-12 activity grew >20% YOY. Phenom 300 and Embraer Legacy had easily the strongest growth in AOC activity, along with the CJ3. Citation Mustang activity declined, particularly in Charter activity.
Airports

Le Bourget added the most growth this month, departures up by 14%. Farnborough, Biggin Hill, Malaga and Barcelona all saw growth of around 20% YOY. Luton ranked below Farnborough this month, seeing a 6% YOY decline in activity.

Richard Koe, Managing Director of WINGX Advance, comments: "As anticipated, this summer is seeing strong growth in business aviation activity, with activity levels finally back where they were a decade ago. Demand in Germany is providing much of the momentum, so too is the growth in flights to top Med resorts in Croatia, the Balearics and Cote d´Azur, where the increase in long-range heavy jet activity is conspicuous. Overall, light jets are adding most of the growth in European activity, although Mustang activity is falling away, Phenom 300 flights up by most."
---
WINGX Advance is a data research and consulting company based in Hamburg, Germany. WINGX analysis provides actionable market intelligence for the business aviation industry. WINGX services include: Market Intelligence Briefings, Customised Research, Strategic Consulting, Market Surveys. WINGX customers range from aircraft operators, OEMs, airlines, maintenance providers, airports, fixed base operators, fuel providers, regulators, legal advisors, leasing companies, banks, investors and private jet users.