First US dollar deal for Paragon Aviation Finance
Paragon's Aviation Finance division has spread its wings to include access to dollar funding.
The first deal of its kind secured a $7.9m loan for London Biggin Hill-based Zenith Aviation, enabling the business to buy another Learjet 75 to add to its fleet.
Zenith - the largest European operator of Learjet 75s - added a fourth Learjet 75 to its charter fleet to cater for rising demand from clients, which include celebrities from pop star James Arthur to wrestler Triple H and his wife Stephanie McMahon Levesque.
Following its busiest year in 2017, the new jet will allow the company to further bolster its activities, which have already reached more than 300 flight hours a month to destinations as far as Morocco and Russia.
Alison Jones, Head of Aviation at Paragon, said: "By being able to provide a dollar finance facility, Paragon will be able to assist many clients who prefer the option to fund the aircraft in the currency the aircraft is purchased.
"We aim to make the whole process of financing an aircraft as smooth and simple as possible, whether it's for individuals, SMEs or corporate clients using a plane or helicopter to help their business grow. For those looking to fund an aircraft, Paragon works hard and swiftly to get their finance off the ground."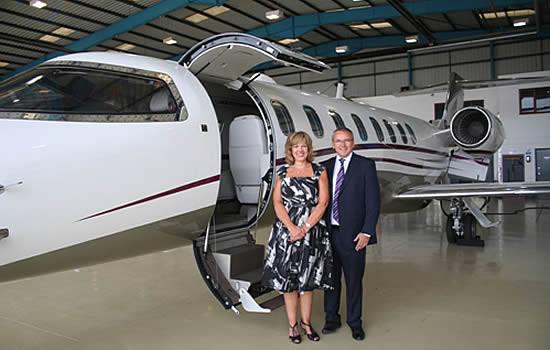 Alison Jones, Head of Aviation at Paragon, with Stuart Mulholland, Managing Director at Zenith Aviation Limited, with the new LearJet 75 at London Biggin Hill Airport.
Paragon launched Aviation Finance as part of its Asset Finance portfolio in September last year and Alison and the team have already financed more than 10 aircraft. The team caters for individuals and companies seeking to purchase new and used aircraft in the UK, refinance aircraft already mortgaged with other lenders, or release equity on aircraft owned outright. By using a specialist aviation finance provider, it leaves banking lines open for other business finance requirements and acquisitions.
Stuart Mulholland, Managing Director at Zenith Aviation, said: "It sounds glamorous but buying a plane is actually a very complex transaction, so anything that can make that process more seamless is a benefit. This deal was full of firsts for Paragon - the first dollar deal and the first corporate jet - and the Aviation team pulled out all the stops. From the quote through to the deal closing was less than four weeks in total, which is very impressive.
"Acquiring the Learjet 75 was a game-changer for us as it's the product that all the brokers want to use. On average, we receive between 250 and 300 requests a day so having another aircraft available in the fleet makes us more able to accommodate them."