Flying Colours bolsters financial team with two senior appointments
Flying Colours the North American MRO business has appointed Debbie Ammann, formerly Chief Financial Officer, to the newly created position of Senior Vice President, Finance & Administration. The position of CFO has been filled by new appointee Alysia Carter who takes up the role with immediate effect.

As Flying Colours continues to enhance its international presence Debbie will work closely with the senior executive team to ensure commercial efficiency, oversee new financial processes and coordinate commercial strategy across the existing sites in the USA, Canada and Singapore. She will also explore the commercial viability of further international sites.
Debbie has been part of the Flying Colours team for more than thirty years and will use her intricate company knowledge to accelerate future growth. "As the company enters the next development phase I am delighted to support the evolution and implementation of new financial processes to ensure streamlined growth. My experience working with the senior team will be invaluable as we move forward," says Debbie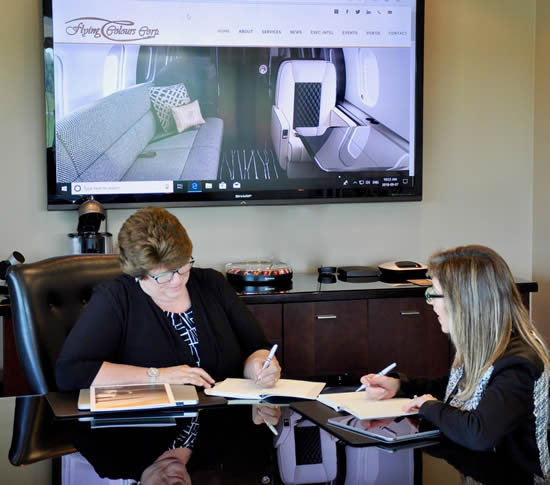 Debbie Ammann Snr VP Finance and Administration (left) and Alysia Carter, CFO bolster Flying Colours financial acumen.

Having spent over 25 years in the accounting and financial sectors Alysia takes on the role at a time of significant company expansion. Her previous experience brings knowledge of large complex project accounting and understanding of rapid business expansion to the organization. She is already working on a global strategic overview of the company's financial reporting to rationalize day to day commercial processes. "I'm thrilled to become part of the company at such an exciting time. There is so much potential for the business and I'm looking forward to supporting the senior team as they implement commercial strategy," says Alysia about her role.

Both Debbie and Alysia are based at the Peterborough, ON. headquarters reporting directly to President & CEO, John Gillespie who comments, "Flying Colours' international business is evolving at a rapid pace. The global growth, the increased number of team members and our expanding customer base, necessitates an extremely talented financial team. We are delighted to promote Debbie to one of our company's most senior executive positions, she has supported us from the start and been integral in driving the company success. Alysia's appointment demonstrates our commitment to building solid financial structures for continued growth and we are pleased to welcome her to the team."