GlobeAir reaches new highs
Leading European air taxi operator, GlobeAir, has soared to new highs with a record number of flights operated up 16.03% percent year-over-year, from January 1 until August 31st, 2018.
The Austrian company - that marked its 10th anniversary on September 15th - has many reasons to celebrate this year. Empty leg bookings have also increased by 23% percent during Summer.
"Compared to the past, what is remarkable about this year is that we received an incredible number of last minute charter requests, averaging 14 hours prior departure," explains Jonathan Berdoz, VP Sales & Marketing at GlobeAir. "During the Summer months our passengers were mainly flying to the Côte d´Azure and to the Balearic Islands, giving us a hard time to find suitable slots in Ibiza, Palma, Figari and, of course, London due to the night ban.
"However, we are very excited about this new approach, it means that travelers are making greater use of the air taxi service for short and not-yet-planned flights."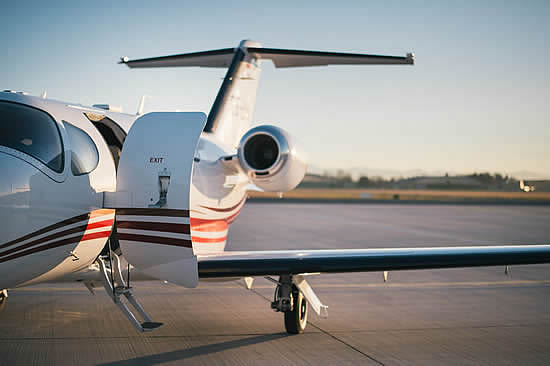 With the full ownership of a fleet of 16 Citation Mustang jets, GlobeAir is able to plan and arrange flights point-to-point, connecting 1,500 airports in Europe with the greatest flexibility.
CEO Bernhard Fragner says: "The Citation Mustang meets our high standards for performance and safety. We are proud to have the world's largest fleet of this type of aircraft and we are considering to expand our fleet to meet the increasing demand of the market."
The company discloses a remarkable increase in its operations starting from the beginning of April, probably due to a lower competition and a more stable social and financial outlook, which have fostered the luxury travel industry confirming GlobeAir as a market leader with a peek of 51% of market share in its segment in August 2018.
"We are seeing an increasing number of frequent fliers who are willing to pay for premium services, as long as they improve the quality of their life and give them the possibility to use their time in the most efficient way" adds Berdoz.
GlobeAir logged 6,021 flights from January 1 to August 31, 2018 averaging 1 hour and 16 minutes. The company reports that the countries with the biggest increase in cross border revenue flights were the United Kingdom, France, and Switzerland, where they saw rises of 31%, 26% in departures and 22% respectively in 2017.
Nice, Paris, Geneva have led the GlobeAir statistics for the most popular destination in the first eight months, and Friday and Sunday remain the busiest days for travel, each averaging more than 40 flights per day.
| | | |
| --- | --- | --- |
| Departure countries | GlobeAir departures 01.01.2018-31.08.2018 | GlobeAir departures 01.01.2017-31.08.2017 |
| | | |
| United Kingdom | 987 (+31%) | 755 |
| France | 1759 (+26%) | 1392 |
| Switzerland | 743 (+22%) | 608 |