Gulfstream G650 family surpasses 75 speed records
Gulfstream's G650 family has now achieved more than 75 city-pair records, just a few weeks after the ultra-long-range aircraft demonstrated steep approach capabilities at London City Airport.
"Even with more than 315 G650ER and G650 aircraft in service around the world, we continue to enhance the utility, flexibility and real-world performance of these already class-defining aircraft," said Mark Burns, president, Gulfstream.
The G650ER demonstrated its performance advantage with the following records, pending approval by the National Aeronautic Association:
Keflavik, Iceland, to Foz do Iguaçu, Brazil, in 11 hours and 46 minutes at an average speed of Mach 0.90

Beijing to Paris in nine hours and 18 minutes at an average speed of Mach 0.90

Tel Aviv, Israel, to Kiev, Ukraine, in two hours and 41 minutes at an average speed of Mach 0.90

Kiev, Ukraine, to London in two hours and 50 minutes at an average speed of Mach 0.90
The G650 flew several takeoffs and landings in September as part of the London City Airport Operations and Control Department's evaluation of the aircraft family's steep-approach capabilities.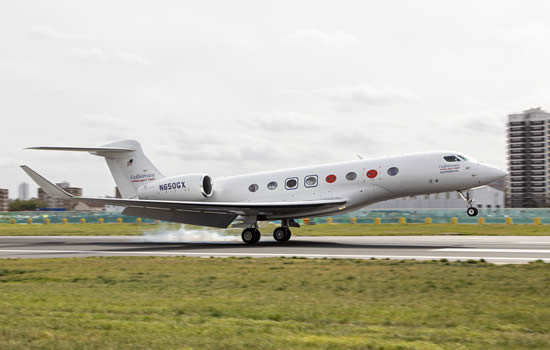 G650 at London City Airport, UK.
Aircraft that operate at London City require steep-approach certification and operational validation due to the airport's short runway and Central London's stringent noise abatement requirements. The airplane must demonstrate capability to perform the 5.5-degree approach and be able to operate on the short runway - 4,327 feet/1,319 meters for landing. On average, most airport runways have an approach angle of 3 degrees and a length of at least 6,000 ft/1,828 m.
Once approved for London City, the G650 family will be the fastest, largest, longest-range business aircraft to operate at the airport.
New Palm Beach Service Center to create 50 new jobs
Gulfstream announced it will increase services to customers and add to the employees at its West Palm Beach, Florida, site with construction of a new service center at Palm Beach International Airport.
The company will build a nearly 115,000-square-foot/10,684-square-meter maintenance, repair and overhaul facility on the west side of the airport. The new facility, which includes offices, back shops and an approximately 75,000-sq-ft/6,968-sq-m hangar, will replace the smaller one Gulfstream now operates on the south side of the airport. The growth is expected to create approximately 50 jobs, a nearly 50 percent increase in the size of the company's current West Palm Beach workforce.
Gulfstream's facility will be adjacent to an all-new storage hangar, customer offices and fuel farm operated by sister company Jet Aviation. The entire facility will be more than 168,000 sq ft/15,608 sq m. Gulfstream and Jet Aviation will invest more than US$50 million in the project. Groundbreaking is scheduled for 2018, and the facility is expected to open by the first quarter of 2020.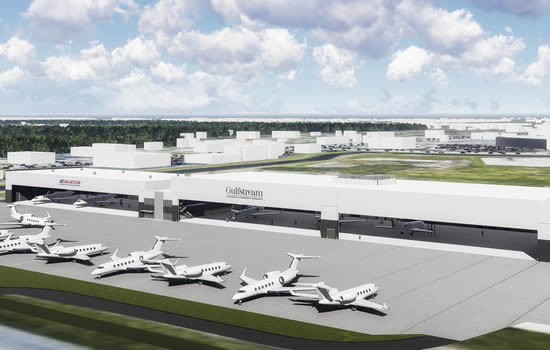 "Our West Palm Beach site plays a major role in our service organization, which has experienced sizable growth over the last several years," said Derek Zimmerman, president, Gulfstream Customer Support. "Like other expansions we've announced this year in Savannah; Appleton, Wisconsin; and Farnborough, England; and last year in Van Nuys, California, this expansion in West Palm Beach will keep our service network well-positioned to accommodate the growing demand for aircraft maintenance and refurbishment. The addition of this world-class facility will enhance the West Palm Beach customer and employee experience and help us maintain the service excellence we are known for. Additionally, we look forward to bringing more jobs to the community."
Gulfstream West Palm Beach has been a company site since 2001. It is home to a service center with more than 46,000 sq ft/4,274 sq m of hangar space. In 2017, the facility had more than 975 aircraft visits. Gulfstream West Palm Beach offers a broad range of services, including major inspections, structural modifications and repairs and major avionics installations and system upgrades. It is a certified U.S. Federal Aviation Administration and European Aviation Safety Agency repair station and also has maintenance approvals from Argentina, Aruba, Bermuda, Brazil, Burundi, Canada, the Cayman Islands, the Isle of Man, Peru, San Marino and Venezuela.
Gulfstream West Palm Beach also supports a Gulfstream Field and Airborne Support Team (FAST) rapid-response unit that assists operators in aircraft-on-ground situations. The unit, which comprises factory-trained technicians and a large custom truck outfitted with equipment and spare parts, is based at Fort Lauderdale-Hollywood International Airport.
"This expansion was made possible by the contributions of many, including the Business Development Board of Palm Beach County, the Palm Beach County commissioners, the Palm Beach County Department of Airports, the West Palm Beach City Commission and the state of Florida's economic development team at Enterprise Florida," said Jay Neely, vice president, Law and Public Affairs, Gulfstream. "We appreciate their support and efforts."
Company aircraft are first in industry certified for Visual Advantage Credit
Gulfstream's fleet of in-production aircraft has FAA approval for Visual Advantage credit using the Enhanced Flight Vision System (EFVS). This industry-first approval gives select operators authorization to dispatch and begin instrument approaches in low-visibility conditions below published approach minima.
"Providing this capability to our operators reinforces Gulfstream's tradition of continuous improvement," said Dan Nale, senior vice president, Programs, Engineering and Test, Gulfstream. "This innovation leverages Gulfstream's significant technological expertise and provides several benefits to our operators: increased efficiency, streamlined operations and enhanced safety."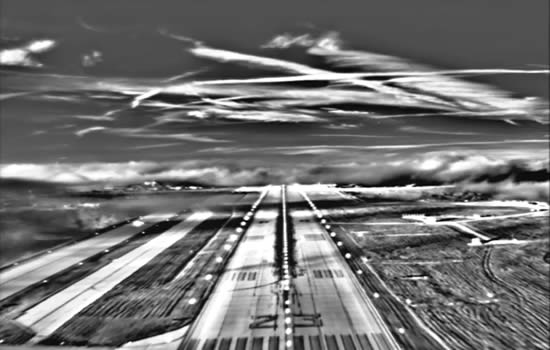 EVFS III Display
Additionally, all Gulfstream large-cabin aircraft have completed their certification flight testing for EFVS to touchdown and rollout operations. Gulfstream anticipates final FAA certification and operational approvals for the Gulfstream G500 and Gulfstream G600 by the end of this year, with approvals for the Gulfstream G450, Gulfstream G550 and Gulfstream G650 to follow.