Jet Aviation expanding US FBOs from coast to coast
Jet Aviation is expanding and renovating its FBOs in New Jersey, California and Texas.
"Our customers will soon find new or renovated facilities from Teterboro, New Jersey, to Van Nuys, California, and at Dallas, Texas, in between," said David Paddock, senior vice president and general manager, Regional Operations USA. "We like to say we're investing in our customers by ensuring our FBOs have the space, fixtures and capabilities to deliver the very best service to owners, passengers and flight crews - and their aircraft - no matter where their business or leisure flights take them."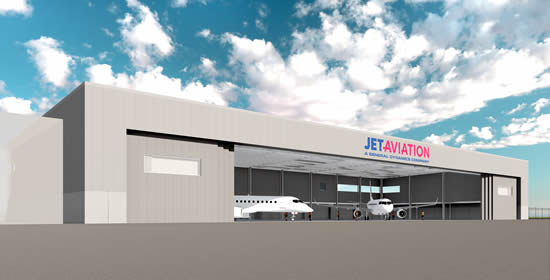 Teterboro, New Jersey.
On the site at Teterboro where a building has already been razed, site preparation and utility relocation are about to give way to the start of construction on a 40,000 square-foot hangar that will include tenant offices. The hangar, which will be completed by mid-summer 2019, is designed to accommodate larger, current-generation aircraft and to provide additional ramp space. While it is under construction, the adjacent FBO will be renovated to current Jet Aviation interior design and finish standards to deliver an even more comfortable and enjoyable experience to customers.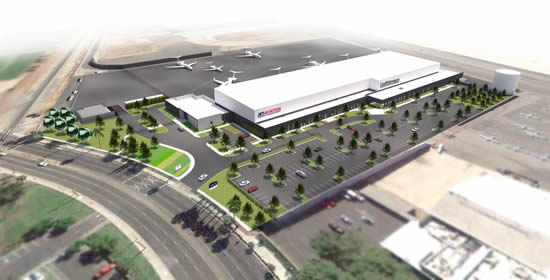 Van Nuys, California.
Across the country in Van Nuys, construction has begun on the foundations for an entirely new facility to replace the eight structures demolished earlier this year. The FBO will include 10,000 square feet of space for customer service that also will meet the latest Jet Aviation designs standards. A new hangar will provide 42,250 square feet plus 10,000 square feet for offices. An adjacent hangar for Gulfstream operations will include 40,000 square feet and 20,000 square feet for offices. The new complex will boast 122,250 square feet when completed, which is projected for summer 2019. The FBO currently operates out of a temporary building and an existing hangar that will be razed when the new buildings are completed.
A new fuel farm already is operating with two 30,000-gallon tanks and will expand with two more 30,000-gallon tanks and a 12,000-gallon tank in the future.
In the US heartland in Dallas, the first floor of the FBO will be completely rebuilt to current design and finish standards while enlarging the customer service desk and area to provide additional lounge and seating space for passengers. That will also improve customer access to restrooms.
Boston/Bedford FBO refurbishment completed
Jet Aviation has completed the refurbishment of its new Boston/Bedford FBO with a contemporary "cozy chic" style designed to be comfortable and attractive for customers - and is delivering even more customer service by housing a new Duncan Aviation satellite avionics shop in a hangar.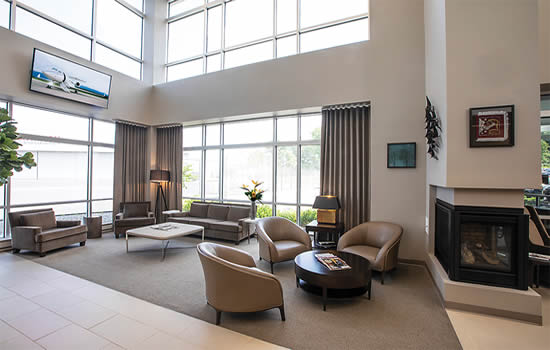 "We've applied a new, warmer color scheme and some new wall coverings, in addition to replacing all of the temporary furnishings, décor and design elements that were here when we opened the new FBO last year," said FBO Director of Services Pam Day. "We changed the feel and the experience of the FBO. It's more modern, but still cozy and comfortable. And some of the accents pieces are kind of funky and that's a fun touch. We call it 'cozy chic,' and we're inviting all of our customers to come in and enjoy the new look."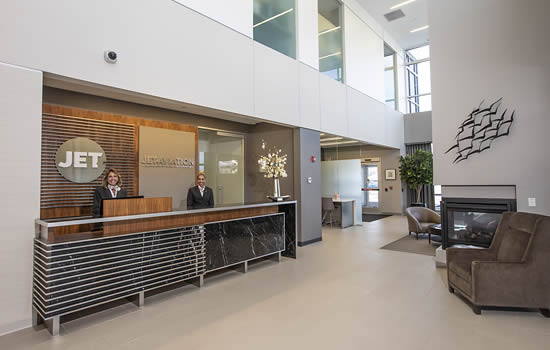 The FBO features 30,000 square feet over two stories, with two customer lounge areas, two pilot shower rooms, a snooze room, a pilots' lounge with two privacy rooms and two conference rooms with full video-conferencing capabilities. It opened last year shortly after the dedication of the new 40,000 square-foot hangar that can handle aircraft up to Gulfstream G650 and Global 7000. It brings total hangar space to more than 124,000 square feet and total facility space to more than 360,000 square feet.
The facility also has 80,000 square feet of remote, private parking. The location at Hanscom Field just outside of Boston offers easy access to local attractions.