Sheltair Aviation Services signs exclusive FBO network agreement with ARGUS
Private Florida-based aviation development company, Sheltair Aviation Services, has signed an exclusive agreement with ARGUS International to provide TRAQPak FBO, ARGUS' aircraft movement intelligence tool, to all Sheltair FBO locations across the US.
TRAQPak FBO will provide Sheltair locations with FAA aircraft movement data and ADS-B aircraft tracking provided by FlightView, Eurocontrol European flight data and Flight Global Ascend owner/operator fleet and contact data.
"We are extremely pleased Sheltair Aviation Services has selected TRAQPak FBO for its FBO Network, and API Data Feed for its' corporate location," said Shirley Mason, ARGUS International Executive Vice President of Market Intelligence. "TRAQPak FBO offers a unique set of tools and information at an affordable price to help each operation grow and enhance service levels. We believe Sheltair's FBO locations will find TRAQPak FBO's capabilities invaluable to the success of their business."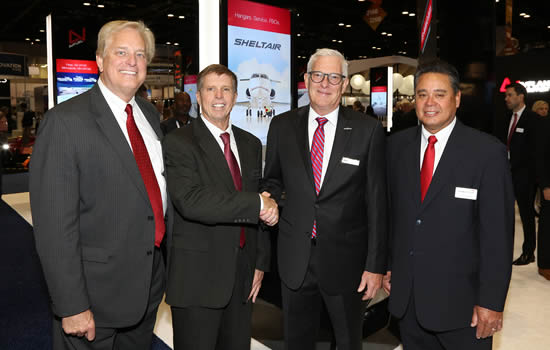 (L to R) Warren Kroeppel, Sheltair, COO; Frank Seymour, Sheltair, SVP; Joe Moeggenberg, ARGUS, CEO; Tom Craft, Sheltair, SVP of FBO Operations. Joe Moeggenberg congratulates Sheltair's executive team at NBAA-BACE.
"As Sheltair continues to excel as one of the top FBO networks in the country, the development and application of new technologies and partnerships has become a high priority to our operation," said Senior Vice President of Sheltair, Frank Seymour. "After an extensive review of available industry options, Sheltair has chosen the TRAQPak FBO utility for its superior flight tracking, customer service, and marketing features for all of our locations. With the upcoming expansion of our FBO Network, and new hangar and office complexes being built, we wanted a system that would be able to help us support these projects while enhancing our promise to deliver high levels of service and support to our customers."
TRAQPak FBO is an advanced, web-based aircraft movement intelligence tool that provides live flight tracking with fully integrated functionality powered by TRAQPak's historical aircraft activity data and analysis, FlightView aircraft movement data, and Flight Global Ascend aircraft owner/operator contact information.