Sonoma Jet Center achieves IS-BAH Stage II
Sonoma Jet Center at Santa Rosa recently became the first FBO in Northern California - and one of a handful in the United States - to achieve successful implementation of Stage II of the International Standard for Business Aircraft Handling (IS-BAH).
IS-BAH Stage II certification demonstrates Sonoma Jet Center's commitment to safety and innovation for customers, employees, and the public at large.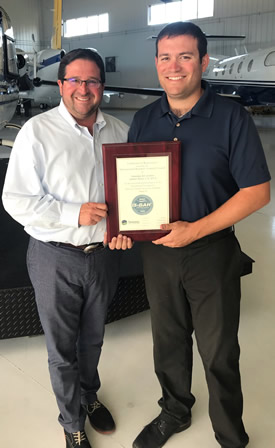 IS-BAH contains a set of global industry best practices for business aircraft ground handlers and features, at its core, a Safety Management System (SMS). IS-BAH Stage II Certification is the second of three levels of the highest possible safety standards that an FBO can have. This rigorous certification process demands time and dedication as well as a safety culture from top to bottom in the company.
Josh Hochberg, president of Sonoma Jet Center says, "This is a huge achievement by a dedicated team committed to safety. We are very proud of this endorsement of our FBO, safety culture, and processes. And, we want our customers to know that we are making an ongoing investment in safety that only a handful of other companies have done in North America thus far."
Sonoma Jet Center is the leading FBO and the only IS-BAH accredited FBO at the Charles M. Schulz – Sonoma County Airport (STS) in Santa Rosa, California. In the heart of Northern California's wine country, Sonoma Jet Center is an independently owned and operated affiliate of Signature Flight Support with a reputation for safe and efficient operations, first-class VIP service for every customer, and a passion for aviation. Sonoma Jet Center offers an elegant executive terminal, Avfuel aviation fuels, airline ground handling, aircraft maintenance, aircraft parking and hangar space, aircraft detailing and concierge services.