Small Jets drive stronger growth in October
There were 77,197 business aviation departures in Europe during October according to WINGX`s latest monthly Business Aviation Monitor published this week.
This figure represents a 5% increase YOY, and a 12% increase from the post-GFC trough in October 2016, although still less than its peak in October 2007. Business jet activity had 60% share of flights this month and is up 4% YOY vs October 2017.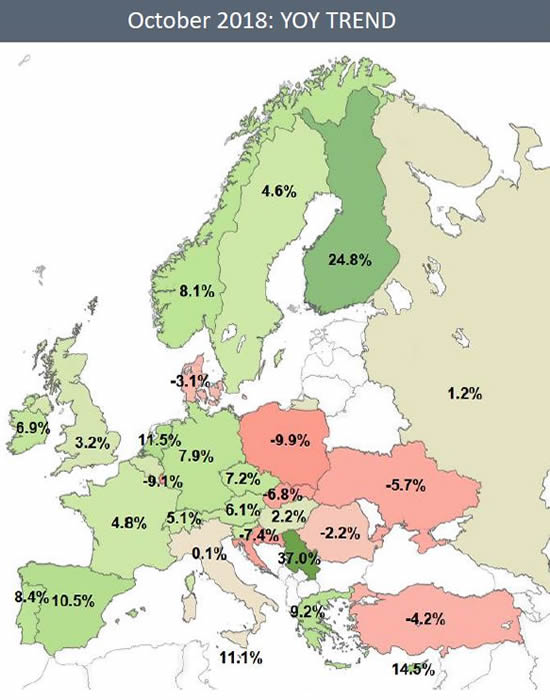 Germany and Spain showed most growth, respectively growing 7.9% and 10.5% in departures. Italy was flat, although still +2% YTD. Main decline this month and YTD is Turkey.
All the top 6 markets had some growth this month, with Germany adding most [flights up by 8%] taking YTD trend to +6%. Italy was flat, UK departures up 3%, France and Switzerland gaining 5%, and flights from Spain up by 11% YOY.

There were some declines this month: Turkey -4% YOY [and now -5% YTD] and Poland, whose activity was down by 10%. There was 7% growth in Czech Republic, 9% in Greece, 12% from Netherlands and 24% growth in Finland. Overall, European activity is up by 3.2% YTD 2018.

Small and Medium size jets had most growth this month, sectors up by 5%, +7% from Italy, +8% from France, +9% from Germany. Large Jet activity is up just 1%, down 2% from UK, although strong trends out of Germany, +11%, and Spain, growing 17% YOY.

Robust growth in business aviation flights within Europe, up by 4.9% YOY this month. The transatlantic market is coming back, up 10% this month against a negative YTD trend of -1%. Arrivals from Middle East were down 2%, from Africa, up 15% YOY.

Both AOC and Private activities were up by 5% this month, with a slightly stronger trend in Business Jet owner flights, showing some comeback in Q4. Germany and Spain added most Charter flights YOY, whereas Greece and UK were well up in Private flights.
Aircraft

Strong trends in SLJ and SMJ segments in Oct, with 9% and 12% YOY gains respectively. ULR, Midsize and Light Jet activity is up 7% this month, whereas VLJ activity dropped 18%, mainly in AOC Charter. VLJ and MSJ activity -4% and -6% respectively in L12M.

Of the leading OEM fleets, Dassault and Gulfstream flight activity was down, Cessna aircraft activity slightly up, mostly Private, and Embraer activity well up, mainly in Heavy Jet. Of all aircraft types, Diamond Twin Star had most growth this month.
Airports

Nice saw some decline in YOY activity as the summer season tailed off. Le Bourget continues to see very strong growth, movements up 13% YOY on a 9% YTD growth trend. Farnborough maintaining very strong growth in Charter, Biggin Hill more in Private flights.

Richard Koe, Managing Director of WINGX Advance, comments: "October may have been less busy than the pre-GFC high, but it´s by far the busiest month since then, with 5% growth picking up on the last 12-month trend of 3%. The trend would be much higher but for the collapse in VLJ activity since the demise of Blink. Super Midsize activity was up 12%, and Ultra Long-Range flights were up 9%, with close to 20% growth in AOC flights on these aircraft. Despite this, most of the market growth came on short trips, and small cabin jets had the most overall demand, with Light Jet Charters up almost 10% in the last 12 months."
---
WINGX Advance is a data research and consulting company based in Hamburg, Germany. WINGX analysis provides actionable market intelligence for the business aviation industry. WINGX services include: Market Intelligence Briefings, Customised Research, Strategic Consulting, Market Surveys. WINGX customers range from aircraft operators, OEMs, airlines, maintenance providers, airports, fixed base operators, fuel providers, regulators, legal advisors, leasing companies, banks, investors and private jet users.