On Air Dining partners with Travelworx to offer Horizon members exclusive travel discounts
On Air Dining, the award winning executive in-flight culinary specialist, and Travelworx, a travel agency specialising in travel arrangements for flight crews and business personnel have partnered to extend On Air's Horizon members discounts on crew hotels, hire cars and repositioning flights.
The exclusive member benefits enjoyed by Horizon members now extend to wherever their travels may take them around the world.
Horizon by On Air Dining is being adopted by both operators and brokers alike as it removes airport delivery charges, gives support for personalized catering offers as well as many other exclusive perks. Owners, operators and brokers of any size can benefit from the very highest quality catering at every budget level while reducing costs across their en-tire fleet. As the program continues to grow in popularity, other quality service providers in the industry are coming on board to add to the benefits.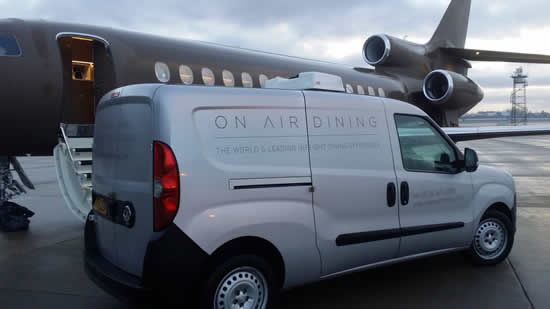 "Travelworx' philosophy matches that of On Air Dining's which is why we chose to partner with them" Explains Chris Anderson-Jones, Director and Co-Owner of Travelworx. "We provide an honest, superior and human service to suit all requirements. No fuss, no gimmicks, just people that care about you and what you are trying to achieve" Travelworx was developed by Flightworx Aviation Ltd due to an increasing demand for global travel support. "We are a worldwide travel management company. We don't just book and forget. We see a trip through from start to finish, we even help with expense management to assist with budget control. Having an extensive database of suppliers, we negotiate rates on your behalf to ensure a cost effective solution."
On Air Dining CEO, Daniel Hulme, said, "We invested in the development of Horizon after recognising the need for a compelling suite of services which allows fleets of all budgets and sizes to enjoy the high-quality cuisine we are known for throughout the industry. By leveraging our relationships throughout the industry we are able extend additional savings to our customers. We are thrilled to partner with Travelworx as they share our high quality values and we know our customers are in excellent hands wherever their travels take them."
Horizon by On Air Dining subscription, guarantees unlimited free deliveries to all 12 of the London and South of England area airports, without any minimum order value. Members of Horizon will also benefit from many more services as the programme continues to evolve with the current offers including:
Unlimited, free airport delivery for every aircraft in the fleet
Preferred pricing with Travelworx on hotels, car hire and repositioning flights
10% off any On Air Interiors orders
Complimentary, bespoke menu design
Free, tailored culinary training
More information from Carol Swan | 07718 578781 | email carols@onairdining.com