The Evolution of Trip Planning
James Hardacre, World Fuel Services
Technology is having a significant impact on the business aviation sector and has led to a number of trip planning advancements. At its core, operators require reliable, online tools that provide real-time information and help make them more efficient.
They want the flexibility to research options and plan the trip themselves or send the trip to their service provider if or when they need assistance.
An example of this technology is World Fuel's myWorld app, which is the only app to combine fuel, flight planning, weather, airport search, regulatory data, and trip applications into a single iPad application. It provides jet pilots and dispatchers with a single, easy-to-navigate platform that will take the hassle out of all planning and operational elements of their role.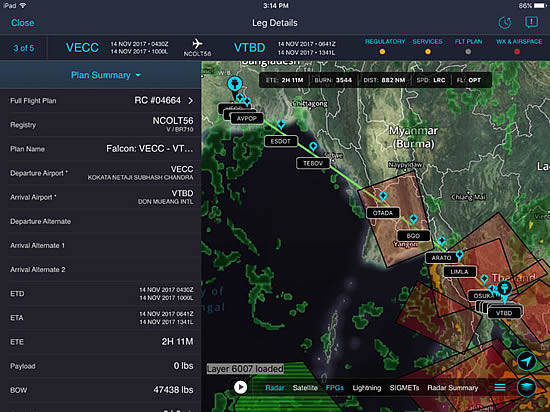 World Fuel's myWorld app.
One critical, less visible technology is our core operations system. Across the globe, our regional offices and global ops center are seamlessly connected via Falcon, our flight operations management system. All work is completed in a shared, reliable, integrated, paperless environment allowing seamless workflow across the world, which ensures continuity with your trip no matter where you are. Customers have told us that they what both self-service and full service, so the myWorld app uses this same Falcon core. Operations are safer because pilots can switch back and forth when needed. This is much different than companies that provide only an app or an app and fuel.
We have seen an increasing trend of operators wanting an integrated solution, which allows them to not only manage the trip logistics but make the transaction easy around the work. My general tips are to use a qualified trip support provider with experience staffed. Leverage their knowledge of the locale, regulatory requirements, special restrictions, considerations, and even hotel options to guide you in making the best choices for your trip. The company you choose to work with should also have local connections and expertise in all areas of the world. It's easy to search the internet for information, but this is never enough to create a safe and smooth trip.
As a full-service aviation solutions company, World Fuel Services provides trip support, fuel supply, as well as credit solutions anywhere you may go. With nine strategically located operations centres around the world, World Fuel's Trip Support provides that extra level of confidence.