Flight activity continues to weaken, especially for jet charters
There were 53,546 business aviation departures in Europe during December according to WINGX`s latest monthly Business Aviation Monitor.
The figure represents a slight increase in YOY activity, boosted by an exceptional growth in business piston traffic. Business jet sectors were down by 3%, charters down by 4% YOY.
Prop activity boosted growth in France and Germany this month, especially domestic short-sectors. Flight activity was flat in UK, declining in Switzerland and Italy on a YOY basis. Flight activity within, from, to Spain was well up this month.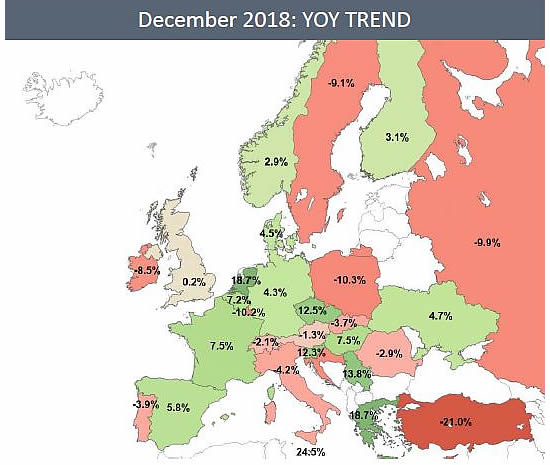 Strong growth month in France, Spain and Germany, with UK flay, Switzerland and Italy down. 10% drop in Russia, -20% in Turkey. For FY-18, Germany had most growth, flights up 5%.
For the full year 2018, 13 of the 20 largest markets in Europe were up, although of the biggest, only Germany and Spain got robust growth. Activity has clearly slowed in H2-2018 in UK, France, Italy. Biggest declines this year came from Russia and Turkey.
This month, Large Jet activity was sharply down, -6% YOY, with biggest declines in France, Germany, Switzerland and Sweden. Small and Midsize Jet traffic also declined, -3%. Large and Small Jets have L12M trends of around 1.5% growth.
Flight activity within Europe was flat this month, with a big gain in arrivals from North America and a drop-off in flights from Africa, CIS region, Middle East. Business jet flights from China into Europe were up by 11% in 2018.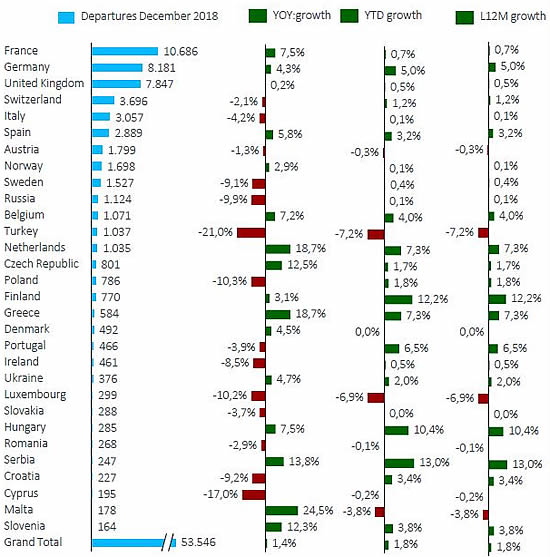 Aircraft
AOC/Charter activity comprised almost 60% of all flights in Dec, flat YOY, with solid declines in business jet flights, notably for Cessna, Hawker and Dassault aircraft. The business jet types with most AOC growth this month were Embraer Legacy and Citation Latitude.
Short sectors were up by 4% this month due to Piston activity. Other segments declined, apart from ULR, SMJ and Light Jet. This month Very Light Jet segment activity declined 11% and is 9% down for the year. The VLJ declines are focused on the Citation Mustang fleet.

Super Midsize activity is surging along, up 16% in 2018, boosted by new Citation Latitude activity, which doubled AOC sectors this month YOY. Embraer is the OEM with most activity growth in 2018, sectors increasing by 10% vs 2017.
Airports

Top airports saw a major decline this month, centred on Paris, Geneva, Nice and Luton. Biggin Hill was an exception, with almost 20% growth, mainly in Charter/AOC. Le Bourget, Biggin Hill and Farnborough have seen the most growth during 2018.

Richard Koe, Managing Director of WINGX Advance, comments: "Overall flight activity trends in December were flattered by a big increase in business piston traffic. Clearly business jet demand slumped in France and especially Paris due to the widespread protests. Elsewhere, we're seeing slackening activity in Italy, UK, Switzerland. There is still momentum in the aircraft segments with recent EIS such as Citation Latitude. The outlook for 2019 will depend significantly on the genuine demand for replacement and upgrade of older aircraft as new business jets now come off the production line in larger numbers."
---
WINGX Advance is a data research and consulting company based in Hamburg, Germany. WINGX analysis provides actionable market intelligence for the business aviation industry. WINGX services include: Market Intelligence Briefings, Customised Research, Strategic Consulting, Market Surveys. WINGX customers range from aircraft operators, OEMs, airlines, maintenance providers, airports, fixed base operators, fuel providers, regulators, legal advisors, leasing companies, banks, investors and private jet users.