GlobeAir releases Amazon Alexa skill
Austrian private jet company GlobeAir is becoming the first bizjet company to release an Amazon Alexa skill for immediate private jet bookings.
With many leading travel companies putting voice search first - and over a hundred million Amazon devices sold so far - GlobeAir has taken on the challenge to become the pioneer of voice-driven applications for private jet bookings.
Currently the GlobeAir Alexa skill can be triggered via a set of phrases: 'Alexa, ask GlobeAir to search for a flight' ; 'Alexa, ask GlobeAir what are some popular destinations', and 'Alexa, ask GlobeAir I would like to search for a flight'.
There follows an intuitive dialogue at the end of which the user can either book a private jet or request an info call with GlobeAir's customer care team. In both cases, the result is an almost-natural conversation between the user and the voice assistant which helps to remove all barriers to a quick and smart booking procedure.
"We strive to be on top of the latest technologies to make it easy, fast and fun for our passengers to fly via GlobeAir," says CEO Bernhard Fragner. "Travellers are always on the lookout for the quickest ways of getting from A to B. With the GlobeAir Amazon Alexa skill, our objective is to cut down on our passenger's travel time even before the journey has started."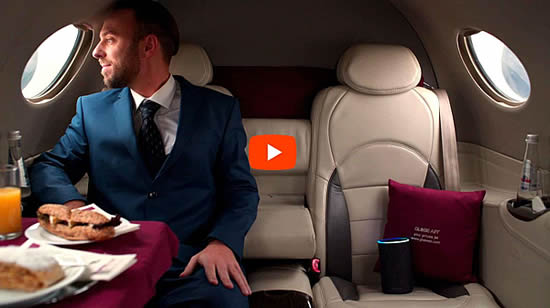 Coinciding with the recent Christmas holidays, GlobeAir has released the German version of the skill and has produced a GlobeAir branded Amazon Echo Dot limited edition as part of the skill's launch campaign.
Enable the GlobeAir Amazon Alexa skill via globeair.com/alexa