London Biggin Hill Airport launches Unite to Inspire initiative
London Biggin Hill Airport is launching Unite to Inspire, a new initiative encouraging young people to study STEM subjects, preparing them to become the next generation of aviation professionals.
Unite to Inspire brings together the airport's thriving business community of 70 resident aviation companies to motivate students into pursuing STEM subjects (Science, Technology, Engineering and Maths), by demonstrating how this path can lead to stimulating jobs within aerospace. Participating businesses include Bombardier, Textron Aviation, RAS Completions and helicopter specialists Castle Air.
The initiative is part of a wide-ranging drive by London Biggin Hill to motivate young people to pursue careers in aviation. This includes a new on-site London Aerospace & Technology College, set to open in 2020, as well as a number of scholarship programmes at the airport.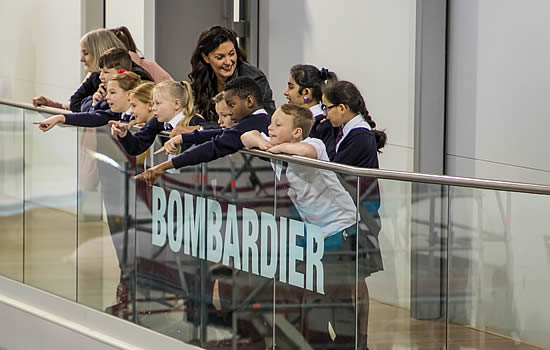 Hannah Gray with Keston C of E Primary School Year 6 pupils.
Andy Patsalides, marketing manager, London Biggin Hill Airport says: "Aviation is undergoing a global workforce shortage, encompassing every part of the industry, be it engineers, air traffic controllers or pilots. Our local community is an intrinsic part of ensuring sustainable growth for the airport through this shortage. Within the last 12 months, we've increased employment from 1,000 to 1,300 jobs, and we're on a mission to train and inspire home-grown talent to become the next generation of aviation professionals."
Hannah Gray, newly appointed STEM ambassador, will head up the Unite to Inspire initiative. Patsalides continues: "As an active member of the community, and a local councillor for the London Borough of Bromley, Hannah is the ideal candidate to lead Unite to Inspire. During her time as deputy mayor, Hannah visited many of the schools we will be inviting to take part in the programme, which will be indispensable to its success."
Hannah Gray, STEM ambassador, London Biggin Hill Airport says: "It is vitally important we showcase the many career opportunities available at London Biggin Hill, as our young people begin to plan their futures. This is one of the most exciting projects I have been asked to manage, and I look forward to introducing students to the varied career paths on offer at one of Europe's fastest-growing business aviation airports."