Global Trek Aviation to open new FBO at Cardiff International Airport
Award winning FBO specialists Global Trek Aviation, already established at Belfast International (EGAA), are opening a second Executive Jet Centre, at Cardiff International Airport (EGFF), the Capital Airport for Wales.
Chief Operating Officer Gordon Bingham commented, "We are delighted to be opening this all-new facility at Cardiff International Airport as it offers tremendous potential with its ideal strategic location. We are investing in building a bespoke, state-of-the-art facility on the south side of the airport with dedicated VIP lounge, private offices, crew briefing centre, flight ops facilities and a fully integrated security screening suite.
"Provisional target date for opening the new full service FBO is April 2019, subject to completion and fitting-out on time. Experienced team members will allow the operation to start providing world class services from day one, as we invest in training a local team to NATA Safety 1st certification standard as well as Global Trek Aviation's own Standards of Excellence."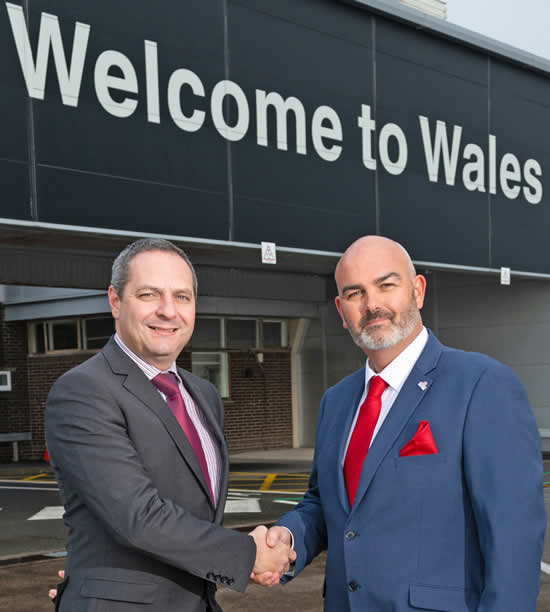 Spencer Birns, Commercial Director, Cardiff Airport (left) with Gordon Bingham, COO Global Trek Aviation.
Global Trek Aviation will be offering clients a full range of GSE in addition to offering a dedicated aircraft refuelling service.
Spencer Birns, Commercial Director at Cardiff Airport, added: "Global Trek's announcement is really the first significant step taken in the development plans set out in our Masterplan.
Our vision for success includes a clear strategy to diversify our air service activities and encourage use of our facilities all year round. It's fantastic to see that an established brand like Global Trek has recognised the great potential that exists at Cardiff Airport, and indeed in Wales.
"We very much look forward to the official opening of Global Trek's brand new facility at Cardiff Airport in a few short months."