Flightworx becomes first flight support company to partner with Osprey Flight Solutions
Flightworx Aviation, the UK based global leader in flight support solutions, has announced a partnership with pioneering aviation risk management company, Osprey Flight Solutions, making them the first flight support company to introduce instantaneous data-led risk assessments into their business.
Flightworx flight planning tools will integrate seamlessly with Osprey's system to deliver
instantaneous, intuitive, visual and written risk assessments whenever needed, supporting operational decision making, quality control and compliance.
By utilising Osprey's technical capabilities Flightworx dispatch can assess an operator's flight routing to ensure alerted risk areas are avoided. Using reports that are up to the minute and packed with live data, including a risk score, experienced dispatchers can review the routing and advise operators accordingly with best options. Additional reports on country, airspace or airports are also available.
Osprey has quickly established itself as a market leader in the field of risk assessment
technology. Designed to meet a market demand for business enabling tools, the unique Osprey system uses ground breaking data-led risk management to enhance the safety of operations and deliver instantaneous access to global analysis, intelligence, information and data on the aviation security environment.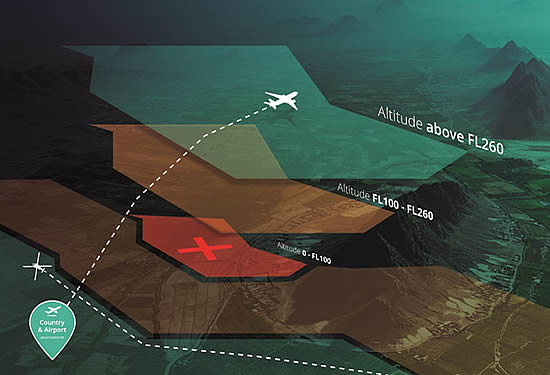 The airspace is evaluated over three separate altitude levels: 0-FL100, FL100-FL260 and above FL260, covering security threats to all aircraft at all stages of flight.
The Osprey aviation alerting system brings added value to Flightworx clients. Osprey Alerts includes a specific set of recommendations to mitigate security, safety and operational risks to their aircraft passengers and crew. Standard Alerts also include a list of most recent
historical data from the Osprey incident database. The incident data provides operators
additional awareness of aviation safety, security, operational and regulatory occurrences as well as conflict zone dynamics and conventional military issues that may affect flight operations within the country, airspace or airport. Standard alerts can be user customised through a number of filters including country, geographical region, air, ground and more for each recipient.
"The benefit of the security brief service is a fulfilment of regulation and risk assessment
requirements for private and commercial operations around the world," explains James Wiskin, Co-Owner and Director of Flightworx. "These turn-key briefs are now made possible with a proactive touch of a button. We can provide a clear real-time brief from a global source that is compatible with any regulation worldwide. Flightworx is leading the way with security to ensure our clients are fully informed about the volatility of these
ever-changing situations."
Bruce Norfolk, CCO of Osprey added, "We are delighted to be working with James and the Flightworx team. It's wonderful to see Flightworx employing the operational benefits of true data-led risk management, providing clients with the most accurate and up-to-date security information available".