Signature FBOs earn Italy's first IS-BAH registration
Signature Flight Support's locations in Italy are the first in the region to earn The International Standard for Business Aircraft Handling (IS-BAH) certification, the industry leading accreditation and global standard for best business aviation safety practices.
Milan-Linate (LIN), Milan-Malpensa (MXP), Rome Ciampino (CIA) and Venice (VCE) all passed the highly stringent, week-long safety management audit following an external assessment by a team of IBAC-accredited (International Business Aviation Council) auditors.
"We are proud to announce that we have accomplished the first IS-BAH certification within Italy, and we look forward to bringing more of our European locations through the accreditation process" said Evie Freeman, Managing Director, Signature Flight Support-EMEA. "Safety is our core value and lived by every one of our employees. The audits took several days to complete, but several months of preparation had taken place before that by our dedicated safety team and the FBO management team for each site."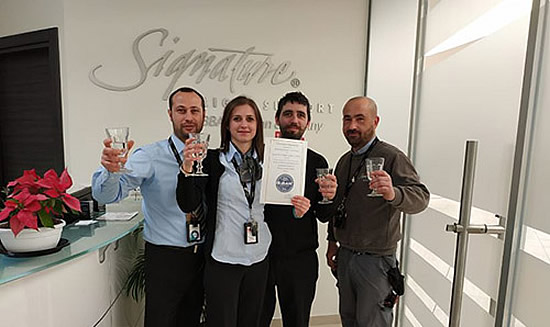 "Congratulations to entire Signature Flight Support Italy teams for achieving IS-BAH certification," commented Terry Yeomans, IS-BAH program director for IBAC. "All of us at IBAC commend Signature for this accomplishment and recognize their dedication to a safety culture that embraces global industry best practices for business aviation ground handlers."
The company is forging ahead with the accreditation process for its global FBO network. Signature's locations at London Luton Airport (LTN), Nice (NCE), London Biggin Hill (BQH), Dublin (DUB), Shannon (SNN) are also IS-BAH accredited.
Signature partners with FlightAware
In further news, Signature Flight Support is deploying FlightAware's FBO Toolbox across their FBO network. The move will establish even better communications between aircraft operators and FBOs by enabling a new level of coordination and service to the flight support industry.
FlightAware's FBO Toolbox is a web-based platform that includes a suite of tools to support operations at FBOs. Paired with FlightAware Global, the most popular flight tracking service used by private aviation operators, the use of FBO Toolbox enables Signature Flight Support to leverage synergies between the two FlightAware services and enhance customer experience.

FlightAware recently added an FBO scheduling feature that enables FlightAware Global customers to pre-select the FBO they intend to visit at their destination. When a user selects a Signature facility, FlightAware sends an email notification so FBO employees can prepare for the inbound aircraft.
If the aircraft is blocked, FlightAware Global customers will be able to provide access to tracking via FBO Toolbox at the selected FBO.
Signature FBOs will also host proprietary ADS-B ground stations from FlightAware, called FlightFeeders. The FlightFeeders track aircraft in the air as well as on the ground, making it possible for FlightAware Global customers to know when their aircraft powers on at its origin, when it begins taxiing, as well as the moment it parks at its destination. FlightAware recently introduced this as an enhancement for FlightAware Global customers, called Ready to Taxi. By hosting FlightFeeders, Signature improves surface coverage and ensures their customers receive maximum value from Ready to Taxi.
Shawn Hall, Chief Commercial Officer of Signature Flight Support, noted, "Signature is keenly focused on providing a differentiated, high-touch level of customer service across our global network. The integration of FlightAware's technology, will further enhance our ability to provide customers with efficient and accurate service delivery no matter where customers fly within the global Signature network."
"As the largest FBO network in the world, Signature Flight Support has earned a reputation for operational excellence and customer experience that is continuously improved by utilizing innovative technology like FlightAware," said Daniel Baker, CEO at FlightAware. "We are thrilled that they are deploying FBO Toolbox and look forward to adding new features that will further connect their facilities with aircraft operators."