New Year hangover sees weaker activity, especially in large cabin aircraft
There were 54,481 business aviation departures in Europe during January according to WINGX`s latest monthly Business Aviation Monitor published today.
The figure is down 0.8% YOY, with a 2.1% drop in business jet sectors. The last 12-month trends in business aviation are up by 1.4%, and 10% above the 2016 trough, but still 11% behind the January 2008 peak.

There were mixed YOY trends in Europe´s busiest markets, with France and UK narrowly up; Spain showing robust growth; flights declining from Germany and Switzerland, and a 9% slump in demand out of Italy. In other markets, there was a big drop in activity from Turkey.
The last 12-month trend looks strong out of Spain and still solid out of Germany, although flat in the UK, Switzerland and France. The busiest city in Europe during January was London with 3,598 departures - but this is down by 6% YOY.

Large Jet activity took the brunt of the decline in Europe with sectors down by 6% YOY. Small and Medium Jet activity was flat, whilst Prop activity increased YOY, largely due to an increase in Piston flights.

Flights within Europe declined by 1% in January. The next busiest regional flow was transatlantic, flat YOY, beating a negative 12-month trend of -1.5%. Business aviation flights to Africa have increased 5% over the last year but declined in January.

The Charter/AOC market grew slightly overall, but flat for business jets. Private flight activity declined 2.5%, and is flat over last 12 months, during which time Private Mission activity on Heavy Jets has slumped by 6%.
Departures by Origin Country and YOY growth, January 2019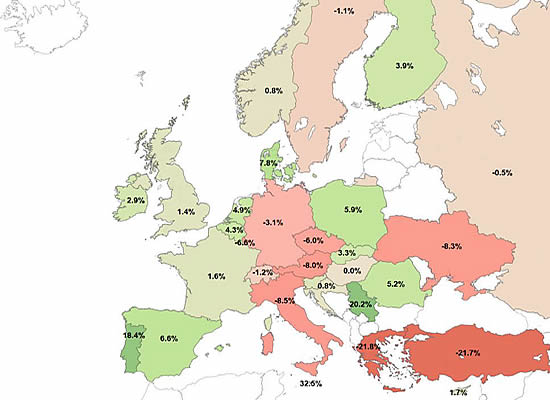 Spain sustained relatively strong growth, France and UK had 1%-2% gains, but Germany,
Switzerland, especially Italy declining. L12M trends are narrowly up, +1.4%.

Aircraft
The month saw declines in most business jets segments, notably in Bizliners, Ultra Long Range, Heavy, Midsize, Light and Very Light. The main growth this month came from Super Light Jet, activity up by >10% YOY.

In the Charter market, the busiest type was the Excel/XLS, with 6% YOY growth. The CJ1 saw >20% growth, Falcon 7X sectors increased almost 30%, and Citation Latitude activity was up by more than 60% YOY. In Private activity, G550 activity slumped by 21%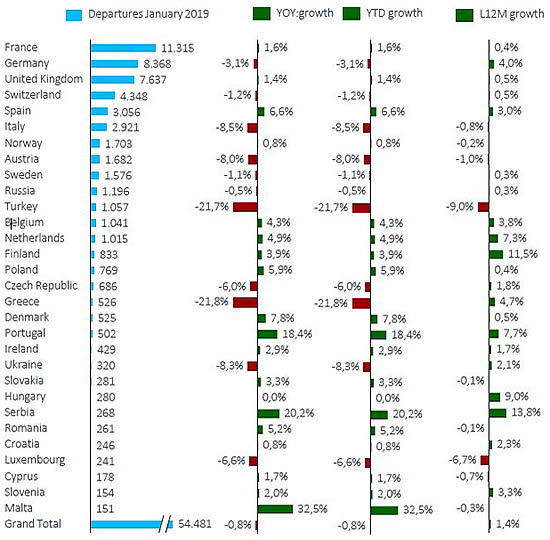 Airports

There were YOY declines for 6 of the top 7 airports in Europe. Farnborough UK (EGLF) was the exception with 6% YOY growth in departures. More than 10% decline in activity out of London Luton (EGGW) and Geneva (LSGG). Large Jet activity out of London Luton (EGGW) fell 15%, and Small-Mid flights from Geneva slumped by 20% YOY.
Richard Koe, Managing Director of WINGX, comments: "The decline in this month´s flight activity reflects anecdotal feedback from the charter operator market that customer demand is down, which fits with the wider deterioration in the macroeconomic situation in Europe. This month´s drop was concentrated in the large cabin segments which may reflect pull back from corporate flight departments. It´s interesting to note the resilience of flight activity to and from Spain, also the charter demand for older aircraft types such as CJ1 and Falcon 7X. The 6% decline in the London market accurately demonstrates growing uncertainty around Brexit. "
---
WINGX is a data research and consulting company based in Hamburg, Germany. WINGX analysis provides actionable market intelligence for the business aviation industry. Services include: Market Intelligence Briefings, Customised Research, Strategic Consulting, Market Surveys. WINGX customers range from aircraft operators, OEMs, airlines, maintenance providers, airports, fixed base operators, fuel providers, regulators, legal advisors, leasing companies, banks, investors and private jet users.