Overall activity gains but business jet charters falling back
There were 58,090 business aviation departures in Europe during February according to WINGX`s latest monthly Business Aviation Monitor published this week.
The figure represents a 1.7% increase YOY, boosted by a big increase in piston traffic - mainly training flights.
Business jet activity was down by 1.3% with a 1.6% fall in Charter/AOC flights. The last twelve months' trend in business jet activity is 1%.

The top country markets saw some growth overall, with Germany and Spain registering most YOY increase in activity. Flights from the UK were flat YOY, with a big drop in Small/Mid jets. Heavy Jet activity was up 8% in Germany, but down 20% in Russia.

So far in 2019, the UK, Italy and Germany have around 1% growth in total activity, France is up by 2% and Spain almost 10%. Flight activity out of Turkey and Greece is down 20% compared to last year. Europe´s YTD trend of 0.5% is slowing on the last twelve months' trend of 1.7%.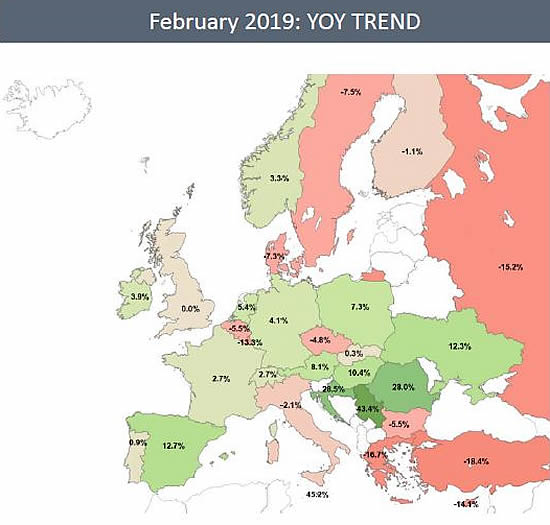 Large Jet activity was down by most during February, falling 2.3% YOY. The ULR segment was up by 4.7%, but offset by 5.3% YOY decline in Heavy Jet flights. Super Mid activity was up 2.7% YOY, whereas Bizliner flights fell 17% YOY.

Business aviation flights within Europe were up by 2%, and arrivals into Europe from North America and Africa increased more than 15% - although these trends were offset by almost 20% decline in Asia-Pac arrivals and 9% fall in flights from CIS region.

58% of all business aviation flights were Charter/AOC, this activity down by 1% in February YOY, in contrast to Private flights, which increased almost 5%. Spain, Austria, Netherlands and Poland saw the biggest YOY growth in Charter/AOC.

Largest declines in Charter/AOC in February came in Turkey, Russia, Belgium. Private flights had strong growth out of Germany and Switzerland, falling substantially in Spain. Overall, flights from UK to Spain, Italy and Switzerland were well down this month.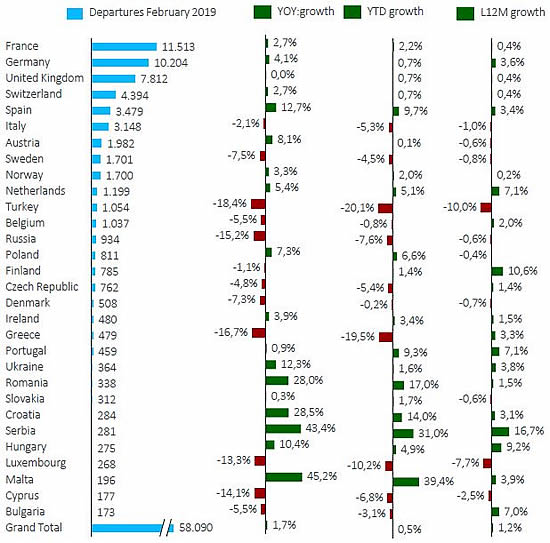 Aircraft

Charter/AOC activity this month was driven mainly by Props, notably the Diamond Twin Star, Cessna 172, Socata TB-20. Among business jet platforms, Global Express and Falcon 7X activity was well up. Private flights down for PC-12 and Gulfstream GV/G500.
Airports

Europe´s busiest airports saw a sharp reduction in YOY activity this month, especially at Geneva, Luton, Nice, Milan. Berlin Schoenefeld and Munich both saw growth of more than 10% YOY. Private flights out of Biggin Hill and Zurich were up >10% YOY.

Richard Koe, Managing Director of WINGX, comments: "The overall trend in business aviation activity, up 2% YOY, camouflages a significant underlying decline in business jet activity, across all the top markets except Germany, with notably large falls in heavy jet activity out of Spain and Small-Mid cabin activity from the UK. These declines are most obvious in Charter activity, and on longer sectors. This year´s falling trend in business jet charters reflects softer demand in the context of weaker economic growth and heighted political risk across Europe."
---
WINGX is a data research and consulting company based in Hamburg, Germany. WINGX analysis provides actionable market intelligence for the business aviation industry. Services include: Market Intelligence Briefings, Customised Research, Strategic Consulting, Market Surveys. WINGX customers range from aircraft operators, OEMs, airlines, maintenance providers, airports, fixed base operators, fuel providers, regulators, legal advisors, leasing companies, banks, investors and private jet users.