United States
AVIAA grows its Customer Success team
AVIAA, the expanding group purchasing organization for business aviation is growing its Customer Success team and enhancing its data infrastructure to support a widened membership of nearly 500 aircraft.
The move follows hard on the heels of AVIAA's acquisition of Convolus and establishment of an office in Munich, Germany, headed by Managing Director Irena Deville.
AVIAA's Customer Success Team works closely with members to help them understand the process and analytics of the cost savings they are accruing. "We advise members as they move into new sectors, whether they are transferring from Part 91 to 135 operations; adding a new aircraft type or introducing new capability that may justify adding a new pillar of spend," explains AVIAA COO Rick Tilghman. The Customer Success team also advises members on when there are available slots in training and when best to plan maintenance visits, working on a day to day basis with its supply chain.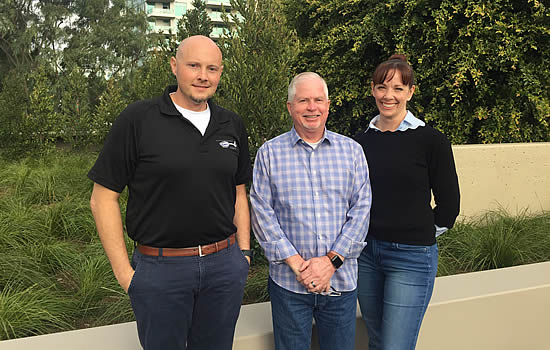 AVIAA grows its Customer Success Team with (L to R) Matthew Suedkamp, Don Hitch and Lori Jones.

AVIAA has just welcomed Don Hitch into the dedicated role of Vice President - Customer Success. Don joins the business with a firm understanding of how to optimize luxury assets, having established and successfully ran the (Part 91) flight department for California's The Wonderful Company LLC as Vice President of Aviation. He brings 35 years' experience in Part 91, 135, and 125 flight operations as both pilot and manager. Senior leadership roles include serving as President of AMI Jet Charter, a TAG Aviation subsidiary. Don has also served on various NBAA Committees and currently serves on the Business Aviation Managers Committee (BAMC), which supports the prestigious CAM program.
Don leads a stellar team of aviation professionals. Lori Jones is Director of Customer Success in the US, having joined AVIAA last summer from charter specialist West Coast Aviation. Sarah Holian, formerly with StrataJet in London, supports AVIAA's UK, European, and Middle Eastern members. AVIAA's most recent hire, Matthew Suedkamp, was most recently Director of Flight operations for Elon Musk's rocketry company SpaceX.

"AVIAA works with preferred partners in every supply category, from fuel, handling, insurance, maintenance, satcom, and more," AVIAA EMEA MD Irena commented about the added capabilities the AVIAA acquisition has provided. "Having a dedicated Customer Success Team is a great benefit to our members, ensuring that they're supported at every level of the procurement process."