Saudi Arabia
Jet Aviation celebrates 40 years of operation in the Kingdom of Saudi Arabia
Jet Aviation is celebrating 40 years of operation in Saudi Arabia during this week's Saudi International Airshow at Thumamah Airport in Riyadh.
The company, together with Saudi Arabian partners, established its first FBO in the Kingdom at Jeddah Airport in 1979. It currently operates four facilities in Saudi Arabia - Jeddah, Riyadh (1983), Medina (2012) and Yanbu (2018). As the industry's first International Aviation & Aerospace Exhibition in the Kingdom, the Saudi Airshow 2019 is a fitting event at which to mark the anniversary year.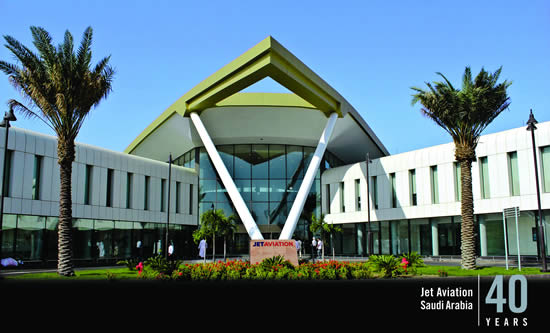 Jet Aviation's Jeddah FBO.
"By the mid-seventies, Mobil Oil was regularly bringing aircraft from Saudi Arabia to Switzerland for servicing and it was with their help and encouragement that we were able to form our local partnership and open the handling and line-maintenance operation in Jeddah," said Hardy Butschi, VP and GM Middle East. "Two years later we opened a similar facility in Riyadh and now, forty years later, we remain fully committed to the region as we strive to reinforce our operations in the coming months and years."
The facility in Jeddah also holds Saudi Arabian GACA-145 and FAA Repair Station approvals for line maintenance and aircraft-on-ground (AOG) services to private and business operators.