United States
Sheltair reaches construction milestone on new hangar complex at Fort Lauderdale Executive Airport
Sheltair Aviation has hosted a beam signing ceremony to mark a milestone in the construction of its new 20-acre $30m Northside Hangar Complex at Fort Lauderdale Executive Airport, Florida, which will offer "white glove" FBO services provided by Banyan Air Service.
Participants included Fort Lauderdale Mayor Dean J. Trantalis, Fort Lauderdale City Commissioner Heather Moraitis, Sheltair Aviation chairman, CEO, owner and founder Gerald M. Holland, and Banyan President Don Campion.
Construction is proceeding on a state-of-the-art 207,000 square foot hangar and office complex that will include eight hangars that can welcome large cabin-class sized aircraft, and an additional 31,000 square feet of office and shop space. The complex will also be the home of Banyan's Northside FBO terminal, allowing them to meet the needs of an expanding, exclusive clientele that insists on professionalism and privacy for their travel arrangements.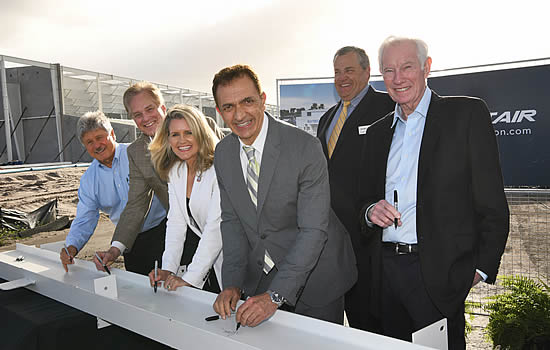 (L to R): Don Campion, President Banyan; Warren Kroeppel, COO Sheltair; Commissioner Heather Moraitis, City of Fort Lauderdale, District 1; Mayor Dean Trantalis, City of Fort Lauderdale; Todd Anderson, SVP Real Estate and Development Sheltair; Jerry Holland, President/Founder Sheltair.
Gerald M. Holland said, "Our company's sustained growth is predicated on several key factors: the commitment of our staff to excellence; service driven private sector partners such as Banyan Air Services; and the advocacy of outstanding public servants such as Mayor Trantalis and Commissioner Moraitis who recognize the ability of General Aviation to strengthen a region's economy. Today's beam signing ceremony reflects the power and synergies of these relationships, and I am proud to be standing here with men and women equally committed to the success of this airport."
Mayor Dean J. Trantalis added, "Today's ceremony reminds us that general aviation provides a metropolitan community like ours with access to global markets. This investment by Sheltair promotes Fort Lauderdale's reputation as a friendly destination for business, tourism and recreation. Our community will benefit through a further expansion of jobs and economic activity."
Opportunities for the aviation community
Sheltair continues to provide leasing opportunities for exclusive, private hangar and office space at the complex with mid-construction incentive packages available for fuel and other amenities.
Todd Anderson, Sheltair Senior Vice President for Real Estate and Development, explained, "We are enjoying considerable interest from flight departments and aircraft owners who need more hangar space and want an exclusive secure aviation hangar complex. The project consists of eight hangars within a short taxi distance to the runway ranging up to 20,000 square feet with 28-foot high hangar doors and customized buildouts are an option. This complex is proving to be enormously attractive to members of the aviation community."

As the FBO, Banyan will have a dedicated terminal building open 24/7 to provide FBO and line service for the tenants which, in turn, will allow customers to take advantage of the airport's 24/7 tower and security operations."