Ireland
Six West partners with Leon Software for provision of flight ops management support
Dublin-headquartered Six West, a leading provider of flight operations to the aircraft leasing industry, has announced the successful completion of a vendor selection round, concluding with a signed agreement with Warsaw based Leon Software - specialists in the provision of flight operations management and oversight tools.
"Six West is absolutely committed to transforming and elevating the service the global aircraft leasing industry experiences when they require flight operations," said Six West co-founder Jason Williamson. "We have staked our reputation on this commitment, which has allowed us to become the market leader within the leasing industry's flight operations sector. We provide a product and an experience unseen before and we are continually seeking ways to innovate and elevate our processes that directly impact on the service we provide our customers.
"Following a comprehensive trial period we are confident that Leon Software understands our needs implicitly," he continued. "We require a significant amount of tailor made options due to the unique nature of our service to the leasing industry. Every day is different for us in terms of routing, aircraft type, crew members, record management, regulatory compliance, and multiple clients with different needs.
"Leon has responded to us efficiently and with what we see as a deep commitment to customer service and a genuine interest in how we operate in our niche sector. Leons origins and philosophies are very similar to that of Six West's and we are excited to be adding them as one of our trusted suppliers."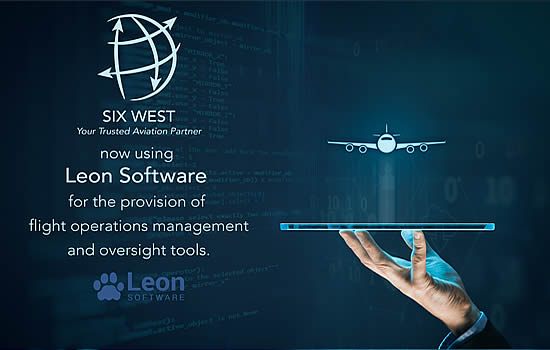 Paweł Kruk, CEO of Leon Software commented: "We feel inspired to be able to meet the highest standards of a demanding partner such as Six West, allowing Leon to expand further on a growing Irish market. Being aware of the diversity of modern-day aircraft operations, which reflects in high dynamics of day-to-day processes as well as a scale of an enterprise, we are delivering a solution tailored for aviation businesses of all sizes. Due to our way of thinking, we want our customers to enjoy a scalable experience, adequate to the operator's fleet size without any additional restrains or limitations imposed on them. This philosophy applies to a great number of Leon's features, including a free, unlimited access to user creation, custom document templates and many others. After all, we believe that the greatest success stories consist of breaking your limits."
From their head office on Fitzwilliam Square, Dublin and other offices in Cork, Paris, Hong Kong and Cayman Islands, Six West conducts daily flight operations around the world for airlines, aircraft leasing organisations, banks, high net worth indiviuduals and corporate flight departments.
The company is an approved Article 134 OTARS operator, and is poised to respond rapidly to the dynamic aviation industry's requirements to move commercial aircraft during lease transitions, distressed recovery, demonstration and acceptance flights, deliver new aircraft on behalf of lessors and airlines and provide comprehensive consulting services to aircraft operators and airlines around the world. They are committed to providing a high quality & customised service to their client group and have established reliable and trusted networks and relationships through high quality service provision amongst some of the industry's highest calibre individuals and organisations.
Leon Software excels in delivering a top-of-the-line cloud-based solution for aviation businesses, including charter airlines, business aviation and flight support providers. From scheduling and crew management to charter sales, Leon provides the most complete platform design for a number of departments within an aviation organization. With nearly 40 integrated partners, process automation and improving the workflow are an essential part of Leon Software's philosophy.