Business jet activity slowing, charter market weakening
There were 66,736 business aviation departures in Europe during March according to WINGX`s latest monthly Business Aviation Monitor, published today.
The figure represents a strong increase compared to February, but just a 0.7% growth in YOY flights, with a large increase in Piston traffic offsetting declines in business jet and turboprop. Q1 2019 total activity is up by 0.6% vs Q1 2018.
March saw some small growth in the top market, France, slightly declining activity in Switzerland and the UK, and a big drop in activity in Germany. There were large gains in Spain.
The decline in Germany came in Small-Midsize jets, whilst all the gains in Spain came from prop aircraft.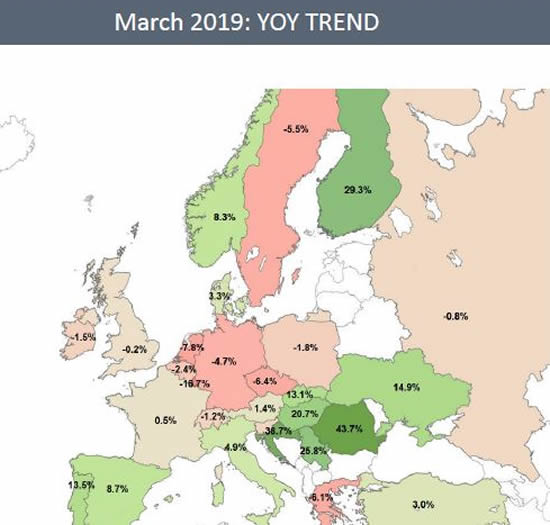 Small growth in France this moth, but declines in the UK, Switzerland, and especially Germany. Q1 indicators show flat UK and Switzerland, strong growth in Spain.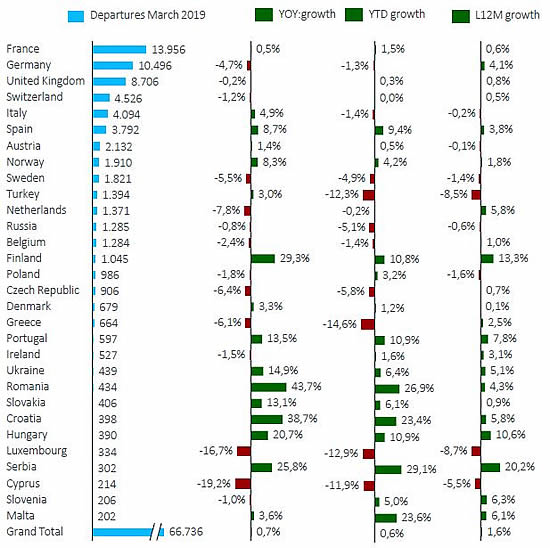 Besides Germany, the biggest declines came in Sweden and the Netherlands. Activity in Turkey was up 3%, but lags 12% YTD. Q1 2019 growth is strongest in Spain with total business aviation activity up 9% vs Q1 2018.

Large Jet activity was up 2% during March, with strong gains in Italy, where departures were up by 12% YOY. Midsize and Small Jet flights fell 2% YOY, with an 8% decline in Germany; 13% decline in Russia. Business aviation activity out of London fell 6% this month.

YOY trends in flights within Europe were slightly up, but down on last 12 months trends. European departures to North America and Africa were up, but flights to the Asia-Pacific region fell by 12%. Arrivals into Europe from CIS were up by 3%, but well down for Q1 as a whole.

Charter/AOC activity dropped 1% this month, reinforcing a much weaker trend so far this year compared to last year. Conversely, private flight activity increased 3%, extending a stronger trend compared to the last two years.

Textron aircraft flew 4% less this month; Gulfstream jet activity was flat; whereas Bombardier, Dassault and Embraer jet flights were up YOY. Strong growth in Bombardier Charter/AOC movements, and for Dassault, in private flights.
Aircraft

For business jets, Global Express and Hawker Nextant types showed strong growth this month, especially in the Charter/AOC market. Citation Mustang and CJI1 activity continued to decline heavily. THere was a big increase in private activity on Falcon 900 and 2000.
Airports

London airports saw a big drop in activity this month, with a 13% fall in departures from Luton and a 6% decline from Farnborough, although Biggin Hill showed a 9% gain. Top Swiss airports were well down this month, so was Nice, but Le Bourget and Vnukovo were up YOY.
Richard Koe, Managing Director of WINGX, comments: "Total business aviation activity continues to eke out some growth this year, but business jet activity is clearly slowing, evidently in the Charter market. This is coming from a big drop off in peripheral markets such as Russia and Turkey, and slowdown in key city hubs, notably London, which is a direct consequence of business uncertainty and falling consumer confidence as Brexit drags on. The large cabin jet market continues to see some overall strength, notably in super midsize and ultra-long range jet activity."
---
WINGX is a data research and consulting company based in Hamburg, Germany. WINGX analysis provides actionable market intelligence for the business aviation industry. Services include: Market Intelligence Briefings, Customised Research, Strategic Consulting, Market Surveys. WINGX customers range from aircraft operators, OEMs, airlines, maintenance providers, airports, fixed base operators, fuel providers, regulators, legal advisors, leasing companies, banks, investors and private jet users.