ABACE 2019
OJets and Elit'Avia extend partnership
Companies to share operations center in Singapore and cooperate on business development from sales offices in Singapore, Hong Kong and Bangkok
OJets, a privately-owned provider of comprehensive business aviation services, has announced the extension of its partnership with Elit'Avia, a fully-integrated provider of business aircraft charter, management and operations services.
OJets and Elit'Avia possess highly-complementary areas of expertise.
OJets is headquartered in Singapore with a fleet of Bombardier Globals and a Challenger 650. Additional Global 6000s will be added under Elit'Avia's Maltese AOC by the end of the month. The OJets team is guided by a commitment to delivering industry-defining service - tailored to the most discerning Asian and international business travelers.
Elit'Avia is headquartered in Ljubljana, Slovenia. The company holds AOCs in Slovenia, Malta and San Marino, and manages a mixed fleet of 25 midsize to long range business aircraft for charter and private use.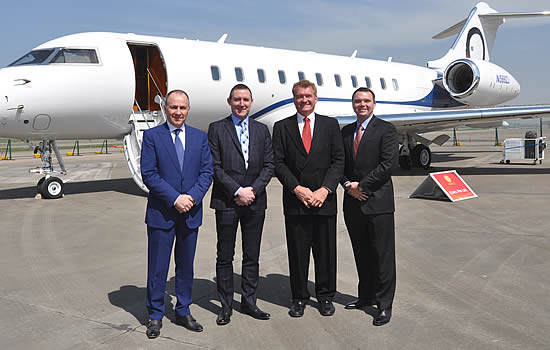 ABACE 2019: (L to R) Michel Coulomb, Co-Owner and CEO, Elit'Avia; Nick Houseman, Co-Owner and Board Member, Elit'Avia; Phil Mulacek, Chairman, OJets and Marc Vinson, Treasurer, OJets.
From its operations center at Singapore's Seletar Airport, OJets is now supporting Elit'Avia clients - both aircraft owners and charter passengers. And, both Elit'Avia and OJets sales teams are actively promoting OJets' luxury charter services worldwide, from sales offices including Singapore, Hong Kong and Bangkok, which have been in operation since July 2018.
"As a part owner of the company, we enjoy an exceptionally close working relationship with Elit'Avia," says Phil Mulacek, Chairman, OJets. "The further integration of our two companies efficiently draws on complementary areas of expertise and geographical specialization. For example, leveraging the benefits of our indirect air carrier model, our aircraft operate under Elit'Avia's Maltese AOC. By working together, we are a stronger team able to provide clients with a more comprehensive service and global reach."
"Working with OJets is a perfect fit for Elit'Avia," continues Michel Coulomb, CEO, Elit'Avia. "Our partners offer a charter fleet of long range luxury business aircraft, with a focus on the Asian market. Whereas we specialize in aircraft management and have deep roots in Europe, Russia and Africa.
"At present, we are managing a half-dozen aircraft based in Asia. We expect that number to grow as we continue our business development efforts in the region with the support of the OJets team. The merging of our companies' complementary skillsets and territorial expertise allows us to present a very compelling proposition to the global business aviation market."