Business aviation activity stalls, especially at top airports
There were 66,165 business aviation departures in Europe during April, according to WINGX`s latest monthly Business Aviation Monitor published today (May 9th)..
Whilst similar to March, the figure represents 3.1% fewer flights than in April 2018. The past 12-month activity is trending just under 1% growth - 10% up on the recession trough in 2009 - but 11% down on the high-point back in 2008.
Business jet activity had heavy decline this month with 5% fewer flights YOY and an 8% decline in privately-filed flights. Small and Medium size jets had most of the decline, with at least 10% YOY falls in activity in France, the UK and Switzerland.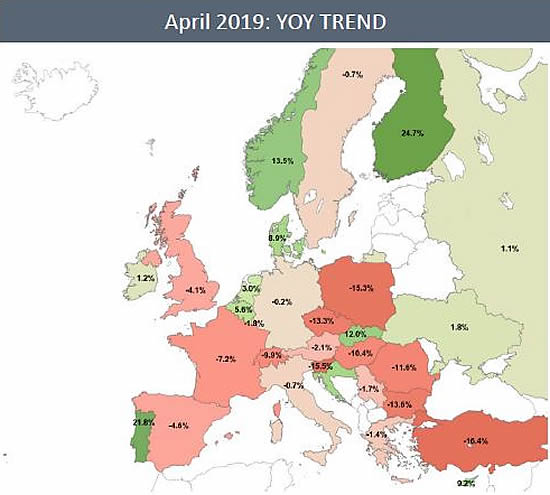 France had the biggest fall in business aviation activity this monthy with flights down 7% YOY. The UK, Spain and Switzerland were also well down. Of the Top 5, only Spain still has YTD growth in flights.
Large jet activity, down 3% overall, was flat in the UK and up by 5% YOY in Italy. The declines in Large Jets mainly came in France and Germany - activity falling close to 10%. Large Jet departures from Spain were down 13%, and from Turkey, down 21% YOY.
Business aviation out of London was down 5% during April, in line with YTD decline. Paris saw a big drop in YOY business aviation activity, down 16%, falling 20% in Small jets. Large Jet flights were flat out of Nice, but Mid to Small departures fell 10% YOY.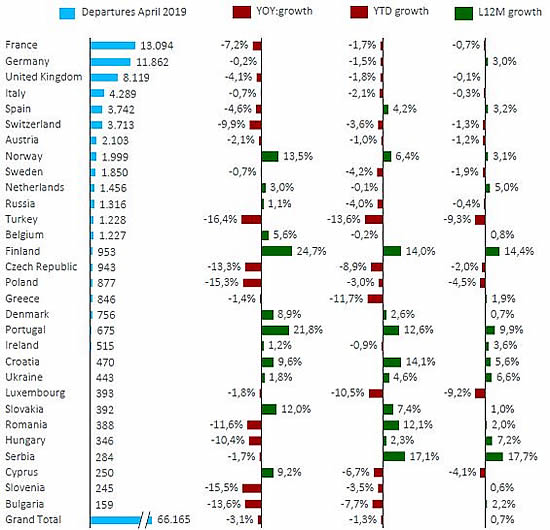 Most of the decline this month was for flights within Europe - these falling 4% YOY. Whilst flights from Europe to North America and Africa were well up this month, flights between Europe and Middle East and Asia-Pac continued to decline.
Aircraft
Charter/AOC activity fell 2% YOY in April, as per March, which makes 5 consecutive months of decline. Privately-filed flights fell 4%, with biggest declines in Bombardier, Cessna and Gulfstream activity. Global Express Private flights were down 8% YOY.

Textron aircraft flew 7% less YOY, with some offset from the continued growth in Citation Latitude activity, but Entry Level and VLJ activity is slumping. Citation Mustang flights were down by 19% and Phenom 100 by 21%. VLJ Charters fell by >25% YOY.

All business jet segments (except Super Light) were down this month, although SLJ, LJ, SMJ and ULR jet activity is still trending up YTD. ULR jet Charter/AOC activity is up by 10% in L12M, and this month Global Express Charters were up 11.5% YOY.
Airports

Most of the top 20 European airports saw diminished YOY activity in April, especially Le Bourget, Zurich and Geneva. London Biggin Hill, Munich and London Luton still had slight growth this month. Flights from the busiest airports to destinations outside Europe are almost all trending upwards.
Richard Koe, Managing Director of WINGX, comments: "Business aviation activity slowed further this month, reinforcing the impression that European demand has stalled since Q4-2018. Business jet activity is slowing across all the top regional markets, especially in the light aircraft segments. Business jet charter flights were well down YOY, particularly in Entry Level and Very Light Jet segments, reflecting the exit of air taxi operator Blink last year. Broader macro issues are clearly affecting the industry, with London flight activity down by 5% this year. One exception to the negative overall picture is Ultra Long-Range activity, which is trending up, primarily in fractional and charter activity."
---
WINGX is a data research and consulting company based in Hamburg, Germany. WINGX analysis provides actionable market intelligence for the business aviation industry. Services include: Market Intelligence Briefings, Customised Research, Strategic Consulting, Market Surveys. WINGX customers range from aircraft operators, OEMs, airlines, maintenance providers, airports, fixed base operators, fuel providers, regulators, legal advisors, leasing companies, banks, investors and private jet users.