United Kingdom
Fuelling the Future: TAG Farnborough Airport hosts Sustainable Alternative Jet Fuel initiative
Underlining the airport's commitment to responsible and sustainable development, TAG Farnborough Airport is hosting "Fuelling the Future", a Sustainable Alternative Jet Fuel initiative event taking place on Saturday, 18th May.
TAG Farnborough Airport became the first business aviation airport in the world to achieve carbon neutrality and the airport continues to identify new and innovative ways to improve its sustainable credentials. Over the past five years alone, it has invested over £1m into energy efficiency projects and during the past decade has reduced carbon emissions, over which it has direct control, by 73 per cent.
"We are proud to be hosting and participating in "Fuelling the Future" and welcome this initiative to provide Sustainable Alternative Jet Fuels," commented CEO Brandon O'Reilly. "Along with our customers, we are eager to see efficient and cost-effective availability of this product."
Record growth in air traffic movements
In 2018, TAG Farnborough Airport reported the highest ever number of total annual movements, surpassing the previous record from 2007 by 8.2 per cent. For the full year 2018, TAG Farnborough Airport saw a year-on-year increase in air traffic movements of 13.8 per cent, with initial forecasts indicating a positive trend is set to continue throughout 2019.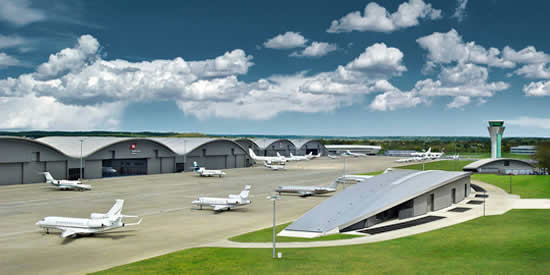 "This improved performance underlines the success of TAG Farnborough Airport's philosophy - to consistently offer a five-star service of the highest standard with no compromises - and our position as Europe's leading business airport," said Brandon O'Reilly. "2018 was an important year of milestones for TAG Farnborough Airport. We were delighted to be selected by Gulfstream as the location for a state of the art, purpose-built MRO facility, expected to be operational by the third quarter of 2020, and to be awarded carbon neutral status, the first business aviation airport in the world to achieve this."
TAG Farnborough Airport currently handles approximately 30,000 flights per annum, with approval to increase this number to 50,000 and is equipped to cater for a wide range of aircraft types including Boeing Business Jets and Airbus Corporate Jets. As the only dedicated business aviation airport in the UK, it is specifically designed to offer a one-stop shop for business aviation operators and with 240,000 sq ft of heated hangar facilities and 1.2m sq ft of ramp space, can accommodate both based and transient aircraft.
Award-winning facilities and services recognised
TAG Farnborough Airport has earned top honours in the annual Aviation International News (AIN) International FBO Survey for 2019, ranking first in the 'Europe, Middle East, Africa and Asia Pacific' category for the 13th consecutive year. For the 14th year in a row, the airport was also named 'Best European FBO' in the 2019 Pro Pilot PRASE Survey.
"These results are a tribute to the high level of professionalism and dedication of all our staff at Farnborough," said Brandon O'Reilly, CEO TAG Farnborough Airport. "Following the significant investment to upgrade our terminal facilities, our focus continues to be on delivering the highest standard of service for customers and crew."
TAG Farnborough Airport will be at EBACE in Geneva, 21-23 May 2019, Stand #M73.